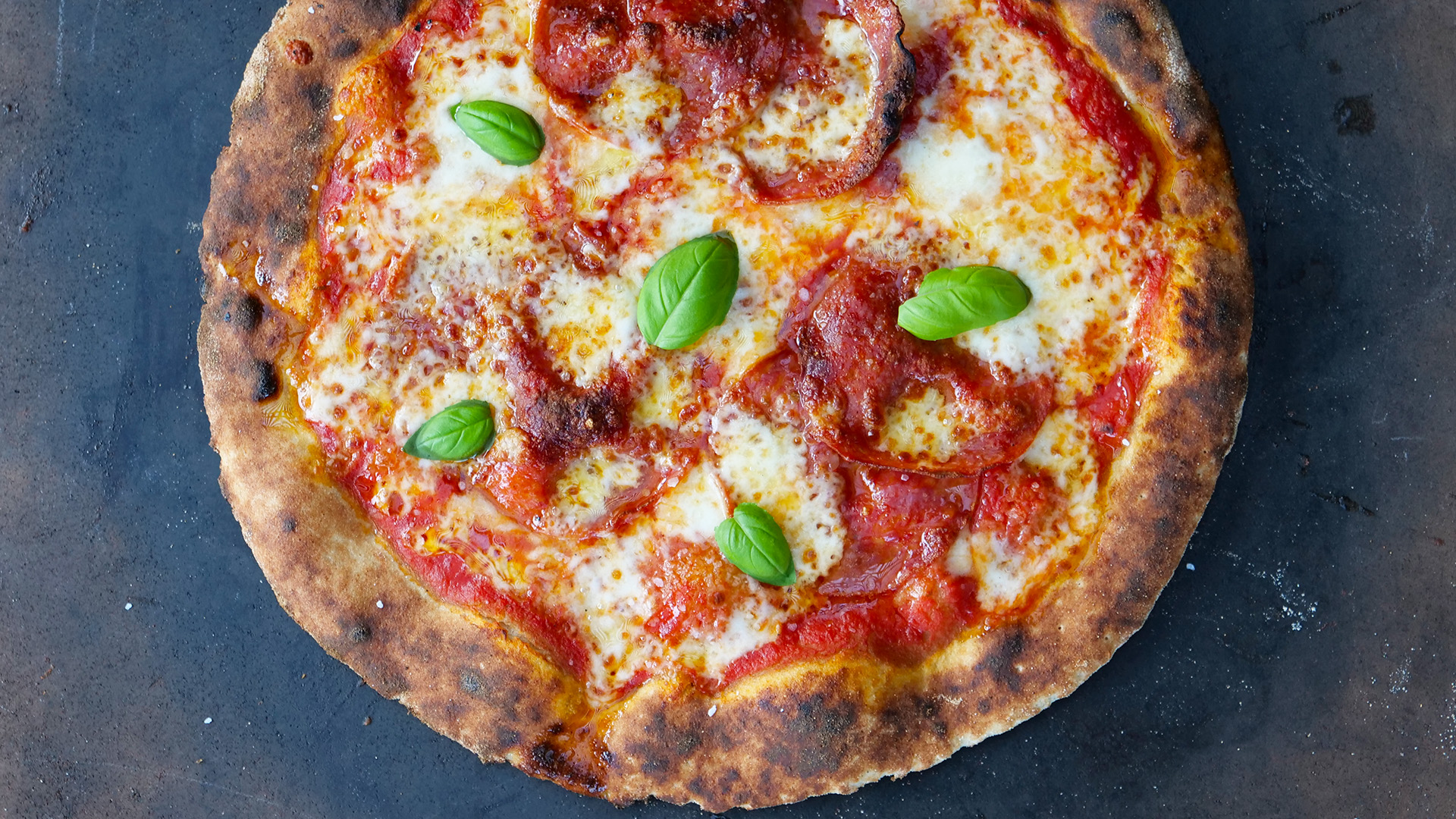 One of the Holy Grails of gluten-free pizza is a true Neapolitan: cooked in under two minutes in very hot ovens (~900º F), with a puffy, airy cornicione. Those kinds of temperatures are impossible to achieve in the normal ovens found in home kitchens.
(* For a great GF Neapolitan pizza recipe designed for the lower temperatures of home ovens, check out the version in our cookbook No Gluten, No Problem Pizza and/or watch this video.)
On the other hand, this recipe is designed for high-temperature Neapolitan pizza ovens. Whether you're a pizzeria or a home pizzaiolo or pizzaiola with an outdoor oven (like our Ooni Koda), this is the recipe for you.
Each of these pizzas is fired for just two minutes. The dough is based on a custom blend of naturally gluten-free flours and starches (NO de-glutinated wheat starch) to give these pizzas the taste, texture, and appearance of legit Neapolitan pies… which they are. 🙂
In these photos, they're topped with San Marzano tomatoes, fresh and/or shredded low-moisture mozzarella, basil, extra virgin olive oil, and meats such as prosciutto, pepperoni, and salame calabrese.
Enjoy!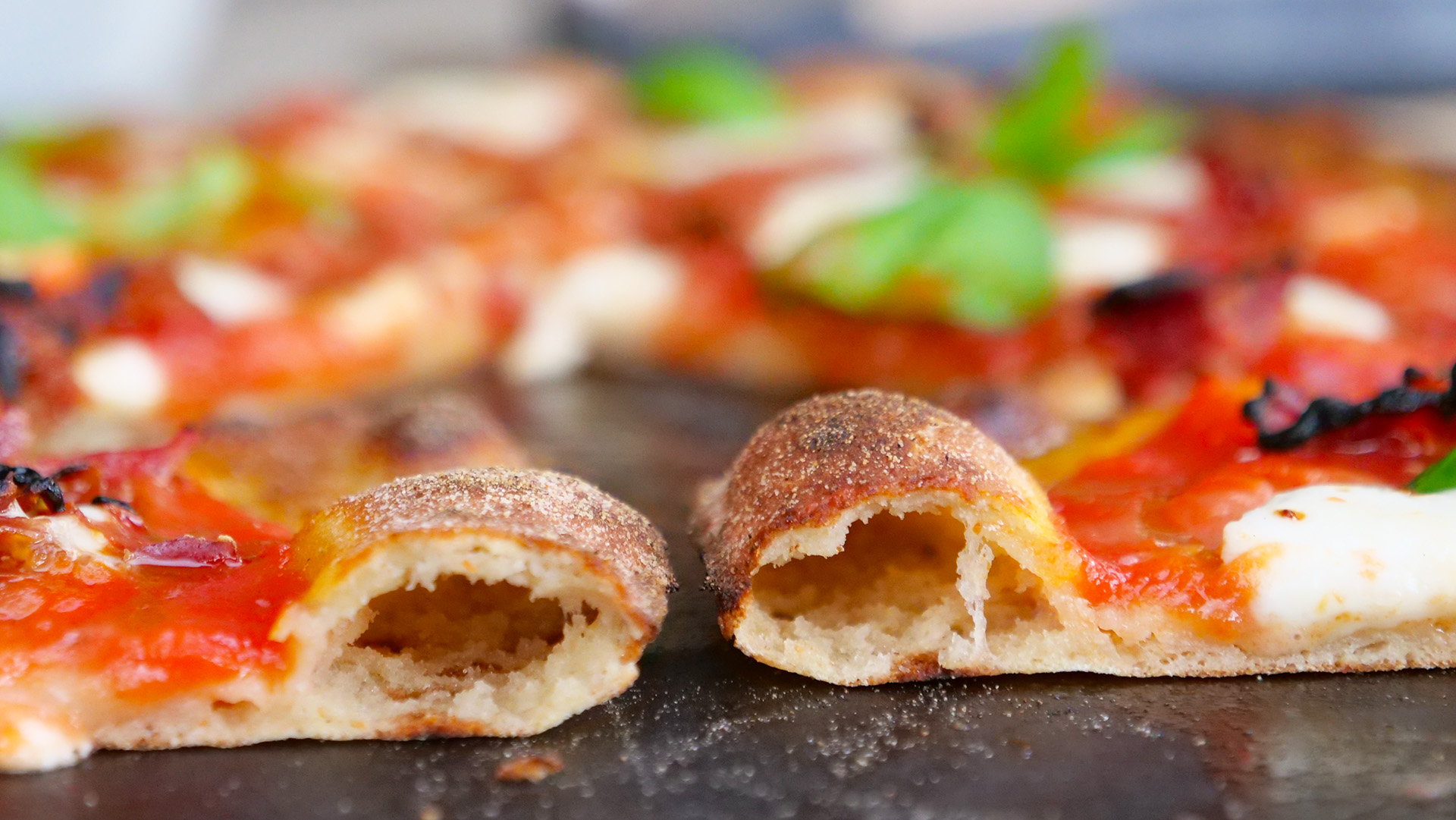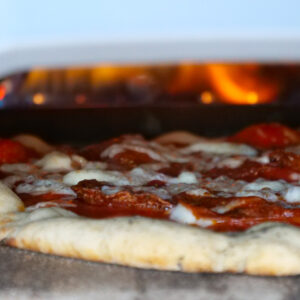 High-temp Neapolitan Pizza
Ingredients
To make the dough:
113

g

warm water

1

tsp

sugar

1

tsp

active dry yeast

30

g

quinoa flour

30

g

millet flour

30

g

potato starch

30

g

tapioca starch

15

g

brown rice flour

3/4

tsp

psyllium husk powder

3/4

tsp

salt

3/4

tsp

xanthan gum

2

tbsp

olive oil

(refined, light, extra light, or similar; NOT extra virgin)
Instructions
If you're a pizzeria with a Neapolitan oven, we assume it's already up to temperature and ready to crank out pizzas. If you're using a home outdoor pizza oven like the Ooni, preheat the oven on full flame for at least 15–20 minutes, or however long your oven takes to come up to Neapolitan temperatures (800–900º+ F).

In a small bowl, whisk together the warm water, sugar, and yeast. Set aside and allow the yeast to activate, about 5 minutes, until foamy.

In a medium bowl, whisk together the flours and starches, as well as the psyllium husk, salt, and xanthan gum.

When the yeast mixture is foamy on top, add the olive oil and stir to combine. Then add the wet ingredients to the bowl of dry ingredients. Stir vigorously with a spoon until it is smooth and forms a dough.

Place a large square of parchment paper on your work surface. Using extra brown rice flour, heavily flour the parchment paper.

Dust your hands with brown rice flour and roll the dough ball to make sure it's smooth. Then place the ball onto the center of the floured parchment.

Press the dough into a flat, 11-inch circle. Dust the dough and/or your hands with additional brown rice flour just as necessary to prevent any sticking.

IMPORTANT: While you're pressing out the dough, occasionally shimmy the parchment paper back and forth to make sure the dough remains released from the paper.

(Note: If the edges of the dough start to get jagged, you're probably pressing the dough too wide.)

Slide a well-floured pizza peel between the dough and the parchment, so that the dough is now on the peel. Give the peel a shake to confirm that the dough slides easily and isn't sticking to the surface of the peel.

Top the pizza with your chosen combo of toppings. Finally, brush the exposed dough of the cornicione with a thin sheen of water.

Launch your pizza into a mid-temperature part of your oven, not too close to the flames / hottest part. For home outdoor ovens like the Ooni, turn the flame down to medium or medium-low just before launching the pizza.

Rotate the pizza as needed to ensure even browning of the crust and cooking of the toppings. Total time in the oven should be about 2 minutes.

(Note: In small ovens like the Ooni Koda, front-to-back heat management is crucial. If your pizza is a compass, cook north for 30–40 seconds, then south for 30 seconds, and finally east and west for about 15 seconds each.)