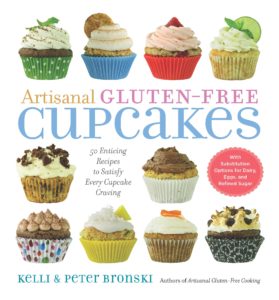 Artisanal Gluten-Free Cupcakes
50 From-Scratch Recipes to Delight Every Cupcake Devotee—Gluten-Free and Otherwise
Order now from: Amazon | Barnes & Noble
From the back cover:
The wait for an entire cookbook of gluten-free cupcakes is over! Kelli and Peter Bronski's Artisanal Gluten-Free Cooking garnered a PW starred review and airtime on The Splendid Table, and within one year of publication has established itself as a category-leading all-purpose gluten-free cookbook. Now the Bronskis bring their accessible but "artisanal" approach to these from-scratch, high-quality homemade cupcakes.
The foundation of these recipes is their intensively developed gluten-free flour blend, which enables home cooks to craft bakery-quality confections, from kid-pleasing favorites like Vanilla Cupcakes with Chocolate Frosting or "Peanut Butter Cup" Cakes, to more subtle and surprising treats like Mojito or Poached Pearfection cupcakes. They include tips for adapting the recipes to alternative diets of all kinds, including egg-, dairy-, and refined sugar-free versions. These are cupcakes so good even those who don't eat gluten-free will love them.
Praise for Artisanal Gluten-Free Cupcakes
"Our gluten-free world just got a whole lot sweeter with Kelli and Peter's amazing new book on cupcakes. This will be your "go-to" cookbook for parties and special occasions or anytime you have cupcake cravings."
—Carol Fenster, award-winning author of the 100 Best Gluten-Free Recipes

"I've never been more excited to bake cupcakes! Kelli & Peter have included everyone's favorite cupcakes and then taken them a step further.  They've transformed the ordinary cupcake into a gourmet's delight  with their natural fillings and fruit-infused buttercream frostings.  Along with offering incredibly scrumptious gluten-free recipes, they've provided options for nearly every dietary restriction including refined sugar-free, dairy-free, and egg-free, and vegan variations. Artisanal Gluten-Free Cupcakes is a must for anyone who needs to eat gluten-free and loves to bake."
—Amy Green, www.simplysugarandglutenfree.com, and author of Simply Sugar and Gluten-Free: 180 Easy and Delicious Recipes You Can Make in 20 Minutes or Less

"Artisanal Gluten-Free Cupcakes is a celiac's dream come true! Surprisingly easy to make, these decadent gluten-free delights will look like they come from a gourmet bakery, and are sure to please even all the gluten eating cupcake lovers of the world. From key lime pie to red velvet, Kelli and Peter Bronski's delicious recipes are sure to win any cupcake war!"
—Alice Bast, President & Founder, National Foundation for Celiac Awareness
"Pete and Kelli Bronski have followed their all-purpose, "required reading" first cookbook, Artisanal Gluten-Free Cooking, with another must have for your kitchen shelf: Artisanal Gluten-Free Cupcakes. Imagine your favorite flavor of cupcake . . . now flip to the Table of Contents and there it will be! The Bronskis provide the classic cupcake flavors of vanilla and chocolate (and variations like Chocolate Buttercream and Mocha), but then they move on to cupcakes with names that nicely indicate the flavor profiles and actually make one a bit "weak in the knees." I mean, who can resist cupcakes called Poached Pearfection, French Toast, Hot Fudge Sundae, Orange Dreamsicle, and Dulce de Leche? The best news of all is that if you have other food intolerances/restrictions besides gluten, there is additional guidance on how to make each recipe dairy-free, egg-free, or vegan. So put on your apron, grab your muffin tin, and get baking; you're in for some divine cupcakes!"
—Shirley Braden, Leader, King George Gluten Intolerance and Celiac Group
"This new book from the Bronskis maintains the high bar set by their first book, Artisanal Gluten-Free Cooking. For this volume, the authors divide their 50 appealing recipes into several enticing categories, including classics, fruity, nutty, 'chocoholic' and 'sweet surprises.' The cupcakes are based on the authors' 'artisan gluten-free flour blend,' which succeeds both with taste and texture."
—The Oregonian