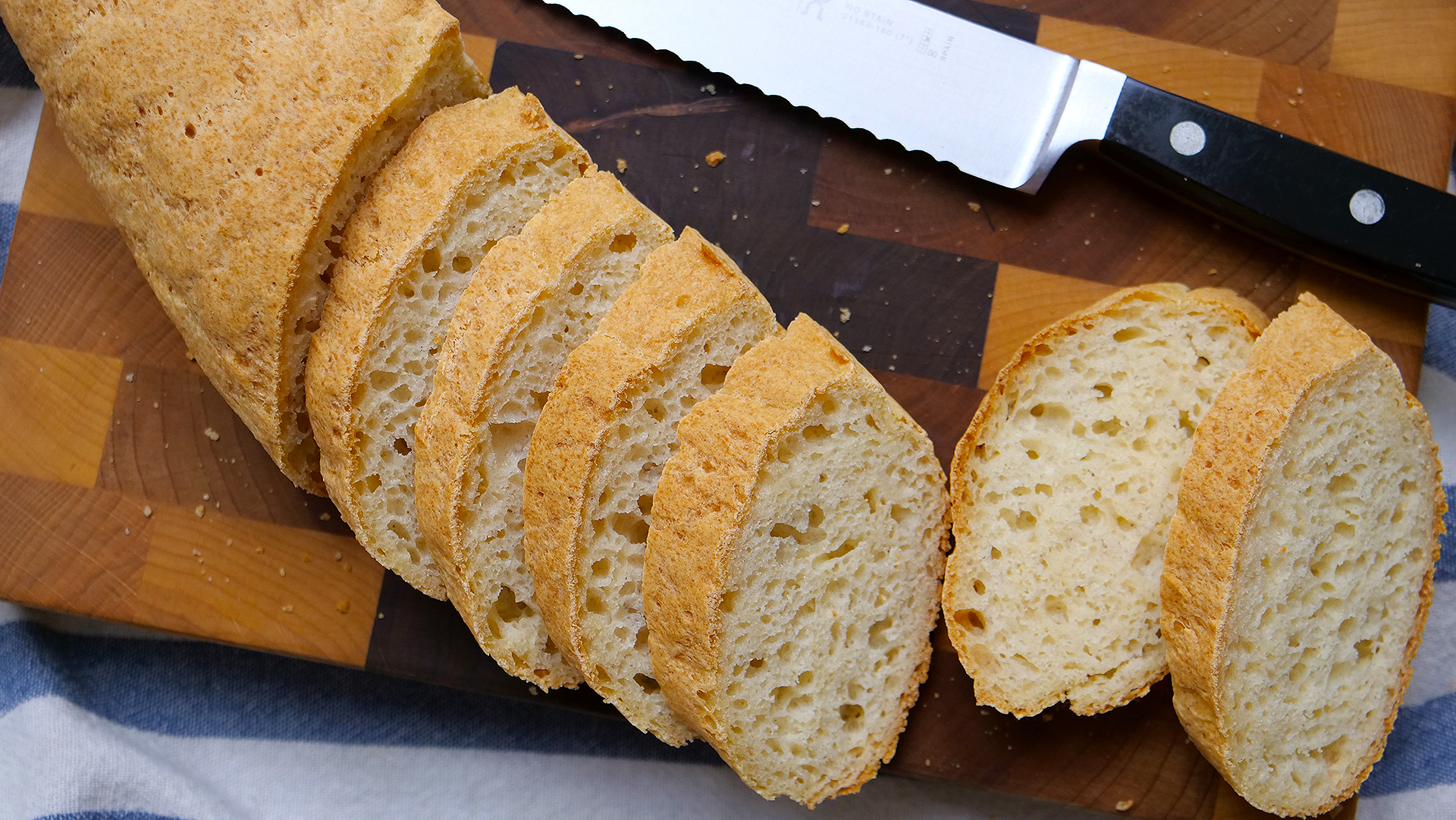 A classic French baguette—especially one that's still warm from the oven—is a beautiful thing: the browned, lightly crunchy crust; the soft, starchy interior; the unmistakeable aroma of freshly baked good bread. Our gluten-free version delivers the whole package.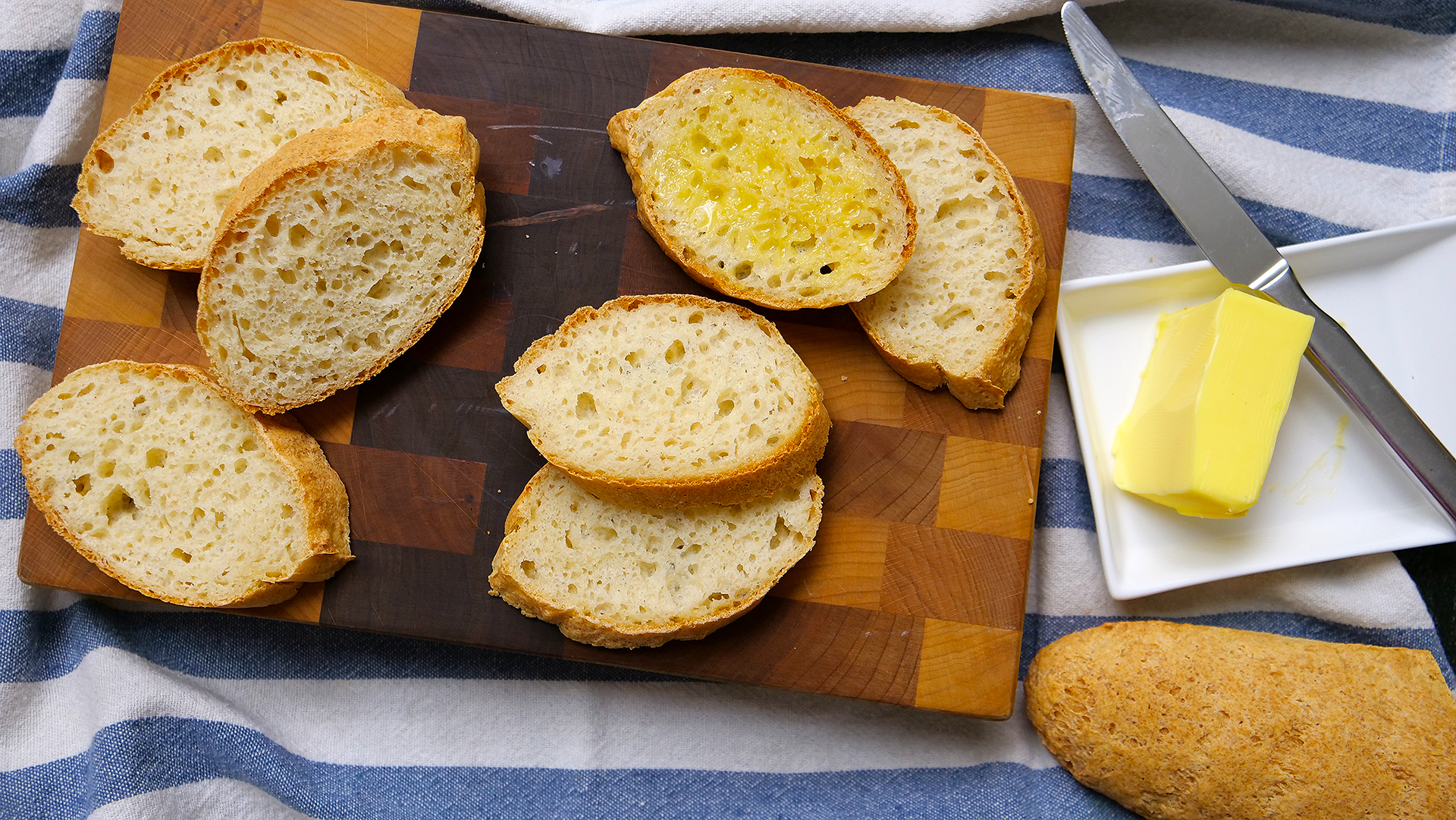 Like our pizza doughs, our GF baguette dough is wetter than what you'd make for conventional, wheat-based baguettes. You don't roll it into shape on your work surface. You don't need to make relief cuts in the top of the loaf before baking. And perhaps best of all, it takes just over one hour total from start to finish before you're pulling a pair of fresh baguettes out of the oven to enjoy.
The dough rises on a perforated double-baguette pan lined with parchment paper. High initial heat further inflates the loaf and sets the crust, followed by lower heat the lets the loaves bake through. They eventually finish baking directly on your oven rack to end up with that coveted golden-brown, crunchy exterior baguettes are known for.
A word of caution: resist the temptation to immediately cut into the baguettes when they first come out of the oven! Your knife will tear, rather than slice, the bread. Let the loaves rest on a wire rack until they're warm, not hot. Then dig in!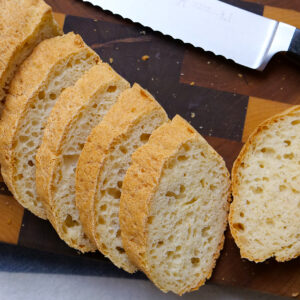 Baguette
Ingredients
1 2/3

cups

water (380 g)

2

tbsp

sugar

1 1/2

tbsp

active dry yeast

2

tbsp

olive oil

2

egg whites

155

g

potato starch

130

g

cornstarch

90

g

millet flour

35

g

brown rice flour

20

g

sorghum flour

1

tbsp

psyllium husk powder (9 g)

2

tsp

salt

1/2

tsp

xanthan gum
Instructions
In a small bowl, whisk together the warm water, sugar, and yeast. Let sit for about 5 minutes, until foamy and the yeast is activated.

In a separate large bowl, add the potato starch, cornstarch, millet flour, brown rice flour, psyllium husk powder, salt, and xanthan gum. Whisk to combine.

Add the olive oil and egg whites to the yeast mixture and whisk to incorporate.

Add the wet ingredients to the bowl of dry ingredients, then whisk vigorously until completely smooth. The dough will be very wet, almost like batter.

Line a perforated double-baguette pan with parchment paper. (Tip: Use one long piece of parchment paper and fold it in half with a strong crease that straddles the central 'peak' of the double baguette pan.)

Divide the dough evenly between the two halves of the baguette pan, taking care to keep the dough a few inches away from the ends of the pan. It will spread as it rises.

Set in a warm location and let rise for 30 minutes, until approximately doubled in volume. (If possible, cover the loaves during the rise, such as with a large inverted cake pan, but make sure it won't touch the rising loaves.) Meanwhile, preheat your oven to 500º F.

Bake the loaves for 5 minutes at 500º. Then reduce the oven heat to 375º F and bake for an additional 25 minutes.

Remove the loaves from the parchment-lined baguette pan and finish baking for 7 more minutes directly on the oven rack. Then transfer to a wire rack and let cool before slicing.
Notes
We developed and tested this recipe at altitude in Colorado (5,000 feet above sea level). Depending on results, you may need to tweak the recipe for sea level.
If you have a triple baguette pan with lower sides than a double baguette pan, try dividing the dough into thirds so the rising dough doesn't go over the dividing ridges between baguettes.