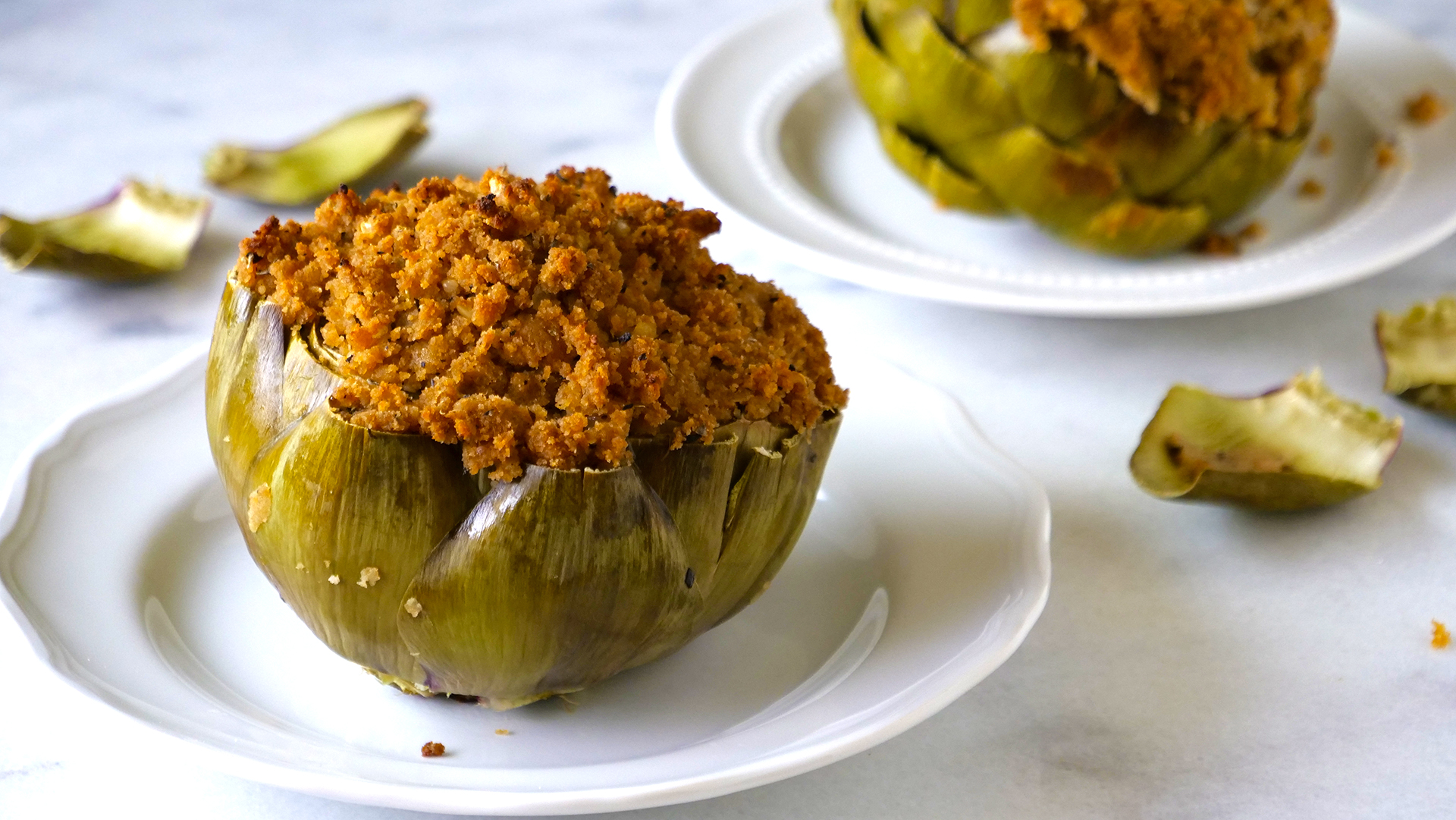 Artichokes can be intimidating to the uninitiated. But with the right approach, the soft flesh at the base of the leaves becomes a delicious meal you can savor one bite at a time. Bake them in the oven with some Italian-seasoned bread crumbs, and it only gets better.
In this recipe we estimate 1/2 a large artichoke per serving, but you could easily allocate one artichoke per adult if serving as an entree.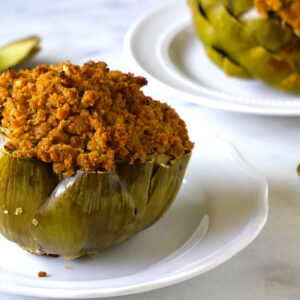 Stuffed Artichokes
Ingredients
2

artichokes

1/2

cup

butter

(one stick)

1/2

sweet onion, minced

4

garlic cloves, minced

1/2

cup

lemon juice

1/2–3/4

cup

GF chicken stock

2

cups

fresh GF breadcrumbs

2

tsp

dried oregano

2

tsp

dried basil

salt and pepper

(to taste)
Instructions
Preheat the oven to 375ºF.

Using a knife, cut off the top inch from each artichoke and cut off the stem to leave a flat base. Remove the outermost very tough leaves. Then use a strong, sharp pair of kitchen shears to cut the tips off all of the remaining leaves. Use a spoon to scoop out the center choke (the fuzzy-looking stuff) of the artichoke until the center is completely smooth. Rinse in cold water.

Fill a large saucepan with a few inches of water, and place a steamer basket on top. Bring to a simmer. Place the artichokes in the steamer basket, facing down (stem side up). Steam for about 15 minutes, until the outermost leaves can easily be removed. Remove the artichokes from the basket and set aside to cool.

While the artichokes are steaming, melt the butter in a large sauté pan over medium heat. Add the onions and garlic and cook until soft, about 5 minutes. Add the lemon juice and 1/2 of the chicken stock and continue to cook until the liquid has come up to a simmer. Add the bread crumbs, oregano, and basil, and season to taste with salt and pepper. Add
additional chicken stock until the mixture can hold together when you squeeze a small amount in your hand, if needed. (This will depend upon how fresh or dry your breadcrumbs are.) Remove from the heat and allow to cool.

Place the artichokes stem side down in a baking dish.

Using your hands, carefully spread open the artichoke. With a spoon and your hands, fill the center of the artichoke and the space between all of the leaves with the prepared breadcrumb mixture. Pack as much filling in as possible for maximum flavor!

Bake the stuffed artichokes for 15–20 minutes, until the breadcrumbs are golden brown. Remove from the oven and enjoy.