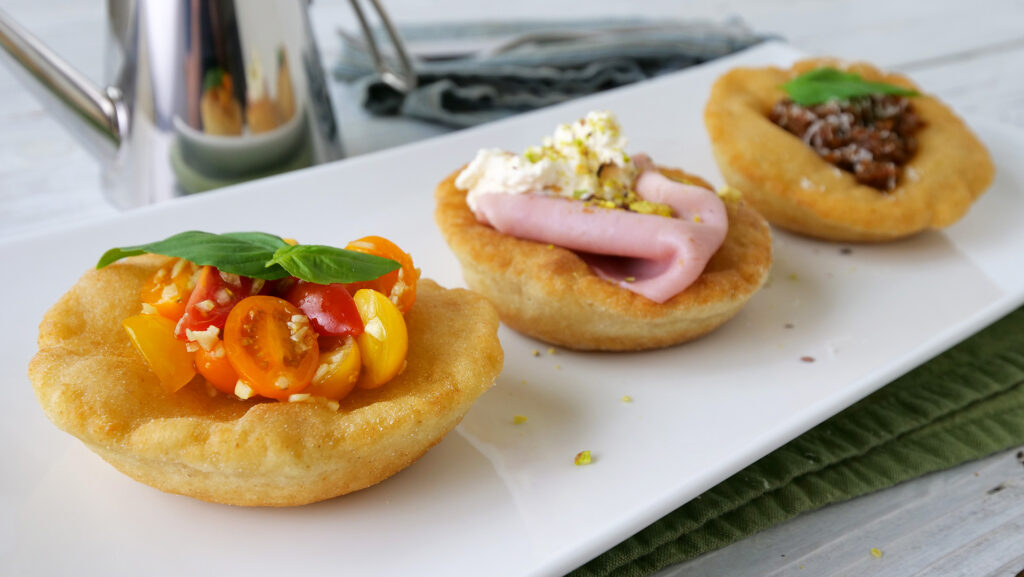 Naples and the surrounding Campania region of Italy may be world-famous for its namesake Neapolitan-style pizza. But the people of Napoli also have a deep love for fried foods, including a number from throughout the broader 'pizza family,' including deep-fried calzones and the montanara pizza. (No Gluten, No Problem Pizza includes a couple of killer recipes for montanara, including one inspired by our visit to Pizzeria Mascagni.)
These montanarine fritte are another Neapolitan classic: small discs of dough get quickly deep fried on both sides. The doughs puffs into impressive, airy balls. You then punch down the top to create a depression, into which you place all manner of toppings. Popular options include fresh tomatoes with basil, a meat sauce ragù, a simple marinara sauce or even plain pureed San Marzano tomatoes, and uniquely, crushed pistachios and burrata or a similar cheese over a slice of mortadella (we substitute black forest ham).
As always, our version is delightfully senza glutine.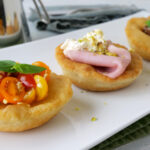 Print Recipe
Montanarine Fritte
Servings:
5
four-inch pizzette
Ingredients
1

liter (4 cups)

frying oil

(e.g., vegetable, canola, peanut)

100

g

warm water

(110 deg F)

1.25

teaspoons

sugar

1.25

teaspoons

active dry yeast

2.5

tablespoons

olive oil

25

g

potato starch

25

g

tapioca starch

25

g

millet flour

25

g

quinoa flour

13

g

brown rice flour

(plus extra as bench flour for shaping the dough)

0.5

teaspoon

ground psyllium husk

0.5

teaspoon

xanthan gum

0.5

teaspoon

salt
Instructions
Heat the oil in a medium saucepan over medium-high heat, until the oil reaches 375 degrees F.

In a small bowl, combine the warm water, sugar, and yeast. Whisk and set aside, until the yeast activates and becomes foamy, about 5 minutes.

Meanwhile, in a separate medium bowl, add the potato starch, tapioca starch, millet flour, quinoa flour, brown rice flour, psyllium husk, xanthan gum, and salt. Whisk to combine.


When the yeast mixture is foamy on top, add the olive oil and stir to combine. Then p

our the liquid into the flour mixture and stir vigorously with a spoon until the mixture is smooth, there are no lumps, and it forms a loose dough.

Divide the dough into five equal pieces, each about 50 g. Roll each piece of dough into a ball. If the dough sticks to your hands, dust a little brown rice flour onto the pieces of dough before rolling them.


Place a piece of parchment paper on a flat surface. Lightly dust with a little brown rice flour. Press the first piece of dough into a flat 4-inch-diameter circle using your fingertips.


Carefully flip the dough off the parchment onto your hand and gently slide the disc of dough into the hot oil. Be very careful not to burn yourself on the oil.


Fry for 45 seconds to 1 minute on the first side, carefully flip the dough without splashing the oil, and cook on the second side for 45 seconds to 1 minute, until golden brown.


Use tongs or a spider to remove the crust onto a paper towel or paper bag to absorb any excess oil. There should not be much.


Repeat steps 6–9 with the remaining balls of dough.

To serve: press a small indent into the top of each fried dough, then fill with your desired toppings and serve.