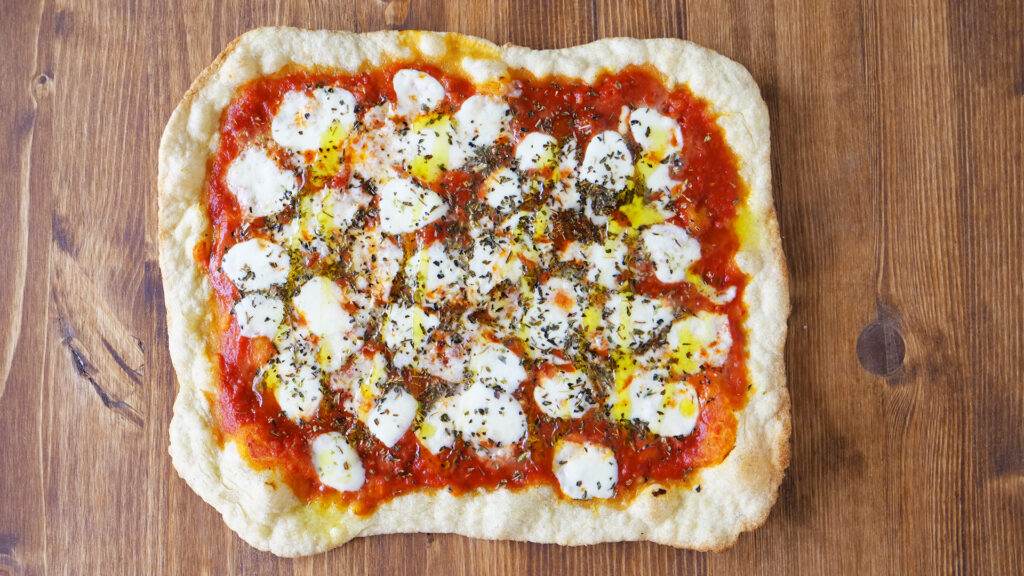 During the week-long Jewish celebration of Passover (Pesach), a number of foods—especially anything leavened with yeast (chametz)—are off limits. Instead, the unleavened cracker-like flatbread known as matzo (aka matzah) becomes a staple of the seder table. And since foods such as tomatoes, cheese, and extra virgin olive oil are typically compatible with Passover dietary guidelines, it means that matzo pizza is a thing!
While you can certainly make matzo pizza with store-bought gluten-free matzo, it's easy—and, we'd argue, tastier—to make it yourself at home using certified Kosher for Passover ingredients.
The dough is prepared and baked quickly, easily within the 18-minute limit for water mixing with flour to avoid any wild leavening. It's in the same family as the Roman and tavern ultra-thin-crust pizzas from No Gluten, No Problem Pizza, but is a yeast-free, Passover-friendly recipe.
The dough does use brown rice flour and cornstarch, both considered kitniyot. With much diversity (and changing norms) throughout the global Jewish community, as well as growing accommodations for medical needs such as the gluten-free diet, please consult your rabbi if you're unsure about including kitniyot in your Passover menus.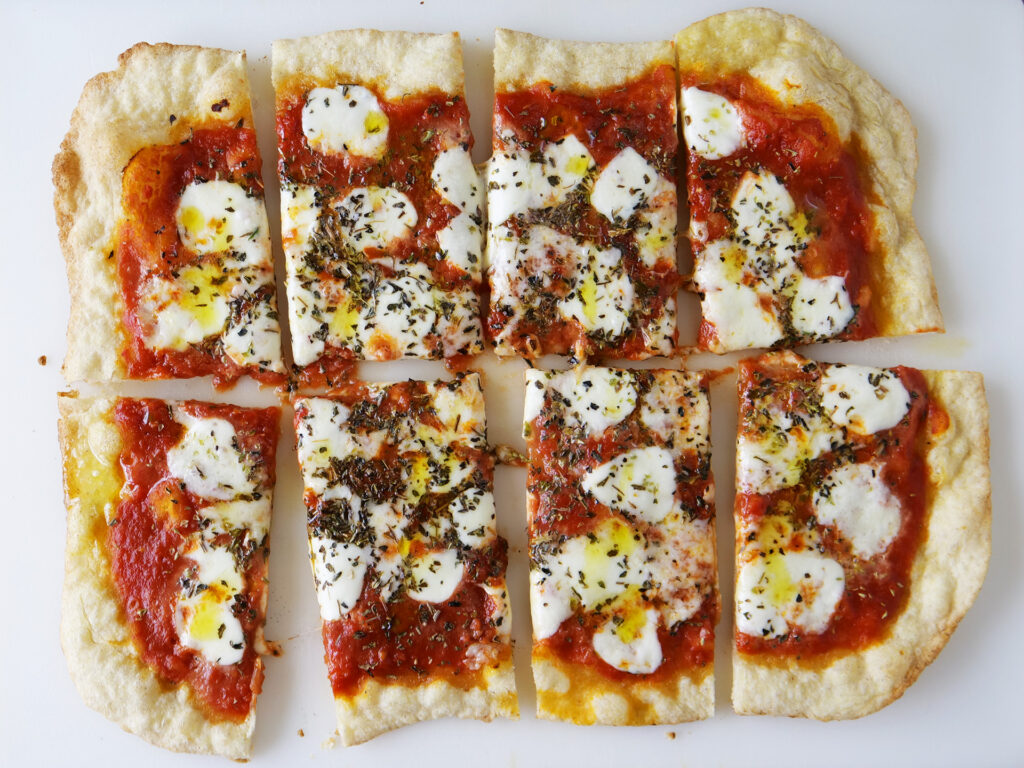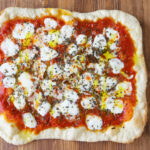 Print Recipe
Matzo Pizza
Servings:
1
11×13-inch pizza
Ingredients
For the dough
40

g

brown rice flour

(plus extra for bench flour)

40

g

potato starch

40

g

cornstarch

10

g

millet flour

0.75

tsp

ground psyllium husk

0.75

tsp

xanthan gum

0.75

tsp

kosher salt

(plus extra)

120

g

water

1

tbsp

extra virgin olive oil

(plus extra)
For finishing the pizza
3

oz

pureed canned San Marzano tomatoes

3

oz

fresh mozzarella

1.5

tsp

dried basil

1.5

tsp

dried oregano
Instructions
Set your oven rack in the middle position and place a baking steel on it. Preheat to 550º F (285º C) for at least 45 minutes.

In a small bowl, whisk together the dry dough ingredients. Then add the water and olive oil, and stir vigorously with a spoon until the mixture forms a smooth dough.

Place an un-floured 15×15-inch piece of parchment paper on a flat surface. Using a spatula, scrape the dough onto the center of the parchment, then press into a flattened rectangle with floured hands.

Dust the surface of the dough and a rolling pin with bench flour. Roll the dough into roughly a thin 11×13-inch rectangle (about 1/8 inch thick).

Brush the surface of the dough with a thin coat of extra virgin olive oil. Immediately use a lightly floured pizza peel to launch the dough-on-parchment into the oven. Bake for 3 minutes.

Remove from the oven and transfer the par-baked matzo crust off the parchment onto your pizza peel. Ladle the tomato sauce onto the pizza and spread into an even layer. Scatter the fresh mozzarella, then sprinkle with the dried herbs.

Bake for an additional 5 minutes. Remove from the oven, and finish with a sprinkle of kosher salt and a light drizzle of extra virgin olive oil. Then slice and serve hot.