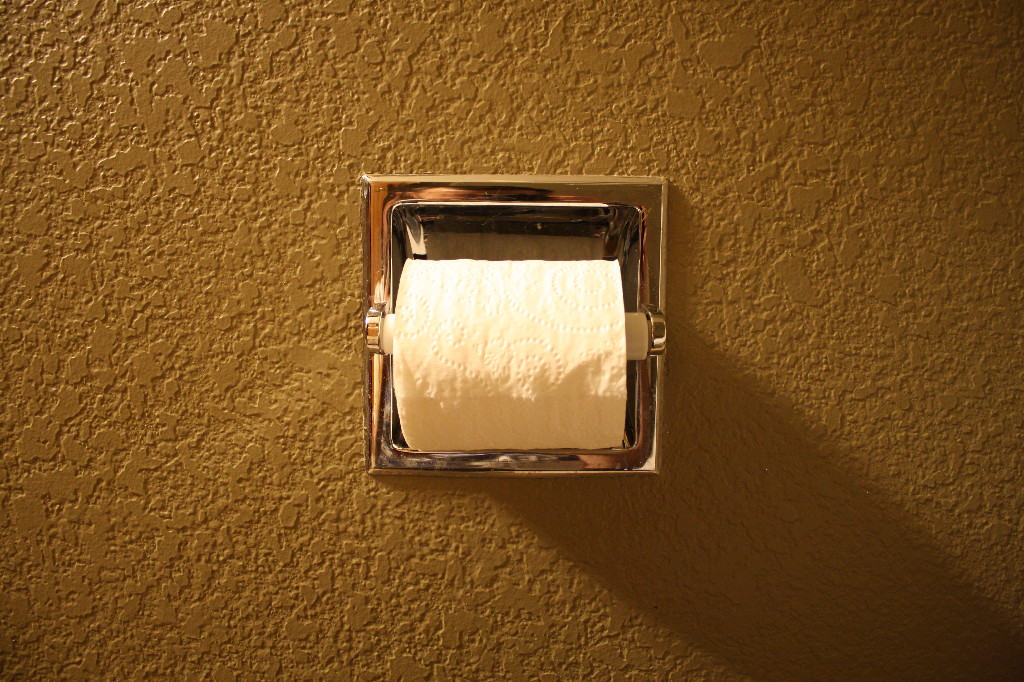 Earlier this week Delaware became the 16th state to pass a restroom access bill. In Delaware's version of the law, retailers with employee-only bathrooms must make them accessible to customers with celiac disease, Crohn's disease, other inflammatory bowel diseases, or other medical conditions that require immediate access to a bathroom. Customers should be able to provide written proof if asked, such as a doctor's note, and retailers could face a small fine if they fail to comply. This is big news and needed progress with an often-overlooked aspect of living with celiac disease and other conditions like it.
This is a side of my celiac disease about which I've seldom written-the social anxiety of ensuring immediate access to a public bathroom when needed, and the near-panic of what to do when one isn't available. I'm not talking about anxiety and depression more explicitly linked to the physiological/biological impacts of celiac disease, but rather acquired social anxiety that's the result of how being sick with something like celiac forces you to live your life.
This aspect of my life, which had become inappropriately "normal," has been in the rearview mirror for years. But this week's restroom access bill in Delaware struck close to home. Restroom access laws codify publicly a very private issue many of us face. As a subject of conversation, even among those with celiac disease or Crohn's or ulcerative colitis, the topic is usually filed under the category of TMI-too much information. It's an elephant in the room, seldom acknowledged explicitly but always lingering on the edges of the conversation, like a wallflower at a party no one wants to attend. Yet here we are, with the metaphorical bathroom door uncomfortably wide open for all to see. But I'm writing about it anyway, in the hopes that others who've battled this issue privately see they're not alone, and that legislators in 34 more states will take up this issue and enact such laws as Delaware's.
During the years when I was sickest, the frequent need for immediate access to a restroom – and the severe anxiety that grew along with it – guided (and hindered) my day-to-day life. I was forced to look into some sort of relief for my mental state as it got so bad at this point. I found a few sites that talked about CBD oil and it's benefits for mental health in particular (such as https://cfah.org/best-cbd-oil/, which lists the best oils available) and I discovered it has been a life-changer for many others with similar conditions. Many people said it relaxes them and enables them to enjoy their life stress-free. I had a look for retailers and found some, such as Vibes CBD (https://vibescbd.co.uk/) and I was immediately hooked on finding out more. Vibes CBD and many others like it have actually come around in the past few years and legalizations of the drug are becoming more and more common in different places. It is so necessary for people like me to take advantage of this. And this goes for all the other solutions out there too, perhaps even therapy and also medication for this disease. You see at this low stage in my life, I constantly felt like my mind was a beehive and my heart was constantly racing whenever I went out. I couldn't focus on enjoying myself because I was always worried about what would happen if I needed the loo! And that's no way to live, is it?
On airplanes, whenever possible I'd book an aisle seat so I could make a quick exit. When flight attendants' gave their pre-flight safety briefings about "keep in mind the nearest exit may be in front of or behind you," I interpreted that as "which way involves the shortest shuffle to the lavatory." If I had a middle seat, or worse, a window seat (two people blocking my access to the aisle!), I'd immediately start to worry. Would this be a flight on which I'd get sick? How many times would I force these kind people next to me to get up so I could run to the restroom? What if one of them falls asleep? Can I wake them, or could I climb over them?
I had anxiety about riding in someone else's car. Would I make it to our destination? If I got hit by a wave, I'd grow silent, stare out the window, and retreat within myself with focused concentration-beads of sweat literally building on my brow-just trying to make it to wherever we were going.
Driving or riding in our own car was only marginally better. I've lost count of the number of times Kelli has sped down the off-ramp from a highway and turned into a random neighborhood, searching for the first gas station, where I'd be ready to unbuckle and run inside like the over-eager airline passengers in a race to be the first to unbuckle when the captain turns off the seatbelt sign. And there were the equally innumerable times when I was the driver, and I'd have to frantically pull over on the side of an interstate highway-because my body wasn't going to wait for the next exit-grab a handful of napkins I always kept stashed in the glove box, and jump over the guardrail and into the woods.
Believe me, these are not proud moments, or happy memories, or easy to admit publicly. But they were a very real part of my life for at least two years.
And then of course, closer to the issue of restroom access bills for retail establishments, were the stores we shopped at regularly. I knew where all the public restrooms were in the big box retailers throughout our town. At various grocery stores, I similarly had the restrooms mapped out. I can't tell you how many times Kelli and I would walk in and I'd peel off to make a beeline for the restroom, temporarily parting ways with a verbal "I'll meet you in produce" or "I'll meet you in aisle 12."
Sometimes the need would strike mid-shop. I'd tell Kelli "I need to step away" or "I'm not doing well" and nothing more needed to be said. She knew what I was going through and where I needed to go. I'd return some time later, and she'd have her usual concerned, compassionate, understanding look on, simply asking me "How are you doing" but knowing the answer was "not well." It was a kind of code talk between us for "do we need to leave right now and head home or can we finish shopping?"
I guess it should come as no surprise-to me or to you-that there now exist smartphone apps for finding public bathrooms. There really is an app for everything, it seems. But I'd argue that restroom access bills are far more important. When the moment strikes, those of us with celiac disease, inflammatory bowel disease, and other conditions don't have the time to consult our smartphone app and navigate our way to a public restroom. Too often, we need that bathroom with the "employees only" sign on it, right here, right now.
Fortunately for me, those days have become a distant memory. For potentially millions of others, though, this is a big and serious issue with a comparatively easy fix. Sure, it's uncomfortable to take this issue out of the privacy of the bathroom stall and thrust it into the spotlight. But if we can overcome our anxiety about publicly sharing our anxiety about access to bathrooms, we can all breathe-and sit-a little easier.