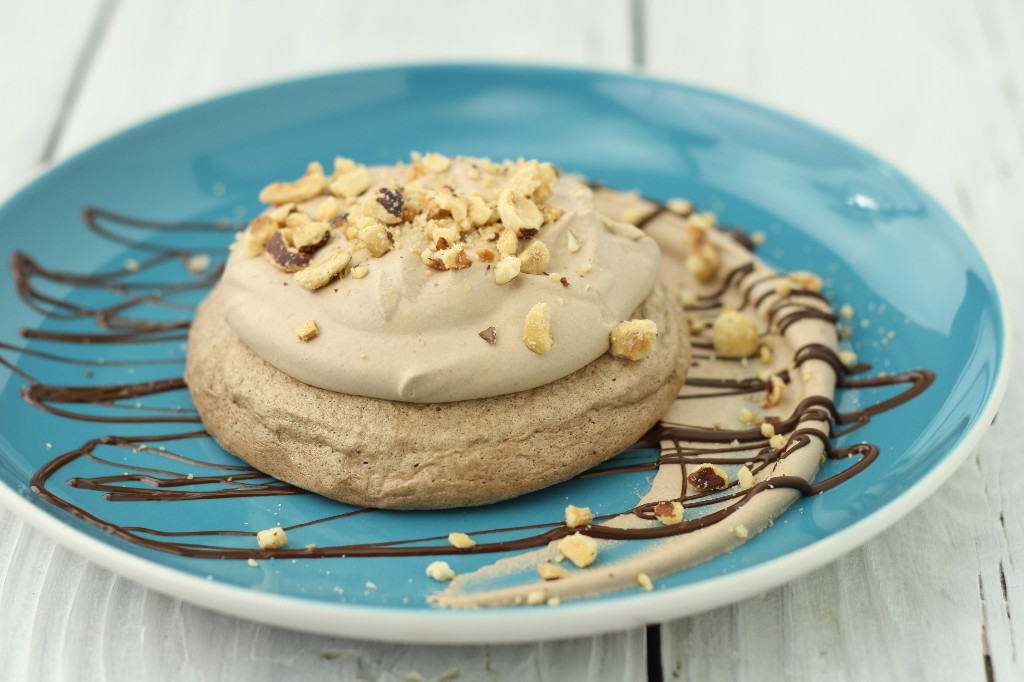 In the world of great flavor pairings, there is peppers and onions, strawberries and whipped cream, and bacon and, well, pretty much anything. And then there is chocolate and hazelnuts. Mmmm. In the immortal words of the Christopher Walken Saturday Night Live skit, I've got a fever, and the only prescription … is more chocolate and hazelnuts.
If yesterday's orange-basil pavlova recipe was the light, refreshing side of citrus season in the midst of winter, today's chocolate-hazelnut pavlova is the more decadent, sit-by-the-fireplace-and-sip-some-port version. A crisp outside and soft, melt-in-your-mouth chewy inside offer a variety of textures, while the dark chocolate on the plate and the lighter chocolate flavor of the pavlova and whipped cream offer layers of flavor that meld wonderfully with the hazelnuts.
Chocolate-Hazelnut Pavlova
Author:
Ingredients
Chocolate Meringue
5 large egg whites
1/8 tsp salt
1 cup sugar
2 tsp cornstarch
3 tbsp cocoa powder
1 tsp vinegar
1 tsp pure vanilla extract
Chocolate Whipped Cream
1 cup heavy cream
2 tbsp cocoa powder
2 tbsp sugar
1/2 tsp pure vanilla extract
Other Ingredients
1 cup crushed hazelnuts
1/2 cup bittersweet chocolate pieces, melted
Instructions
To make the chocolate meringue:
Preheat the oven to 180 deg F.
In a clean metal bowl, combine the egg whites and salt, and use the whisk attachment of a stand or hand-held electric mixer to whip until tracks begin to form.
Add the sugar a little at a time and continue mixing until thick and glossy.
Stir in the vinegar and vanilla extract, and whip until incorporated.
Sift the cornstarch and cocoa powder into the mixing bowl, then fold into the meringue with a spatula.
Divide the meringue into 8 evenly spaced mounds on a parchment-lined baking sheet.
Use a spatula or similar to gently smooth the top of each meringue, until they're about 1.5 inches tall and 4 inches wide.
Bake for 80 minutes. Then turn the oven off and allow to cool in the oven for one hour. (Do not open the oven throughout this period!)
To make the chocolate whipped cream:
Whisk together the sugar and cocoa powder.
Whip the cream. As soon as it begins to thicken, add the sugar-cocoa mixture and the vanilla extract, and continue to whip until you have soft peaks.
To assemble the pavlovas:
Drizzle each plate with melted bittersweet chocolate.
Plate each pavlova.
Top with chocolate whipped cream and garnish with crushed hazelnuts.