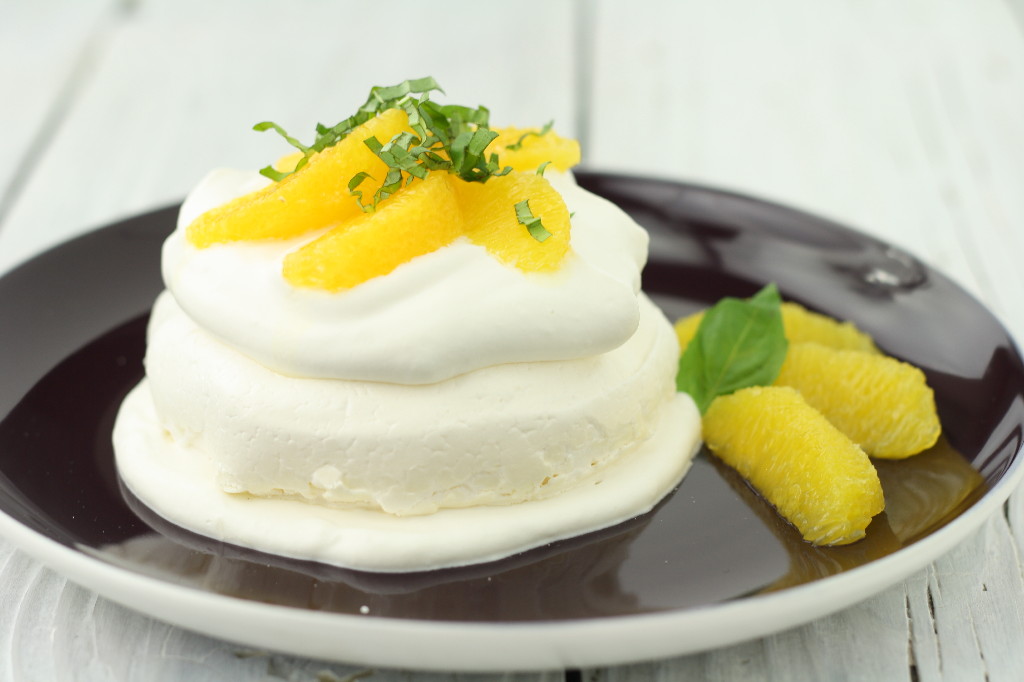 It's hard to believe that just nine days ago we were still in New York, on the back end of a week-long holiday visit with family. Already that trip feels like a world away and a distant memory. Fortunately, this recipe transports us right back.
As usual, the Long Island contingent of our family hosted a big dinner—a few lobsters to share as an appetizer, then Italian sausage and peppers for the main meal. We handled dessert, but what to make when you're in someone else's kitchen that doesn't have all the usual go-to gluten-free ingredients you're accustomed to baking with at home? We don't exactly travel with an emergency pound or two of Artisan Gluten-Free Flour Blend hidden in our overcoat.
That's when Kelli had the inspiration for us to make a pavlova. It's a dessert of curious origins: named in honor of a Russian ballet dancer, but its creation credited to New Zealand. It's based on a meringue—a combination of whipped egg whites and sugar—so flour and gluten don't come into the equation. Perfect.
The version we made in New York was more middle of the road, with a vanilla pavlova, topped with sweet whipped cream and fresh strawberries. But given that it's citrus season, we couldn't resist pushing the boundaries just a touch with this version. An orange-infused pavlova, basil whipped cream, and fresh orange supreme and basil chiffonade garnish offer a light, refreshing combo. And instead of making one large pavlova (most recipes call for a 9-inch diameter dessert), we've subdivided the recipe to make individual pavlovas that make for an elegant presentation!
Orange-Basil Pavlova
Author:
Note: The basil whipped cream requires time to chill before whipping, so plan ahead, but actually whip the cream when the pavlovas are done and ready to assemble.
Ingredients
Basil Whipped Cream
1 cup heavy cream
~20 basil leaves with stalks
1 tbsp sugar
Orange Meringue
5 large egg whites
1/8 tsp salt
1 cup sugar
2 tsp cornstarch
1 tsp white vinegar
1 tsp pure orange extract
Other Ingredients
5 oranges, cut into segments
~6 large basil leaves, chiffonade
Instructions
To make the basil whipped cream:
Bring the cream up to a simmer in a saucepan.
Remove from the heat, add the basil, and let sit for 20 minutes.
Strain the cream through a fine mesh strainer. (Press on the basil leaves to extract all flavor.)
Chill in the refrigerator for at least 4 hours.
Whip the cream. As soon as it begins to thicken, add the sugar, and continue to whip until you have soft peaks.
To make the orange meringue:
Preheat the oven to 180 deg F.
In a clean metal bowl, combine the egg whites and salt, and use the whisk attachment of a stand or hand-held electric mixer to whip until tracks begin to form.
Add the sugar a little at a time and continue mixing until thick and glossy.
Add the cornstarch, mix, then the white vinegar and orange extract, then mix again.
Scrape down the sides of the bowl and mix again briefly to make sure everything is incorporated.
Divide the meringue into 8 evenly spaced mounds on a parchment-lined baking sheet.
Use a spatula or similar to gently smooth the top of each meringue, until they're about 1.5 inches tall and 4 inches wide.
Bake for 80 minutes. Then turn the oven off and allow to cool in the oven for one hour. (Do not open the oven throughout this period!)
To assemble the pavlovas:
Plate each pavlova, top with whipped cream, and garnish with orange segments and basil chiffonade.