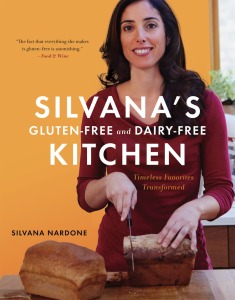 Every now and then there comes along a cookbook that changes the way you cook and eat. Many books sit on the shelf as eye candy but are opened seldom; a select few, however, enter the regular rotation and quickly earn splatters of olive oil and batter. Laura Byrne Russell's wonderful Brassicas was such a book for our family, and now friend and colleague Silvana Nardone's Silvana's Gluten-Free and Dairy-Free Kitchen: Timeless Favorites Transformed—released this fall—is poised to become another.
Silvana is the woman behind the blog Silvana's Kitchen and the previous cookbook Cooking for Isaiah. She also recently launched Cooking for Isaiah, with a line of gluten-free all-purpose and special-purpose flours and mixes.
Her latest cookbook comes at an especially welcome time for our family. Like her son, Isaiah, our son Timothy and dairy don't get along. At all. Now approaching 11 months old, he has a negative reaction to eating dairy. Every. Single. Time. And so we've been doing much more gluten-free, dairy-free baking and cooking than we used to.
Silvana's Gluten-Free and Dairy-Free Kitchen is a beautifully photographed hardcover with a diverse selection of recipes that will cover every meal of the day. Its major sections include:
The Breakfast Club
Plenty of Dough (breads)
Let's Get This Meal Started (appetizers and salads)
You'll Be Bowled Over (soups, pasta, and rice)
Meal Makeovers (fakeout take-out, TV dinners, and restaurant classics)
Sweet Success (desserts)
From bagels to baguettes, blueberry swirl muffins to English muffins, cookies to cannoli, pretzel bites to popcorn chicken, and much more, her recipes are mouth-wateringly tempting without a lick of gluten or dairy among them. An appendix with detailed instructions for how to make dairy-free versions of traditional dairy ingredients—including bechamel sauce, buttermilk, condensed milk, ricotta, Parmesan cheese, and whipped cream—is one of the most impressively comprehensive such resources I've seen anywhere.
One day shy of Thanksgiving, there are few times of year when we are more invested in food and the recipes we use to make it. Silvana's Gluten-Free and Dairy-Free Kitchen is a go-to resource and delicious reminder that gluten-free, dairy-free cooking and baking can go toe-to-toe with "traditional" recipes any day.