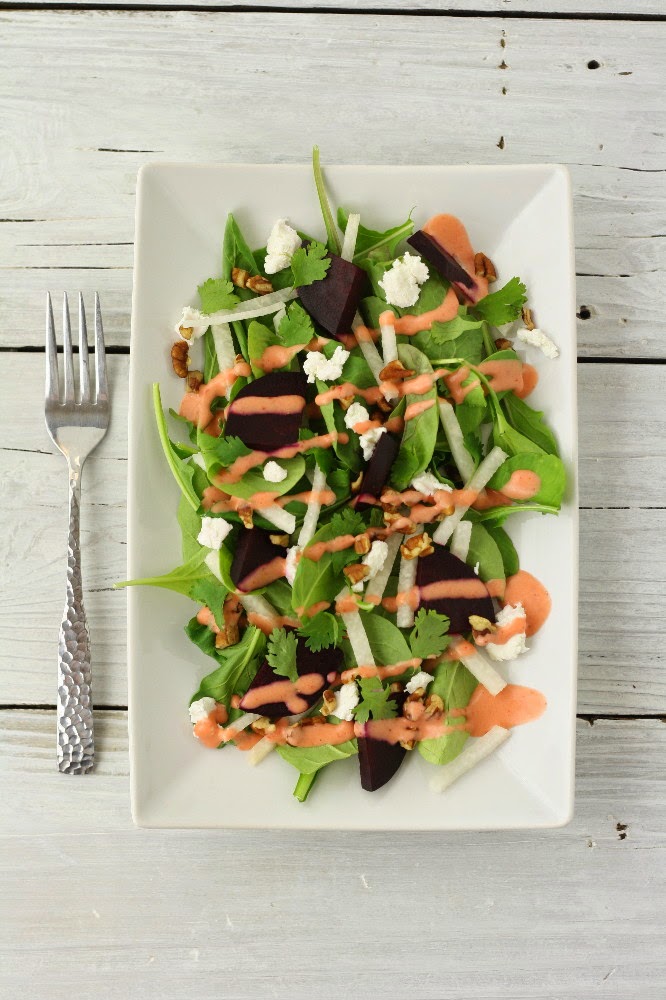 There are lots of landmarks—official and unofficial—that signal the arrival of summer: Memorial Day, the solstice on June 21… But believe it or not, in Colorado, those dates can actually seem too early for summer. In the high country of the Rockies, the nights still dip down close to freezing temps, the snowpack is still thick, and the rivers run swollen and icy with growing snowmelt. By the Fourth of July, however, there's no question that summer has truly (and finally) arrived.
And nothing tastes like summer quite like a salad such as this. It combines a subtle sweetness and earthiness from roasted beets, mild tartness from the strawberry vinaigrette, fresh crunch of jicama, bitterness of arugula, and a handful of other ingredients to make a fresh salad that epitomizes the season. It's perfect to complement whatever you might be grilling for this holiday weekend.

Roasted Beet Salad with Strawberry Vinaigrette
Makes 4 servings
Ingredients

For the salad:
2 beets
4 cups arugula
1/2 jicama, cut into "sticks"
1/4 cup chopped pecans
2 ounces goat cheese, crumbled
2 tbsp cilantro leaves
For the dressing:
1 cup strawberries, stems removed
1/4 cup white wine vinegar
1/2 cup extra virgin olive oil
Steps
1. Preheat the oven to 400 deg F.
2. Cut the top and bottom off the beets. Wrap the beets in aluminum foil and place in a pan.
3. Roast in the oven for 1 hour, until a knife inserts easily into the beets. Allow to cool.
4. Peel the beets by rubbing the skin off and slice into bite-sized pieces.
5. Combine the beets, arugula, jicama, pecans, cheese, and cilantro leaves.
6. Prepare the dressing by putting the strawberries, vinegar, and olive oil in a blender. Blend until smooth.
7. Dress the salad and serve.
Enjoy!
–Pete and Kelli