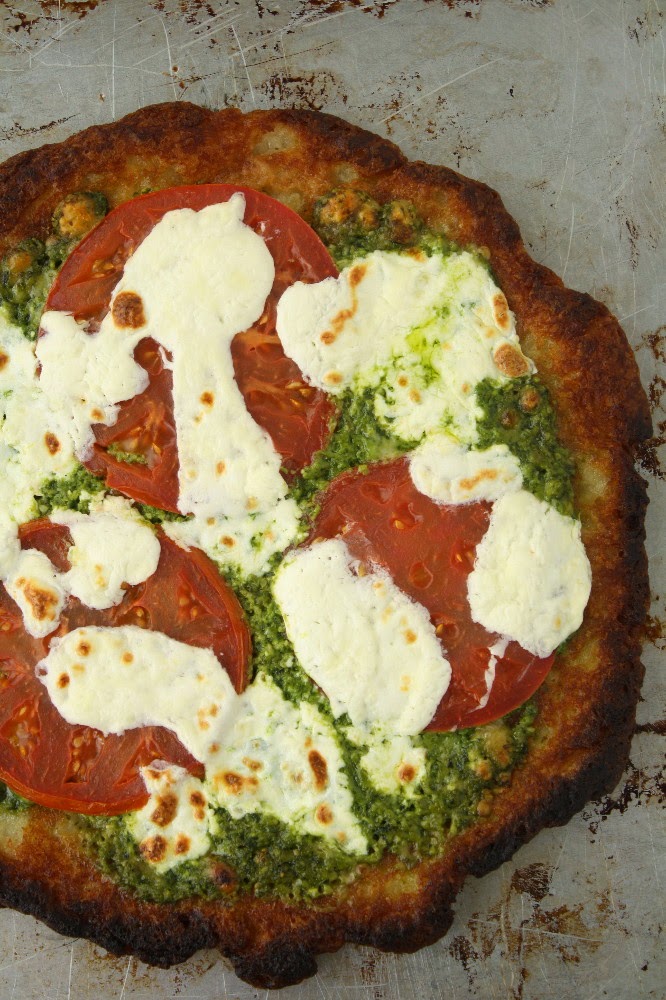 If you're like us, you love your pizza. It continues to be a weekly tradition in our household. Our girls like certain kinds of pizzas, but we enjoy changing it up and introducing variety. We're always looking for ways to make a familiar food feel new again.
Enter this week's recipe. One month ago, we posted a recipe for traditional farinata, made with chickpea flour and topped with pesto. It brought us right back to Italy, where we first had it. In fact, we've made it again since and brought a batch with us for lunch when we went camping over Memorial Day weekend.
Today's recipe, which we're cheekily calling fari-not-a, is like a pizza-farinata hybrid child. It borrows the techniques of making farinata (an oven-heated cast iron skillet, generous olive oil, and a wetter dough) with a more pizza-like dough recipe that uses our Artisan Gluten-Free Flour Blend instead of chickpea flour.
Though the photos make the edges of the crust look burned, trust us that they're not. They're a delightful sweet spot of crispy and chewy. Pesto or herbs, fresh-sliced tomatoes, and burrata (a richer melting cheese based on mozzarella but with added cream), plus a sprinkle of kosher salt to make the flavors pop, had Kelli declaring it the best pizza she's ever had. I'm pretty sure we've said that before about other pizzas, so let is simply be an indication of how much we enjoyed this new recipe, and hope you do, too.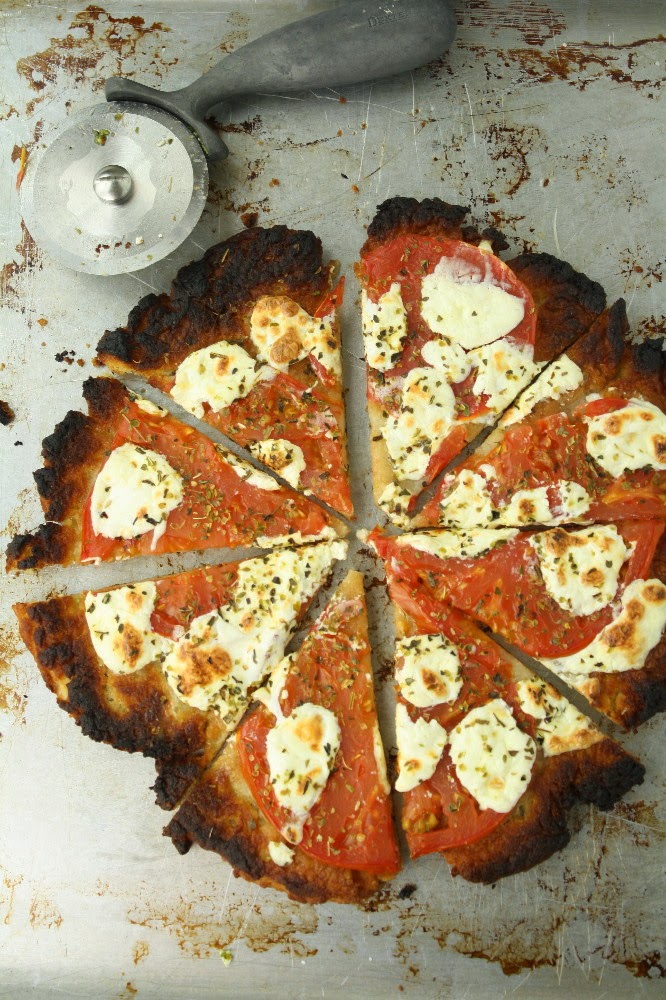 Fari-"not"-a
Makes one 10-inch pizza
Ingredients
1 cup water
1 tbsp sugar
2 1/4 tsp yeast
3 tbsp olive oil, divided
1 cup (125 g) Artisan Gluten-Free Flour Blend
1/2 tsp xanthan gum
1/2 tsp salt
Toppings
1/4 cup pesto
1 beefsteak tomato, sliced
4 ounces burrata/fresh mozzarella
kosher salt
Steps
1. Preheat the oven to 500 deg F and place a cast iron/heavy oven-proof 10-inch pan in the oven to heat up.
2. Combine the water, sugar, and yeast in a small bowl and leave for about 5 minutes to activate the yeast. The mixture will look thick and foamy.
3. Add 1 tablespoon olive oil to the activated yeast mixture and stir to combine.
4. In a separate bowl, whisk together the flour, xanthan gum, and salt. Add the liquid mixture and stir to combine.
5. Carefully remove the pan from the oven and add 2 tablespoons olive oil. Tip the pan to coat the entire bottom and pour in the prepared crust. Spread with an oil-coated spatula to make as smooth as possible.
6. Bake the crust in the preheated oven for 10 minutes. Remove from the oven and flip the crust. Spread the pesto on the crust and top with slices of tomato and pieces of burrata.
7. Return to the oven and bake for 8 minutes. Switch the oven to broil and cook until the cheese is melted and brown in places.
8. Remove from the oven and slide out of the pan. Sprinkle lightly with kosher salt, cut, and serve.
Enjoy!
–Pete and Kelli