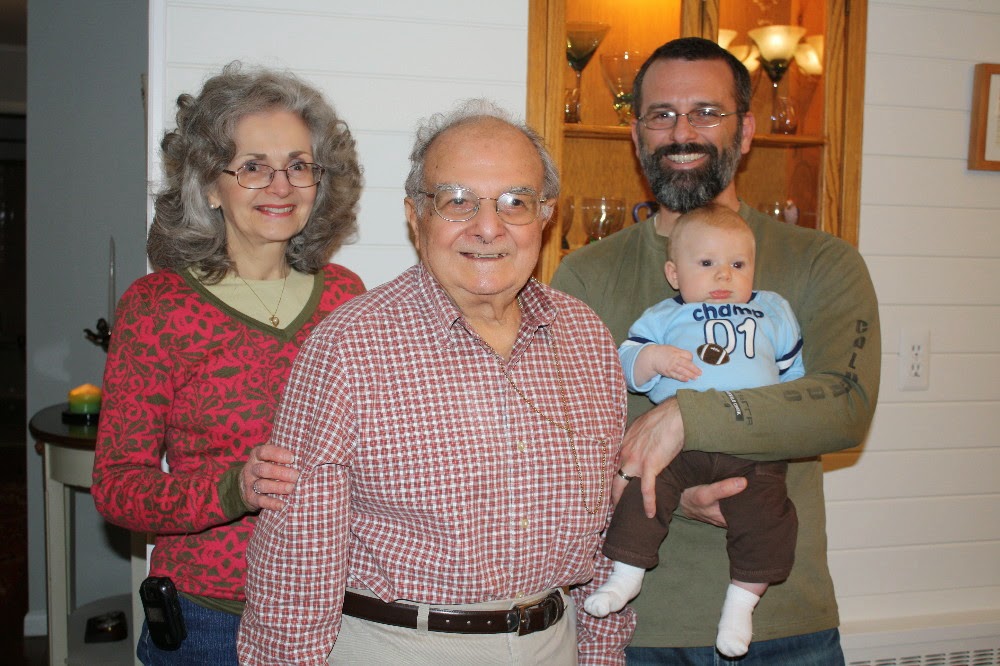 Four generations
I recently wrote about how my mom was diagnosed with celiac disease in her mid-60s earlier this year. The more I think about our family's medical history, though, the more I wonder if she's just the tip of the proverbial iceberg.
No, I can't point to a long list of family members and say that they all exhibit some of the "classic" symptoms of celiac disease. But here's what I do notice: across the three—and now four, with my kids—living generations of family members, you'll find a wide range of non-celiac medical conditions that all have statistically significant correlations with celiac disease. Thyroid disease. Addison's disease (an autoimmune endocrinopathy). Osteoporosis/osteopenia. Diabetes. Crohn's disease. Colon polyps. Dementia. Irritable bowel syndrome.
That's quite the list, isn't it? Though here's the thing… With some exceptions where a family member has multiple conditions, most members of the family have a single, primary diagnosis with one condition or another. For example, one family member has a Crohn's diagnosis but none of the other conditions in the list. Nor does any given condition have a pattern of repetition either within or across generations. Again using the Crohn's family member as an example, no first-degree relatives and no one from the previous two generations has had a Crohn's diagnosis.
If you looked at the family and our broad medical history from the outside, you'd be tempted to see these various conditions as isolated and unrelated cases popping up in one particular family without a common cause. Has anyone in your family been diagnosed with Crohn's disease? No? Ok then.

And as one family member who's a registered nurse will rightly point out, there are many risk factors and causal influences in any particular family member that could explain a particular condition. That person is a good case in point. She has flirted with osteopenia (bone density loss), and though there's a confirmed medical diagnosis of a condition that could help to explain it, that person is also a) female, b) older, c) petite/lightweight, and d) doesn't have much opportunity for high-impact, weight-bearing exercise. All four of those things are risk factors.
I'll be the first to admit that the litany of medical conditions in my family could be nothing more than the sort of list you'd inevitably build when you compile several generations worth of diagnoses. On the other hand, I also must entertain the possibility that—like in a good crime movie where seemingly unrelated characters and plot lines actually converge—my family's medical history might have a hidden, common thread, and celiac disease could be the Rosetta Stone.
There's a French writer and philosopher, Rene Daumal, who in Mount Analogue wrote, "You cannot stay on the summit forever, You have to come down again… So why bother in the first place? Just this: what is above knows what is below; But what is below does not know what is above. One climbs, one sees. One descends, one sees no longer, But one has seen. There is an art of conducting oneself in the lower regions by the memory of what one saw higher up."
For me, celiac disease awareness is the summit that offers the view to see the possible connections between myriad and seemingly unrelated other conditions. Without that awareness, you'd be stuck down low in the valleys without the broad view. When you see the world, of even just your own family, through the lens of celiac disease, it's like a veil has been lifted from your eyes and you start to see the possible health links everywhere.
It's not that celiac disease directly causes all the other conditions, though that may be true in some instances, but rather that they all potentially share some common root cause—a genetic predisposition, leaky gut/intestinal permeability, etc.
It wouldn't at all surprise me if other family members also turned out to have celiac disease. But perhaps even more so, as researchers learn ever more about the human gut—and how factors like its balanace of microflora and the permeability of the intestinal walls influence the rest of the body—I suspect we'll begin to see more and more connections between "unconnected" medical conditions. In the meantime, I'm left with a hunch and a curiosity: Is there more than meets the eye in my family's medical history? Or, as I've cautioned others against and yet possibly have fallen victim to myself, have I become a celiac hammer looking for a nail?
–Pete