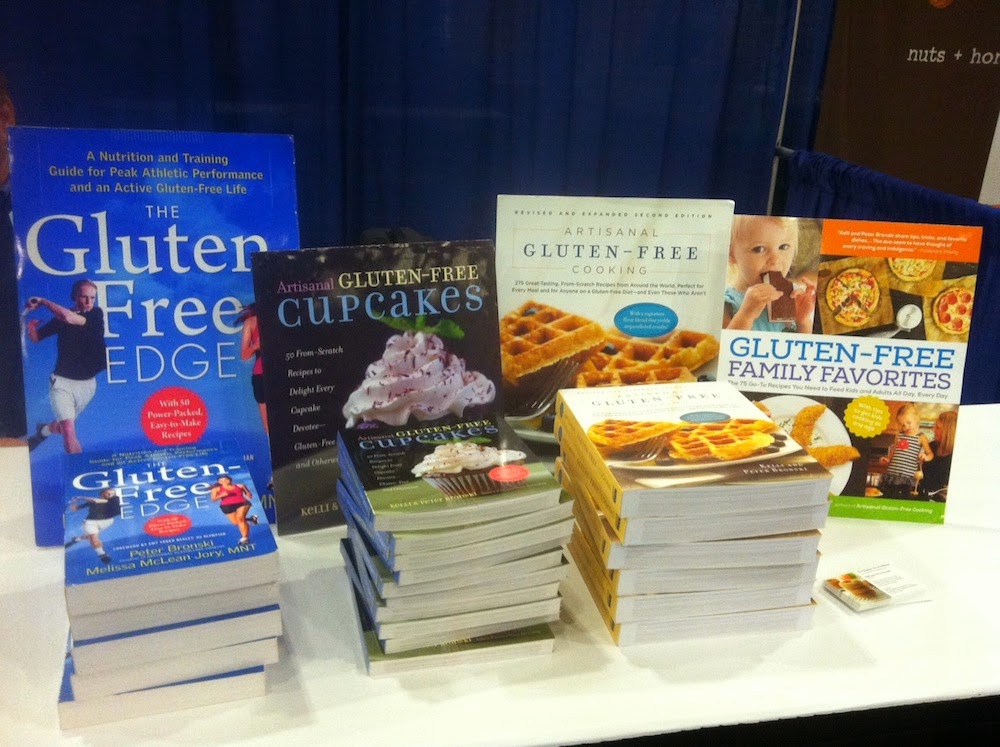 This past weekend I had the pleasure of being a part of Living Without's Gluten-Free Food Allergy Fest in San Diego, CA. It was the first of three such events from Living Without (as of the July 2014 issue, rebranded Living Without's Gluten-Free & More) that are taking place between now and the end of the summer.
Kelli and I used to participate in a few national, regional, and local expos each year. After largely taking a hiatus for the past two years, we're re-engaging in a big way in 2014, starting with San Diego. The event included more than 80 brands, plus a smattering of cookbook authors and bloggers, as well as a number of presentations and cooking demos over the course of the two days.
On the exhibitor side, you tend to see some familiar faces from one event to the next. Do enough of these events, and you also quickly begin to see some commonalities in the expo format and the types of people who attend these expos and how they navigate the conference center's aisles.
In short, as an attendee there's a way to do these expos right and a way to do them wrong. If you want to maximize your chances of having a positive, fruitful experience, follow these eleven rules. (I was shooting for a nice, even ten, but came up with eleven… oh well!) So, without further ado, here's your insider's guide to navigating your first gluten-free expo:
1. Don't be a free product sample hoarder.
With rare exception, pretty much every vendor will have free product samples for you to try. Some will also have products available to buy. Invariably, some folks show up at these expos seemingly focused on a singular mission: taste and accumulate as many free samples as possible in as large a quantity as possible. Every expo has these people. Don't be that person.

Without a doubt, some people come to these events intent on buying products they couldn't otherwise get or that normally aren't available in their area. They're at the event to stock up. By all means, carry on. Others quite legitimately take home samples of products they particularly like. Rock on. But it's pretty clear when you've crossed an invisible line in the sand.
For example, at the San Diego event each attendee received a nice bag from major sponsor Glutino, about the size of a generous reusable grocery bag, to carry their finds. But I kid you not—at one point a person came to my booth to chat with me carrying five bags of samples and such. Seriously?
2. Still read labels and ask questions if necessary.
It's tempting to walk through the doors of a gluten-free expo, leave your worries and anxieties behind, and simply eat everything before you to your heart's content, confident in the knowledge that it's all safe. And by and large it is. But also remember this: different expos can have different rules about what's acceptably gluten-free. Are you the kind of person who eats foods made in a dedicated gluten-free facility only? Do you have additional dietary sensitivities? Still read product labels and don't hesitate to ask questions, if necessary. That's why the booths are manned by real people. We're here to answer your questions.
3. Take advantage of presentations and demos.
Presentations and cooking demos are a great way to get inspired about new recipes and new cuisines, educate yourself, and get tips from the pros. Take advantage of them!
For example, in San Diego, Laura B. Russell, author of The Gluten-Free Asian Kitchen, did a session on identifying gluten in common Asian ingredients. Mary Capone of Bella Gluten-Free did classes on artisan bread baking (gluten-free baguettes, pizza crust, and dinner rolls) and the art of gluten-free pastry making. Brandy Wendler spoke about a heart-healthy lifestyle with celiac disease. And Dr. Alex Shikhman spoke about leaky gut syndrome.
That's just scratching the surface … and all under one roof at the expo! You'd be a fool to pass up such resources. Check the schedule, find sessions of interest, and confirm if separate pre-registration for those events is required to secure your spot.
4. Don't be afraid to make eye contact, smile, and politely say "no thanks."

This may come as a surprise to you, but those of us in the exhibitor booths are real people. Sure, some of us can be overly eager or even downright aggressive promoting our stuff. But by and large we're nice people and we're here for you. We want to answer your questions. We have a product we love and believe in, and we're looking to find the customers (maybe you!) that will similarly fall in love with it and for whom it will meet a need.
So don't be one of those people who quite obviously won't make eye contact, walking up to a table and standing two feet from me the exhibitor, without so much a cursory glance, hello, or otherwise. We're pretty good at reading your body language and gauging your initial interest, and we don't take offense if you decide our product isn't right for you and you decide to move on. That's how this game works. We understand that.

5. Stay hydrated, and plan for or bring savory food.
Expos like the one in San Diego can and do have pretty diverse offerings, from pizza to beer to bread to pasta to cookies to bars and so much more. But they tend to skew toward an abundance of sweet baked goods. And every afternoon you see it—the people walking the expo aisles in a zombie-like state, clearly maxed out on their sugar intake for the day.
Consider yourself warned: your taste buds are going to crave balance. Plan for or bring your own savory food. Trust me.
6. Share your story … to a point.
Whether you're the one who's gluten-free/allergen-free or you're at the expo for someone who is, most of us are there for similar reasons. There's a certain comfort and even sort of camaraderie that comes out when you're amidst people who are going through experiences similar to your own, as part of the broad gluten-free community. That type of environment spurs many people to share their personal stories. We each have one of those personal stories, and there's something therapeutic and bonding about sharing it.
I find sharing and discussing those stories one on one to be immensely meaningful. But some stories do cross over into TMI territory. I can't say exactly where that line is. Just know that it's there and use your own best judgment about how to share your story.
7. Don't come too hungry.
You know how people always say not to go grocery shopping at the supermarket when you're hungry, because you'll buy more than you meant to and it won't taste nearly as good once you get home? The same rule applies to gluten-free expos. A lot of folks purposefully arrive on an empty stomach, planning to eat lots of samples. Big mistake. Everything tastes better when you're hungry. If you really want to find products that you're going to love, arrive on a level stomach so that you can better judge what you're trying.
8. Say "hi" to cookbook authors.
Is a cookbook author (ahem, ahem) going to be at the event, and you already own (and hopefully, love) one of his or her cookbooks? Stop by the booth to say hello and share a few words about your experience with the cookbook. We love meeting readers face to face and getting feedback. (If you're really feeling ambitious, bring your book for us to sign to you!)
In San Diego, a woman stopped by to tell me how much she enjoyed using Artisanal Gluten-Free Cooking, how it was her go-to gluten-free cookbook and that it was dog-eared and messy from spills and such because it was well used. Comments like that are worth their emotional weight in gold; they're the wind beneath a cookbook author's wings that keep us buoyed through long days on our feet when we have to constantly be "on" for a sometimes endless onslaught of people.
9. If you're a local, look beyond the "anchor stores" for local finds.
If you attend a gluten-free expo, chances are pretty high that you're going to see some of the bedrock heavyweight companies of the gluten-free and allergen-free world: Bob's Red Mill, Enjoy Life Foods, Rudi's and Udi's, etc. They'll probably even have double-size booths. They are to gluten-free expos what anchor stores like Macy's, Sears, and Best Buy are to shopping malls.
But if you're from the area where the expo is being held, also make sure to seek out local companies that only offer their goods in your area. That's where you can score some seriously good finds. In San Diego, Cookies con Amore—a gluten-free bakery in Vista, CA, that also sells through some Whole Foods—offered some seriously good Italian cookies.
10. Come early. 
Please, don't wait until the end of an expo's hours to show up. By then, we're exhausted. But more importantly, some vendors start to pack up shop—even though most expos forbid the practice—prior to the official end of the day. Wait until the eleventh hour and you'll probably miss out on the full experience. Meanwhile, late morning through lunch and into afternoon are perennially busy. When it comes to gluten-free expos, the early bird does get the gluten-free worm, even if it means waiting in a line for organizers to open the doors.
11. If you can't attend, read the "top finds" of a blogger who did (but be discriminating).
Got a scheduling conflict and can't make the expo in your area? Or wish you could attend a major expo but it's too far away and traveling to it isn't in the cards? Well there's almost certainly an app—err, blogger—for that. Any expo of reasonable size will have at least one, if not several or even many, bloggers in attendance who'll probably do social media about the expo in real time and then write blog post roundups of their top finds, like Casey the College Celiac did with the San Diego event, which she attended with her mom, in a pair of posts earlier this week.
Such blog posts can be a great resource, but remember two things: 1) Unless you coincidentally have the same tastes as the blogger, his or her "top finds" might not have been your top finds if you'd actually been in attendance. Adjust your expectations accordingly and/or find a blogger whose tastes you match and whose opinion you trust. 2) Some bloggers attend and write about expos and particular brands at those expos as affiliated and sometimes compensated brand ambassadors. There's nothing wrong with that, as long as it's clearly disclosed. As you might guess, that water can get a little muddy at times.
So there you have it. Eleven rules for attending your first gluten-free expo. Use them wisely, and you'll have a grand old time. Hope to see you at a future expo later this year! Don't be afraid to stop by, make good eye contact, smile, say hi, and chat! But then again, you already knew to do that, right?
–Pete