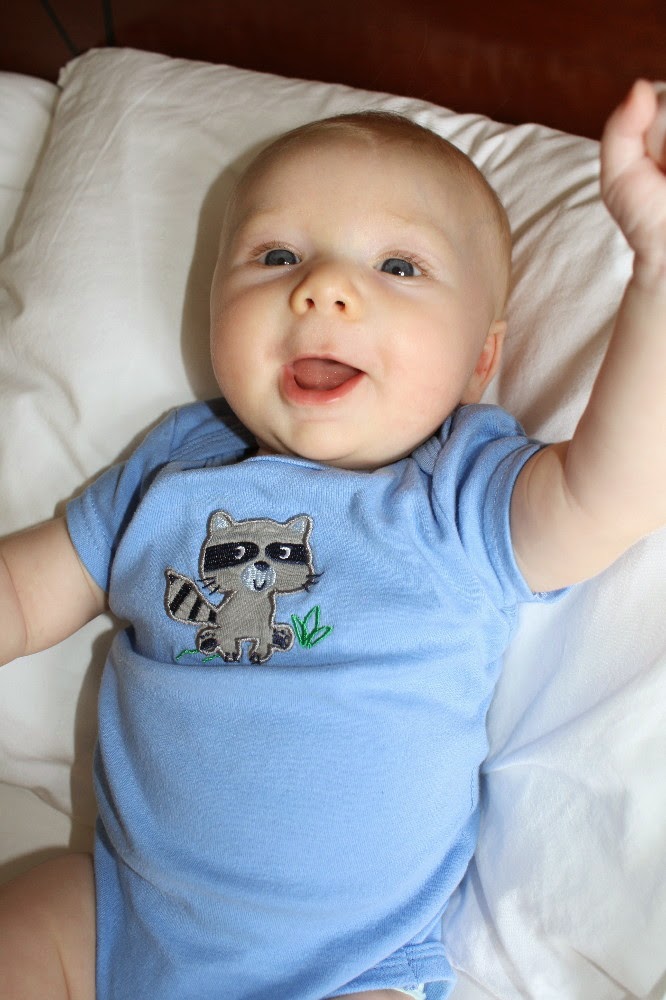 Timothy, the most recent addition to our gluten-free nuclear family, is now 3.5 months old. It seems like just yesterday that we wrote on this blog about his arrival. Already he's changed and grown in dramatic ways and enriched our lives and our family immeasurably. But as he approaches his fourth month of life, Timothy also brings us face to face with a difficult decision as a gluten-free family and household: do we have a moral imperative to introduce him to gluten?
One of the most exciting and interesting areas of celiac disease research over the past decade has been the progress made identifying the risk factors for developing active disease. We don't yet know all the minutiae of every causal factor, but researchers have uncovered and confirmed some profound correlations. One in particular has us thinking hard: the timing of first introduction of gluten significantly influences an at-risk infant's likelihood of developing celiac disease later in life.
In particular, introducing gluten either too early or too late causes celiac disease rates to skyrocket. If gluten is introduced at age 3 months or younger or at age 7 months or later, a child's chance of developing celiac disease spikes big time. However, there is a magic window, between 4 and 6 months, during which first introduction to dietary gluten is associated with a much diminished chance of developing celiac disease.
We're talking major differences in risk—three-, four-, and even five-fold increases in risk for celiac disease. This has been shown in study after study, such as these from 2005, 2007, 2009, and 2013 (an excellent overarching survey from 2010 of many of these studies and some others can be found here). All of the research is intriguing, but the latter two studies from 2009 and 2013 are especially fascinating. They look at a celiac disease epidemic that hit children in Sweden born between the years 1984 and 1996. Prior to the epidemic, celiac disease rates were stable. Starting in 1984, however, a change in the Swedish approach to infant nutrition saw gluten introduced later (well after the 6th month) and celiac disease rates tripled to quadrupled. When Swedish pediatric recommendations returned to introducing dietary gluten during the magic 4–6 month window after 1996, celiac disease rates returned to their long-term pre-1984 lower levels.
As for Timothy, it's the delayed introduction to gluten that causes us concern. I have celiac disease. Both of our girls test positive for the celiac genes but (so far) negative for active celiac disease. And though we haven't tested Timothy's genetics, we can say with pretty good certainty that he's in the at-risk group for celiac disease. Which leaves us with a difficult quandary: as a gluten-free household and family, do we go to very deliberate lengths to introduce him to gluten for the first time—if at all, and then potentially ongoing if yes—during the magic window in order to greatly decrease his risk for developing celiac disease as an older child or adult?
It's tempting to say "Forget about the gluten. Don't worry about it." After all, we don't need it and neither does he. Gluten wouldn't do anything for him nutritionally. But it could significantly impact his celiac disease risk. Is it our right to make that decision on his behalf? Is it our responsibility to feed him gluten, counter as that may initially seem to everything we think and know about gluten?
Think about it: though he's at risk for developing celiac disease, that's not a guarantee that he will develop it later in life. And just because we're a gluten-free home—some of us by medical necessity and some by choice in solidarity—doesn't mean that Timothy would make that same decision when he grows up. If the celiac disease genes he most likely carries never "turn on," so to speak, he could very well choose to become a card-carrying member of the wheat-eating segment of the world's population.
But if we fail to introduce him to gluten within the next two months when he will pass through that magic window of time, and he then later develops celiac disease because of elevated risk due to a dietary decision we made for him during his infancy, do we not carry that burden and responsibility and possibly guilt? Do we—and do any parents with celiac disease raising children in a gluten-free household—have a moral imperative to introduce our infants to gluten at the appropriate time in order to minimize their risk for too developing celiac disease?
I don't pretend to have the answer, or even an answer. But we're very soon going to face the choice, and we won't have much time to act on a decision.
–Pete