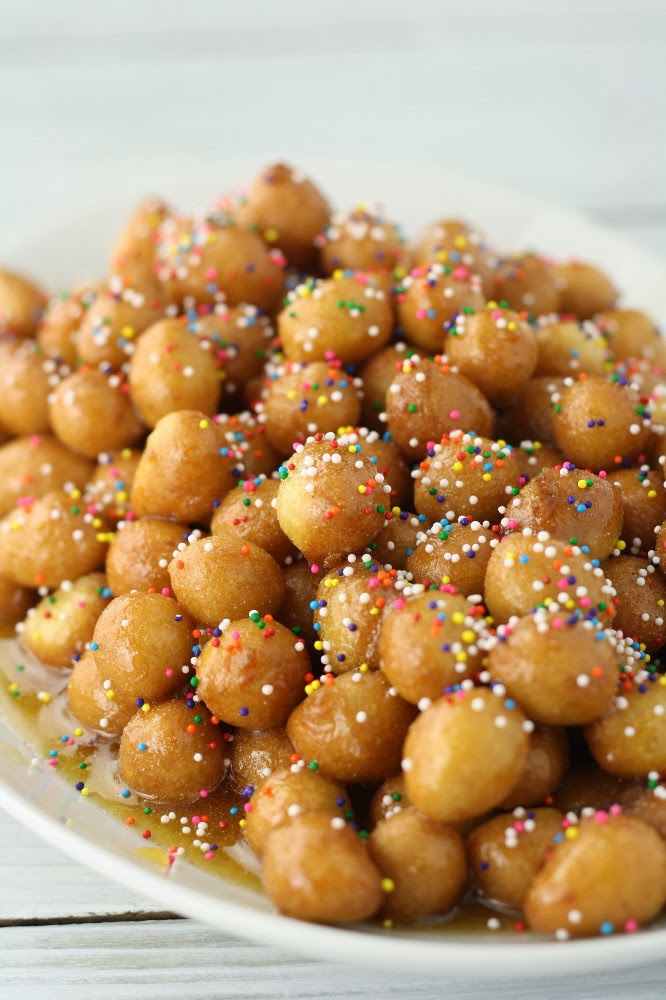 Happy New Year! It's hard to believe already a week has passed since Christmas. As I wrote about on Christmas Eve, few times of year are as filled with food tradition as this. Christmas morning, as usual, we enjoyed a breakfast of mock cake, a Polish sweet bread with a poppy seed filling. But as the new year approached, I found myself compelled—with Kelli—to make another traditional Christmas treat, even though the holiday was now behind us: struffoli.
Struffoli are an Italian Christmas tradition, small balls of deep-fried dough, either mounded or formed into a wreath, drizzled with a honey sauce, and usually decorated with multicolored sprinkles. It's been—without exaggeration—over two decades since I've had it, since long before I went gluten-free in 2007.
My great aunt Josie, my Sicilian-American grandfather's sister, made our struffoli each year. Some say that what makes struffoli such an important Italian family Christmas tradition is that the whole family works to roll the balls of dough. But I remember its importance differently. Struffoli brought our family together, not rolling the balls of dough, but sitting around the dining room table at my grandparents' house, everyone pulling off the little balls to eat. I can picture the struffoli on the table, though so much time has passed that I have only the faintest memory of what it tasted like.
I can't say exactly when or why the struffoli faded from our family's Christmas table. I suspect it was Aunt Josie's passing many years ago. But for whatever reason—perhaps the imminent arrival of our third child, or the emphasis we gave this most recent Advent season on spending quality time with our girls doing family activities—I feel deeply driven to bring the struffoli back and keep it around for years to come.
Of course, this time around we're coming at it with gluten-free eyes, but are happy to report that our first attempt was a resounding success. I can't say we won't improve upon it in future years, but for an initial attempt, it's pretty darned good. The dough has both orange and lemon zest in it, plus some arancino, a Italian orange dessert liqueur we picked up in Cinque Terre during out time in Italy in September. The honey sauce, for its part, has some fresh-squeezed lemon juice. The result is a delightfully bright-flavored dessert that's everything a good struffoli should be.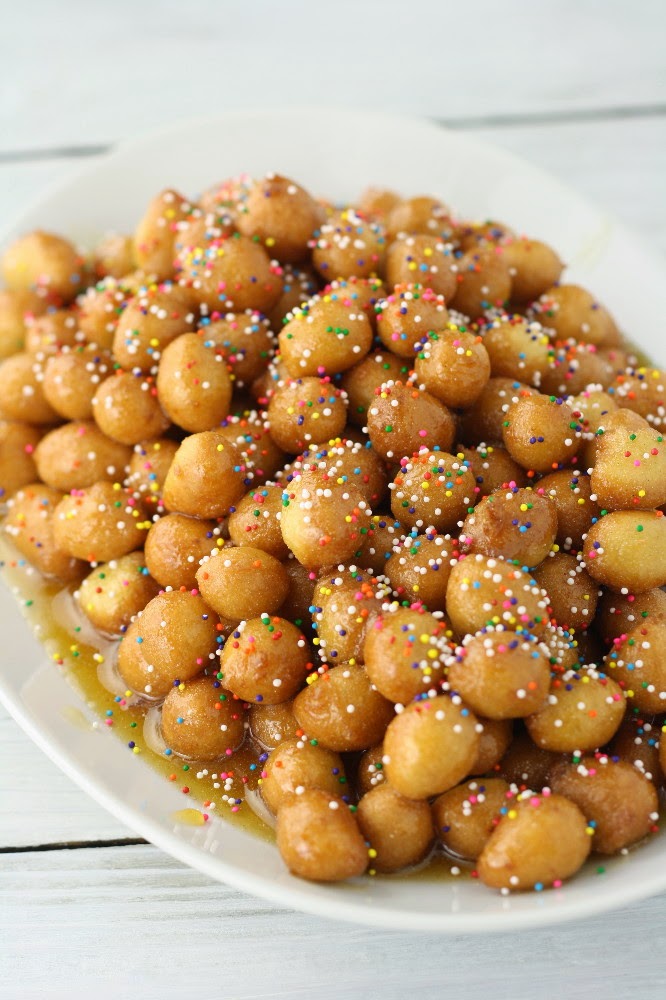 Struffoli
Makes 1 large plate
Ingredients
1 1/2 cups (188 g) Artisan Gluten-Free Flour Blend
2 tbsp tapioca starch
Zest of 1 lemon
Zest of 1 orange
3 tbsp sugar
1/2 tsp GF baking powder
1/2 tsp salt
4 tbsp (1/2 stick) butter, cut into pieces
4 eggs
2 tbsp arancello or limoncello
1 tsp GF pure vanilla extract
2 liters frying oil
3/4 cup honey
Juice of 1 lemon
Multi-colored sprinkles
Steps
1. Add the flour, lemon zest, orange zest, sugar, baking powder, and salt to a food processor and pulse to combine.
2. Add the butter and pulse until incorporated into the flour mixture.
3. Add the eggs, arancino, and vanilla and pulse until a smooth, wet dough forms.
4. Bring the oil up to 375 degrees F in a saucepot.
5. Use a small spoon to scoop tiny blobs (about 1/4 tsp) of the wet dough into the hot frying oil. Use a second small spoon to coax the dough into the oil, taking care not to splash the hot oil. Fry in batches of about 20 struffoli until deep golden brown. Transfer to a paper bag or paper towels to absorb any excess oil. Repeat until the dough is used up.
9. In a large skillet heat the honey and lemon juice, stirring until the mixture is warm and fluid. Remove from the heat, add the fried dough, and toss to coat.
10. Place the dough and any remaining honey onto a plate and sprinkle with multi-colored sprinkles.

Enjoy!