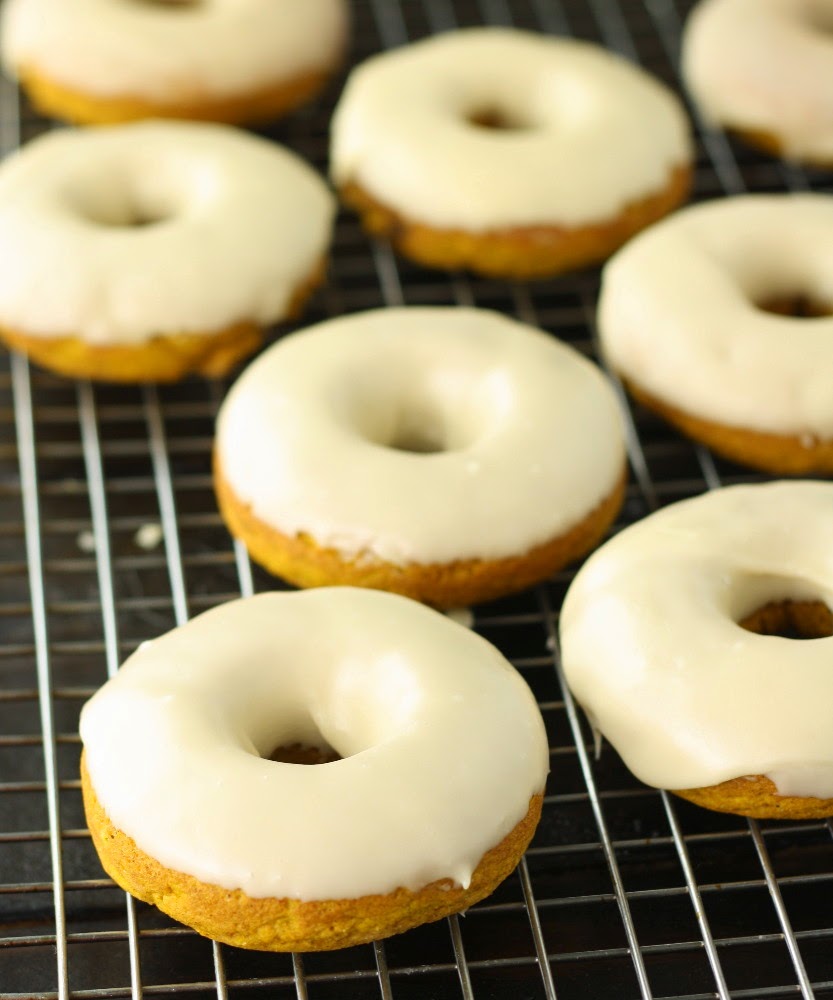 With Thanksgiving fast approaching later this week, I'm reminded once again of the joys of eating seasonally. I'm hard pressed to think of another holiday where the spread of food on the table is so tied to the season in which it occurs. Sure, there might be foods we traditionally eat with other holidays—perhaps a ham on Christmas, for example. But that ham doesn't exactly scream out "late December food." We could just as easily serve it on the Fourth of July, if we so chose. The menu of a Thanksgiving feast, on the other hand, is particularly evocative of harvest season and all the late-maturing crops that go along with it, such as pumpkins.
The annual ritual of the Thanksgiving feast has become an even more important seasonal cue because it's less necessary than ever to eat seasonally. Most crops these days are available year-round—or nearly so—at major supermarkets, thanks to global shipping that sends crops from hemisphere to hemisphere. We've taken the wonderful variations of the seasons and homogenized them into an abundance of mediocrity … no matter what's your produce of choice, you can probably go buy an average version of it right now at the grocery store. That makes life convenient, for sure, including finding out-of-season ingredients for a food photography shoot when you're prepping a new cookbook for publication. =) But we lose the rhythm of the seasons.
At least once a year, though, we pause to celebrate a season and the foods that go along with it, at a time when their flavors should be at their delightful peak.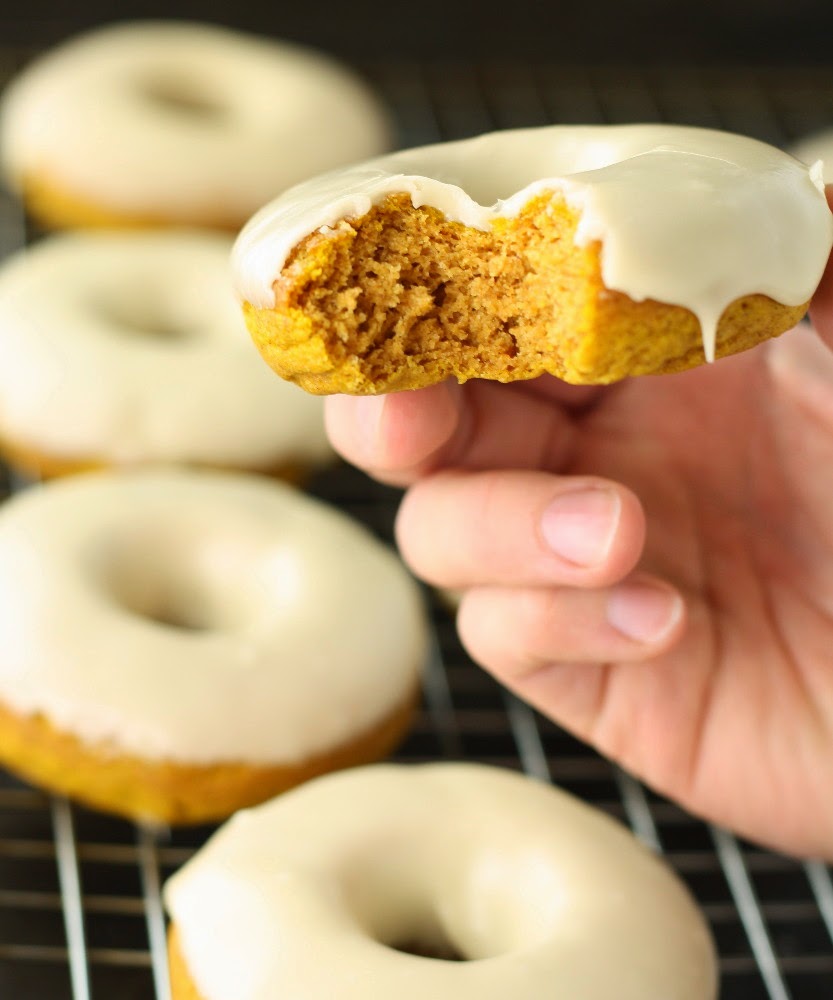 Like our apple cider donuts, these baked pumpkin donuts with maple glaze go with the season. They take pumpkin, as you'd expect, plus a blend of spices to yield a rich, moist donut. Then we top it with a simple maple glaze whose sweetness complements the spices of the donut.
It's hard to imagine enjoying these in spring around Easter time or at the height of summer around July 4th. But now? They just feel right.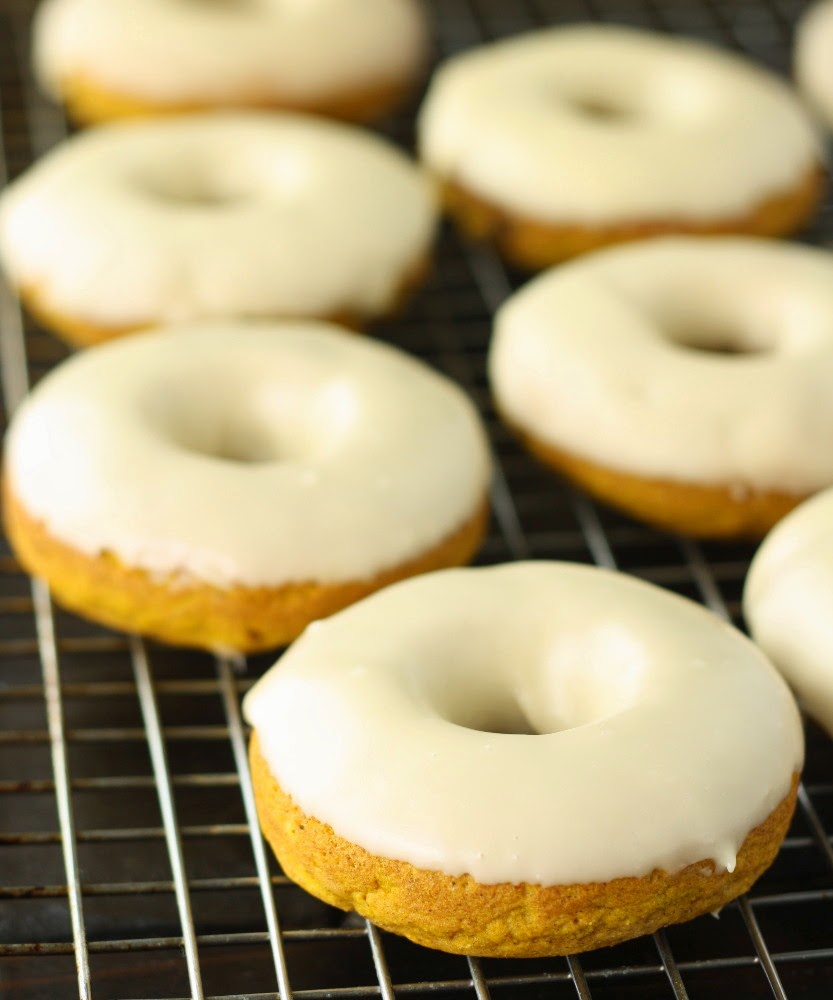 Baked Pumpkin Donuts with Maple Glaze
Makes 12 donuts
Ingredients
1/4 cup room temperature butter
1/2 cup sugar
2 eggs
1/2 cup buttermilk
1 tsp GF pure vanilla extract
1 cup pumpkin puree
1 1/2 cups (188 g) Artisan GF Flour Blend
1/2 tsp xanthan gum
2 tsp GF baking powder
1 tsp baking soda
1 tsp ground cinnamon
1/4 tsp ground ginger
1/4 tsp ground nutmeg
1/4 tsp salt
Pinch of cloves
Glaze
2 tbsp butter
1/2 cup pure maple syrup
2 cups (240 g) confectioner's sugar
Steps
1. Preheat your oven to 400 deg F.
2. In a mixer, cream together the butter and sugar.
3. Add the eggs and mix.
4. Add the buttermilk, vanilla, and pumpkin and mix.
5. In a separate bowl, whisk together all remaining ingredients, then add the dry to the wet and mix until smooth.
6. Use a pastry bag (or similar) with a one-inch-diameter opening (or slightly larger) to pipe the dough into a greased nonstick donut pan to form single, continuous rings of dough for each donut.
7. Repeat step 6 in batches according to the size of your donut pan, greasing in between batches. (Our pan makes 6 donuts, so we do 2 batches to yield the 12 donuts.)
8. Bake for 10 minutes, until the donuts spring back when touched. Remove from the oven and from the baking pan, and let cool on a wire rack.
9. To make the glaze: Heat the butter and maple syrup in a saucepan over medium heat until it just starts to simmer. Whisk in the powdered sugar until smooth. Dip a donut top-side down into the glaze, then flip right-side up and set back on the wire rack. Repeat. If the glaze starts to harden, gently re-warm it.
Degrees of Free-dom
This recipe is: gluten/wheat-free, peanut-free, tree-nut-free, soy-free, fish-free, shellfish-free, vegetarian.
Enjoy!
–Pete (and Kelli)