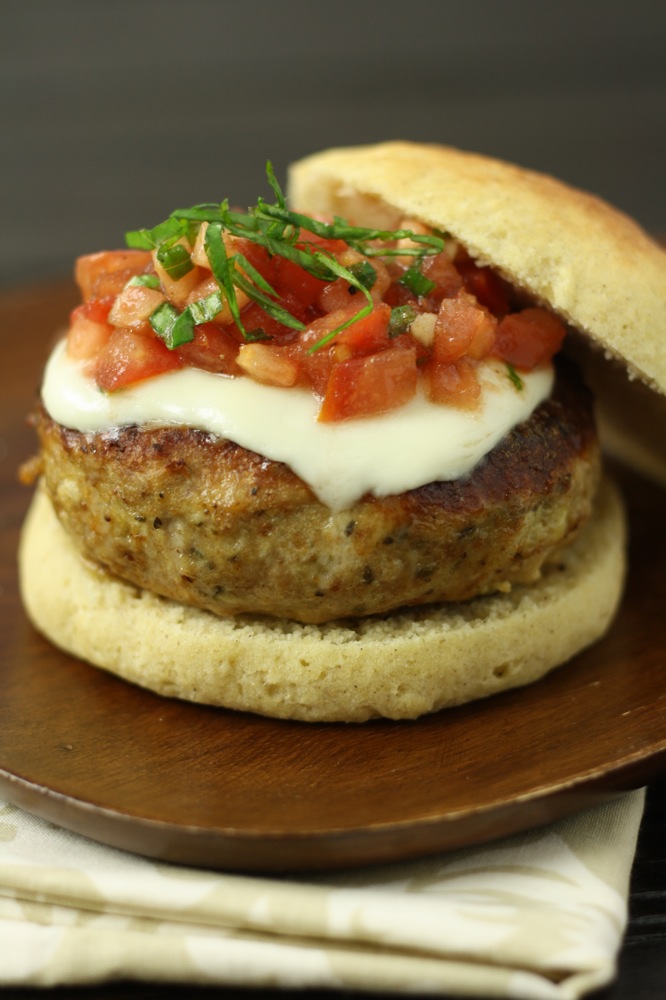 As some of you know from our activity on social media lately, we've started the process of perfecting recipes for both classic and potato roll gluten-free hamburger buns. Those recipes aren't ready to share just yet. But the process of making test batches of buns has left us with a bit of a conundrum: If you're going to go through the trouble of making hamburger buns from scratch, you ought to put those buns to good use and make some burgers! But what burgers to make?
For a little while now, we've been talking about wanting to make an Italian-inspired burger. We'd take inspiration from the beef patty, lettuce, and tomato typical of an American hamburger, but swap in Italian ingredients—our meatball recipe in lieu of a regular burger patty, mozzarella in place of Swiss or American cheese, bruschetta in place of the tomato, and fresh basil as a stand in for the lettuce. What's not to love?
With my love for alliteration, I was tempted to call these Sicilian Sliders or Bruschetta Burgers, but ultimately, we called it like it is: Italian Hamburgers. Best of all, it borrows existing recipes from the 2nd edition of Artisanal Gluten-Free Cooking but combines them in an exciting, new way!
Italian Hamburgers
Makes 6 burgers
Ingredients
1 batch Italian meatballs, instead formed into 6 burger patties
(page 163, Artisanal Gluten-Free Cooking, 2nd Edition)
6 slices mozzarella cheese
1 batch bruschetta
(page 64, Artisanal Gluten-Free Cooking, 2nd Edition)
6–10 basil leaves, chiffonade
6 gluten-free hamburger buns
Steps
1. Preheat the oven to 350 deg F.
2. Pan sear the burger patties in a hot skillet with a touch of olive oil to brown on both sides. Then transfer to a baking sheet and bake in the oven, until the internal temperature of the burgers reads 160–170 deg F.
3. At the end of the oven time, top each burger with a slice of mozzarella cheese and allow to melt. You can switch your oven to broil to melt the cheese faster, but watch carefully to be sure they don't burn.
4. Transfer the burgers to your hamburger buns. Top each burger with some of the bruschetta, dividing evenly.
5. Finish by adding some of the fresh basil to each burger.
Degrees of Free-dom
This recipe is: gluten-free, peanut-free, tree-nut-free, fish-free, shellfish-free, soy-free.
This recipe can easily be made dairy/lactose/casein-free by omitting the mozzarella cheese or substituting your favorite non-dairy cheese.
Enjoy!
–Pete and Kelli