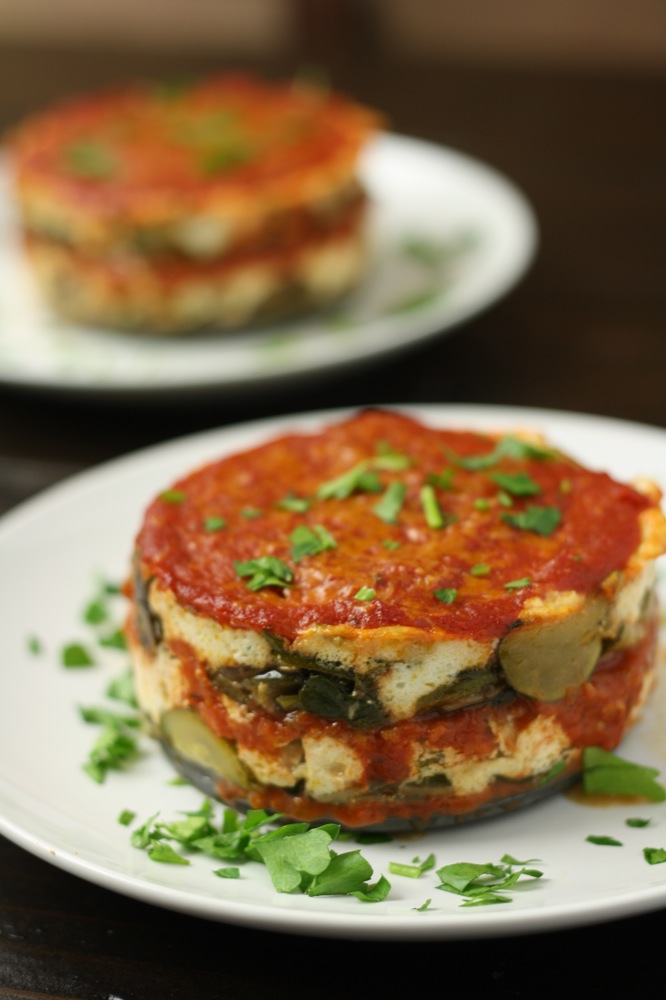 Though we don't make it nearly as regularly as, say, our pizza, we're big fans of lasagna. Kelli tends to favor a bit more ricotta cheese and vegetables, while I like to downplay the ricotta in favor of more mozzarella plus some meat. Either way, it's always a hit.
I'll usually make the pasta noodles from scratch, sizing the sheets of lasagna to exactly match the size and shape of the pan. Even I'll admit that such an approach can be time consuming, a difficult thing especially when life gets busy, as it has for us lately.
Thus, inspired by a restaurant chef who once made lasagna using thinly sliced potatoes in lieu of more traditional pasta noodles in order to offer a gluten-free lasagna option for patrons, we set out to make a different kind of lasagna.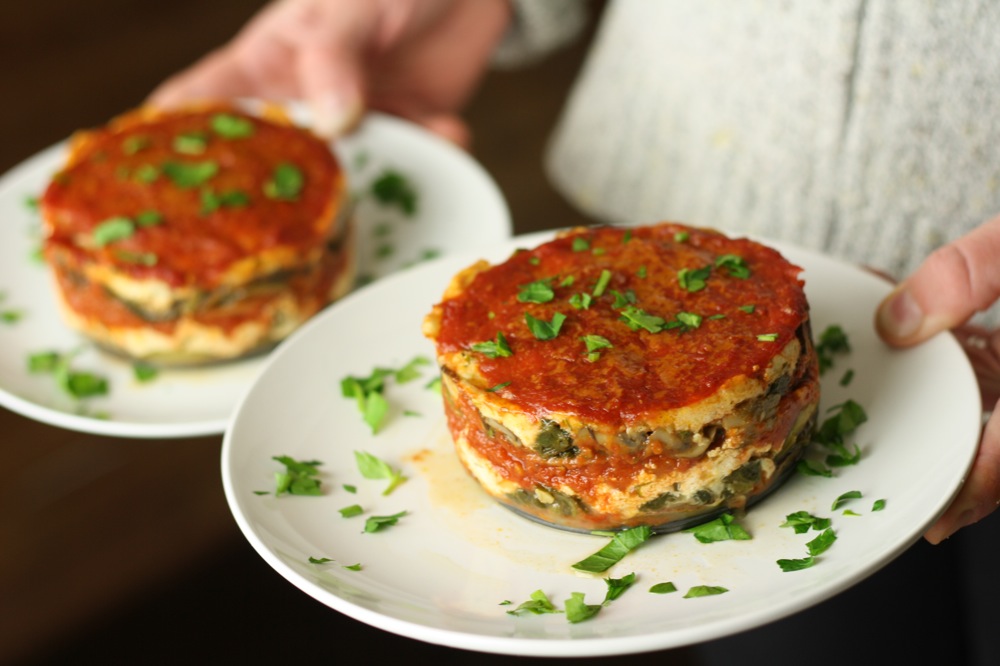 Our goals were twofold: 1) use thinly sliced potatoes as the "noodles" of our lasagna, and 2) use ring molds to make easily elegant personal-size lasagnas instead of a big tray of lasagna. The result, as we hope the photos show, was a smashing success.
There was even a wonderful moment of triumph in the process. At the outset, we weren't sure how the lasagna would hold up once we removed the ring molds. Would it retain its shape? Or ooze and fall over? We carefully slid the rings off, and lo and behold, the lasagna held!
I can't say I'll now abandon making fresh sheets of pasta in favor of using potatoes. But this technique will certainly make it into our rotation, especially when time is tight (or we're running low on gluten-free flour).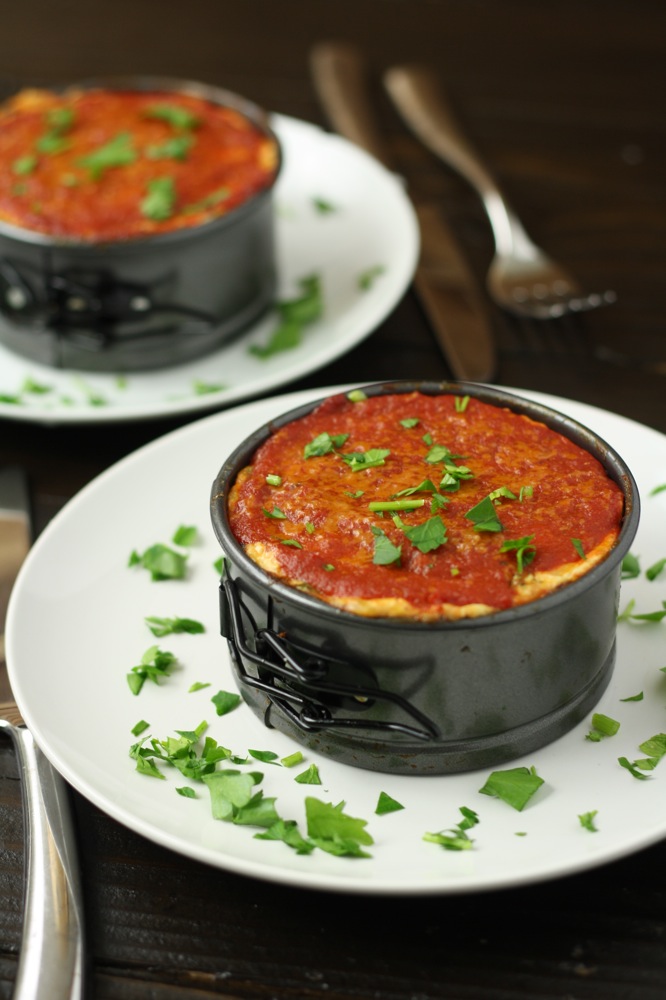 Potato Lasagna
Makes three 4-inch diameter individual servings
Ingredients
2 red bliss potatoes, thinly sliced (.5 mm thick on mandolin)
2 tbsp olive oil
3 garlic cloves, minced
2 small zucchini, thinly sliced (1 mm thick on madnolin)
8 ounces baby bella mushrooms, thinly sliced
2 cups packed baby spinach leaves
salt and pepper
12 ounces whole milk ricotta cheese
1/4 cup grated Parmesan cheese, plus extra for sprinkling on top
2 tbsp chopped flat leaf parsley
1 cup (100g) shredded mozzarella cheese
2/3 of a jar of tomato sauce
Steps
1. Preheat the oven to 350 deg F.
2. In a large saucepot, bring salted water to a boil. Fill a separate bowl with ice water and set aside. Drop the sliced potatoes into the boiling water and cook for about 3 minutes until the potatoes are slightly tender. Remove from the water and immediately immerse in the ice water. Set aside in the water.
3. Heat the olive oil and garlic in a saute pan over medium-high heat until the garlic is fragrant, about 30 seconds. Add the zucchini, mushrooms and spinach. Season with salt and pepper and saute until the liquid has come out of the vegetables and evaporated, about 10–15 minutes. Remove from the heat and set aside.
4. In a bowl, combine the ricotta, parmesan, parsley, and mozzarella. Season with salt and pepper and stir to combine.
5. Drain the potatoes and lay out of on a kitchen towel and pat them dry.
6. Wrap the outside of three 4-inch springform pans with aluminum foil. Place a spoonful of sauce in the bottom of each pan, next a single layer of potatoes, followed by a layer of vegetables, and a layer of the cheese filling. Repeat the process with sauce, potatoes, vegetables and cheese. Top with another layer of sauce and sprinkle with grated parmesan.
7. Place the three pans on a large sheet pan and bake for 45 minutes, until the cheese is bubbly.
8. Remove from the oven and let set for 10 minutes. Remove the outside rings and serve.
Degrees of Free-dom
This recipe is: gluten-free, grain-free, peanut-free, tree-nut-free, fish-free, shellfish-free, vegetarian.
Enjoy!
–Pete and Kelli