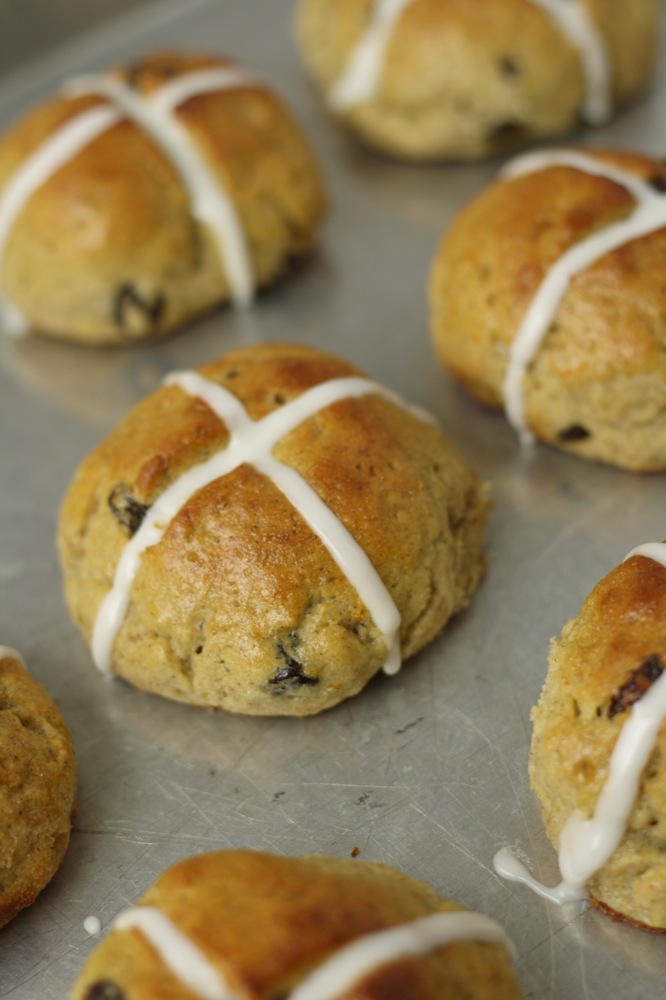 Easter is fast approaching, which means it's time for hot cross buns! These sweet, spiced buns are traditionally eaten on Good Friday in advance of Easter Sunday. Currants or raisins are a popular addition. Here, we've opted for raisins, plus a blend of orange and lemon zest, spices (including a touch of ground ginger), and honey. The dough itself isn't especially sweet in our version, but the icing adds enough touch of sweetness to make the end result wonderfully balanced.
It was fun to make these buns. Our family's Easter traditions include a Polish sweet bread we call mock cake, usually a baked ham, and a few other particulars. But despite the fact that hot cross buns date back centuries, it wasn't until you all prompted us—via Facebook—to come up with a gluten-free version of this beloved classic.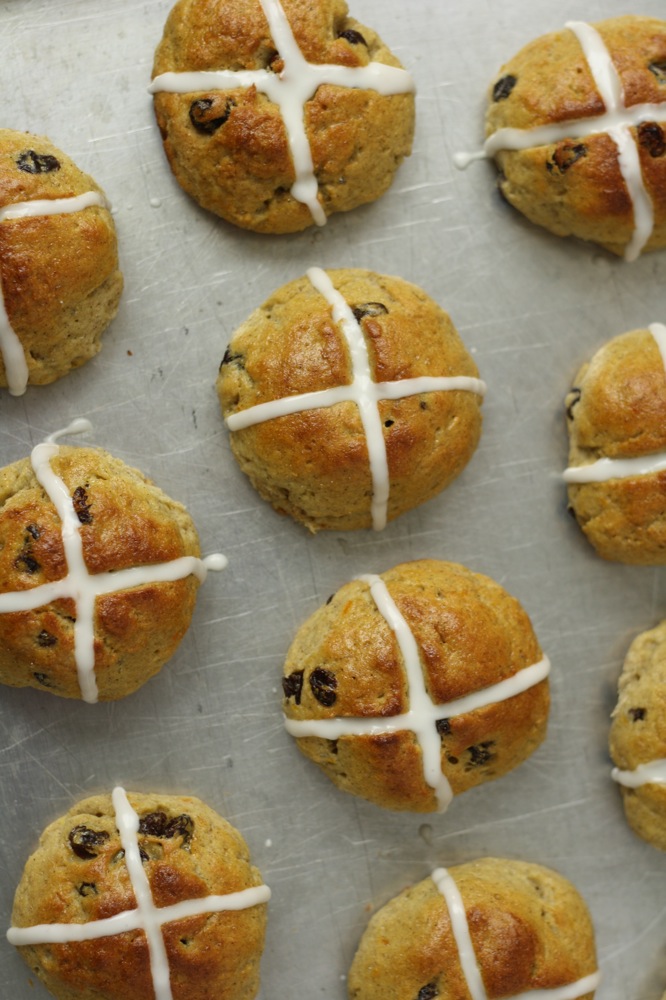 Hot Cross Buns
Makes 20 buns
Ingredients
1 cup warm milk
1/2 cup plus 1 tsp honey, divided
4 1/2 tsp yeast (2 packets)
500 g (4 cups) Artisan Gluten-Free Flour Blend*
1 tsp ground allspice
1 tsp ground cinnamon
1 tsp salt
3/4 tsp xanthan gum
1/4 tsp ground ginger
1/2 cup (1 stick) melted butter
3 large eggs
1/2 cup raisins
1 tsp orange zest
1 tsp lemon zest
Olive oil
For the glaze
1 egg
1 tbsp milk
For the icing
1/2 cup powdered sugar
1 tbsp milk
Steps
1. In a large bowl, combine the milk, 1 tsp honey, and the yeast and let set for 5 minutes until the yeast is activated.
2. In a separate bowl, whisk together the flour, allspice, cinnamon, salt, xanthan gum, and ginger. Set aside.
3. In another small bowl, whisk together the melted butter, eggs, raisins, remaining 1/2 cup honey, and orange and lemon zest.
4. Add the wet ingredients to the yeast mixture, stirring to combine. Then add the flour mixture and combine to form a wet dough.
5. Grease a cookie sheet or baking pan.
6. In a small ramekin or similar, pour 2 tbsp or so of olive oil. Lightly coat the fingers and palms of your hands, and pinch off a large-ping-pong-sized ball of dough, and roll between your hands to form a smooth ball.
7. Repeat until you have 20, placing them evenly spaced apart on the sheet. Use a greased knife to cut a cross shape into the surface of each dough ball.
8. Cover and let rise in a warm location for at least 1 hour.
9. Preheat the oven to 400 deg F.
10. Whisk together the egg and milk to form the glaze. Brush the buns.
11. Bake for about 15 minutes, until deep golden brown. (The internal temp should read 200 deg F on an instant read thermometer.)
12. Let cool completely on a wire rack.
13. Mix together the powdered sugar and milk to form the icing. Add extra powdered sugar to make it thicker. Use a pastry bag, zip top bag with corner snipped, or similar to pipe the icing into a cross shape.
Notes
* Living here at altitude in Colorado, we made this recipe with 1/4 cup more flour than we're calling for in this recipe to account for the elevation. This is a fairly standard altitude adjustment in our recipes, but we haven't had an opportunity to "down-test" the recipe as written at sea level.
Degrees of Free-dom
This recipe is: gluten-free, peanut-free, tree-nut-free, fish-free, shellfish-free, soy-free, vegetarian.
Enjoy!
–Pete and Kelli