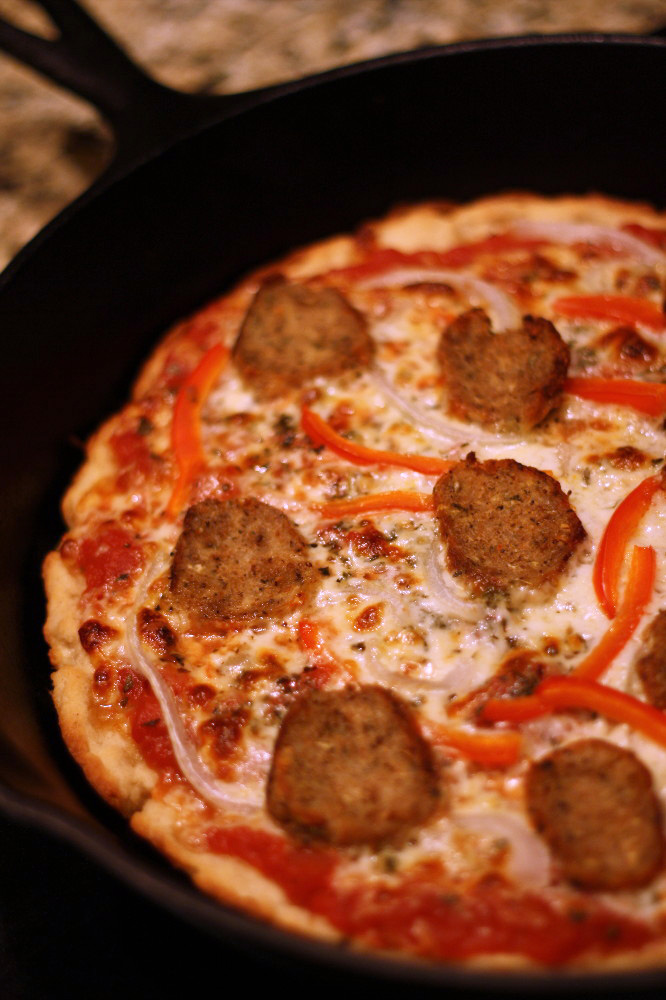 We've been wanting a cast iron skillet for some time now. Compared to modern, high-tech non-stick skillets, cast iron somehow seems more authentic, more in line with our perspective on cooking. It's a comparatively primitive technology that offers many benefits and has faithfully served generations of cooks.
Well, for Christmas nearly one month ago, Santa Claus (aka me) got Kelli a cast iron skillet. Hardly a day has gone by since that we haven't used it. And naturally, it was only a matter of time before we made a pizza in it.
Compared to pretty much every other pizza recipe we've shared, this one differs in two significant ways: 1) it starts on the stovetop and finishes in the oven, and 2) we don't par-bake the crust.
The result is superb. The crust develops a crispy bottom while staying delightfully chewy on the top. It's an effect similar to our grilled pizza, but without the smokiness and grill marks. Which makes this cast iron skillet pizza a great option if either a) you don't have a grill, or b) you don't like grilling in the heart of winter.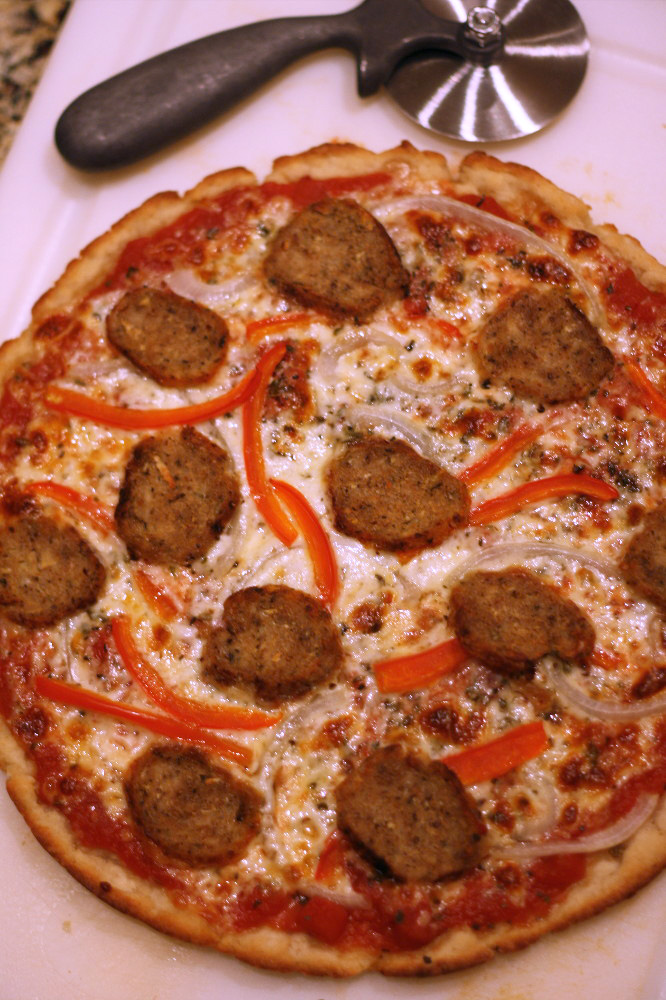 Cast Iron Skillet Pizza
Makes one 12-inch pizza
One single batch of our standard pizza dough
Olive oil
Crushed San Marzano tomatoes (such as canned)
Mozzarella cheese, shredded
Dried basil
Dried oregano
Toppings (e.g. gluten-free meatballs, white onions, red bell pepper)
Steps
1. Preheat your oven to 450 deg F. Preheat your cast iron skillet on the stovetop over low heat.
2. Once you've prepared the dough, drizzle olive oil into the skillet and spread to coat. Increase the heat to medium-high.
3. Taking care not to burn your hands, press the dough into skillet. The dough should completely cover the bottom of a 12-inch skillet, but not go up the sides.
4. Leaving the skillet over stovetop heat, add the sauce, dried herbs, cheese, and toppings.
5. Transfer to your 450 deg oven and bake for 15 minutes, or until the toppings and cheese are done to your liking.
6. Use a spatula to transfer the pizza out of the skillet and onto a cutting board. The pizza should release easily.
Degrees of Free-dom
This recipe is: gluten-free, peanut-free, tree-nut-free, soy-free, fish-free, shellfish-free.
The recipe is easily made dairy/casein/lactose-free by substituting your favorite non-dairy cheese. It's easily made vegetarian by omitting any meat toppings. And it's easily made corn-free by substituting another starch for the cornstarch in our flour blend.
Enjoy!
–Pete