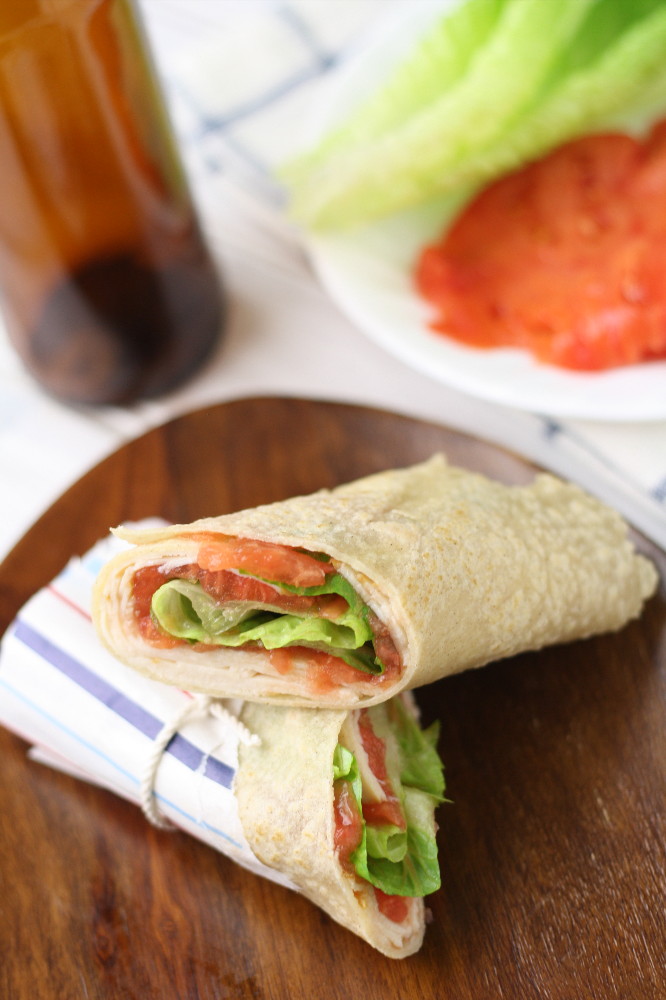 For years our go-to gluten-free tortilla has been one made from scratch at home with Maseca, a popular corn masa flour. (You'll find the recipe on page 126 of the 2nd edition of Artisanal Gluten-Free Cooking.) But from time to time, we've "crossed over" and tried store-bought gluten-free flour tortillas. Most recently, we reviewed the new gluten-free tortillas from Rudi's Gluten-Free Bakery last month. What timing, then, that the theme of this month's Gluten-Free Ratio Rally is tortillas and wraps!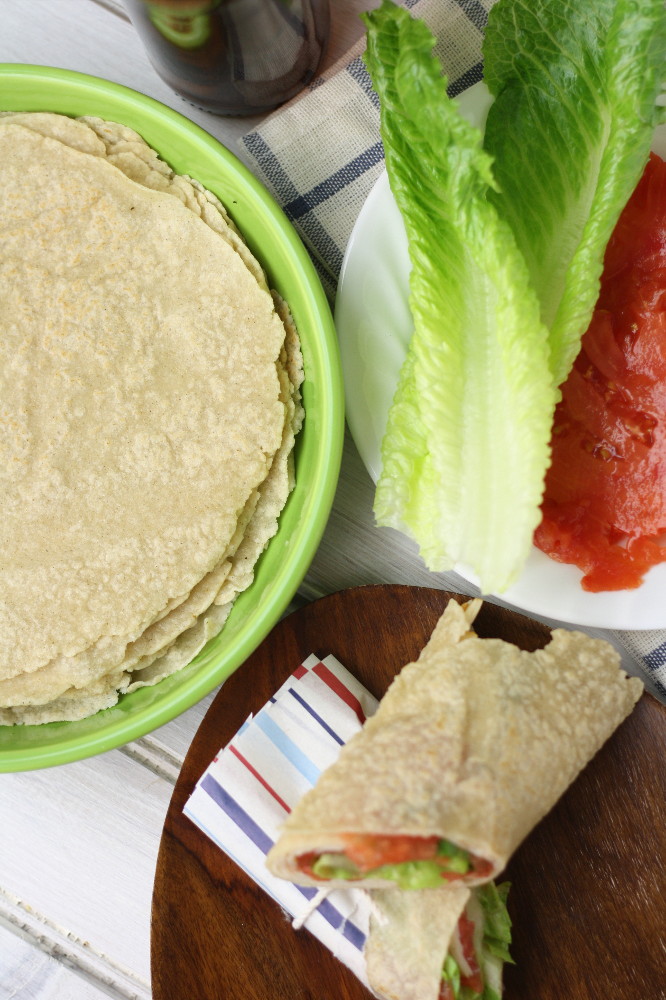 From the outset, we knew that we wanted to make a straightforward flour tortilla as a gluten-free equivalent to the wheat flour tortillas the rest of the world eats. As simple as that goal sounds, we found it required a surprising amount of finesse. At first—inspired by the delicious Mandarin pancakes in Laura Russell's The Gluten-Free Asian Kitchen—we experimented with a mix of millet flour and tapioca starch, but we were dissatisfied with the texture for flour tortillas. Next, staying true to our roots of using a single all-purpose GF flour blend, we broke out our familiar Artisan Gluten-Free Flour Blend.
We initially used butter in the tortillas, but the combination of flour and butter tasted too much like a savory crepe, rather than a tortilla. Then, desiring to make the tortillas dairy-free, we played around with coconut oil, but a coconut flavor came through way too strongly. At last, we found success using our signature flour blend with canola oil.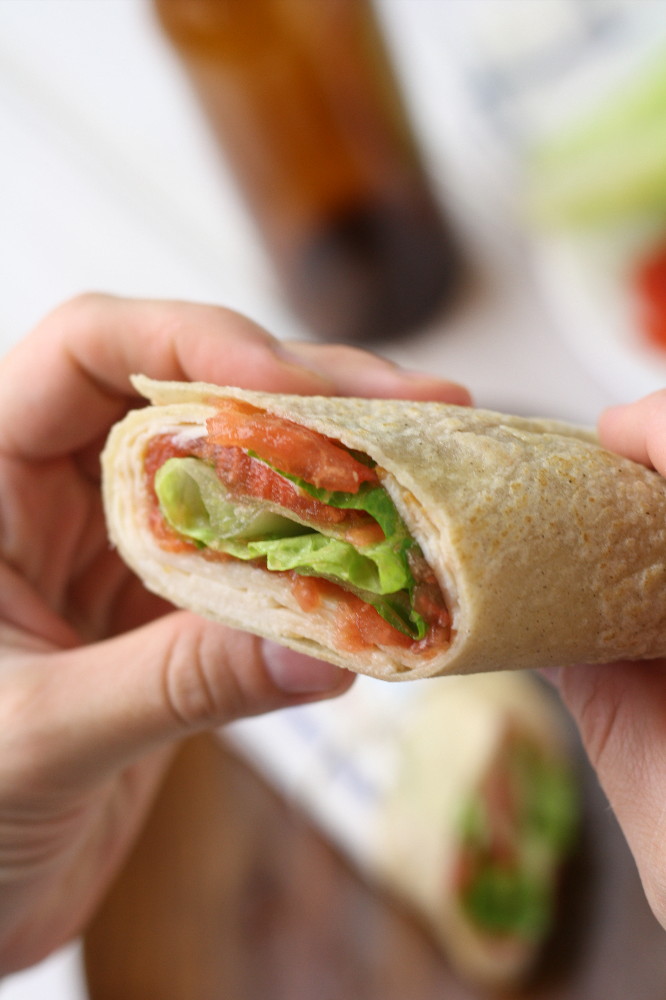 Thinly sliced chicken, lettuce, and garden-fresh tomatoes in a gluten-free tortilla
The result is a gluten-free flour tortilla that is thin, flexible, strong, chewy, and generally delicious. We made quesadillas for our girls, and lunch wraps for us. The tortillas kept well, and though the dough requires some care to work with without tearing, the results were certainly worth the effort.
And be sure to visit Brooke over at B & the boy, the host for this month's Rally, where you'll find links to plenty of other tasty tortillas for your tastebuds. (Sorry, couldn't resist sneaking in a little alliteration there toward the end of the sentence…)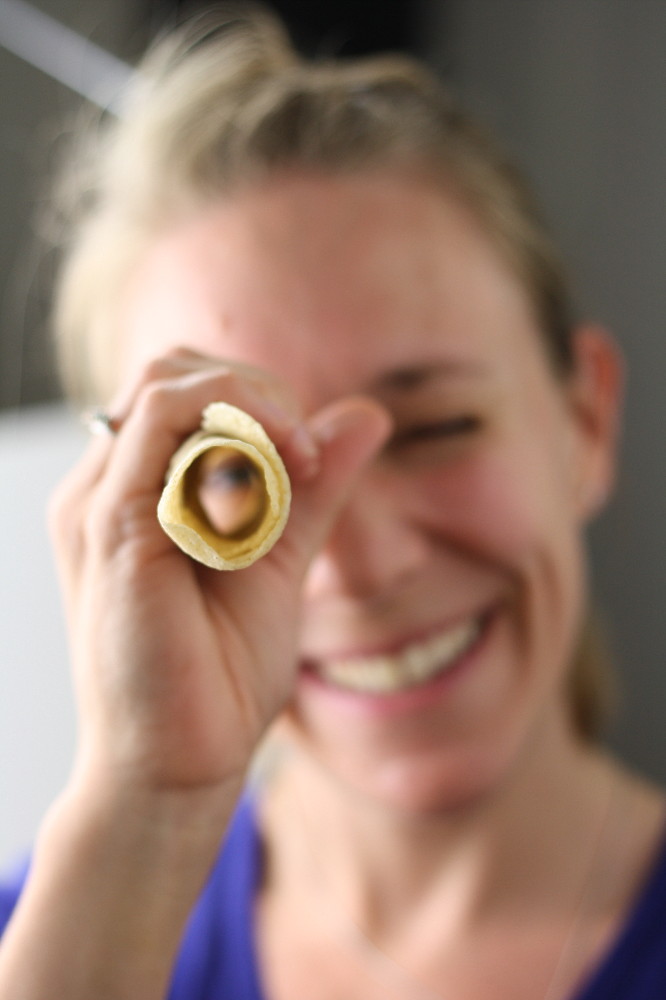 Nice and flexible!
Flour Tortillas
Makes 8 tortillas
Ingredients
188g (1 1/2 cups) Artisan Gluten-Free Flour Blend
1 1/2 tsp xanthan gum
1 tsp GF baking powder
1/2 tsp salt
3 tbsp canola oil
~2/3 cup warm water

Steps
1. Mix all the dry ingredients together.
2. Add the oil, and mix with your hands to incorporate.
3. Add enough warm water to make a soft and slightly sticky dough.
4. Let the dough rest for 5 minutes. The dough will absorb water until it loses its tackiness.
5. Put a flat pan or skillet over high heat. (We used our pancake griddle.)
6. Divide the dough into 8 equal pieces (each about the size of a golf ball).
7. Place a ball between two pieces of plastic wrap, flatten with your hand, then roll out with a rolling pin until about 8 inches in diameter and thin.
8. Remove the top pieces of plastic wrap. Drape the tortilla over a rolling pin, remove the bottom piece of plastic wrap, and transfer to your heated pan. The dough is very tender and rips easily; take care.
9. Cook for 15 seconds on the first side. Use a metal spatula to separate from the pan, flip, and cook for 10 more seconds on the 2nd side.
11. Repeat for all remaining dough balls.

Degrees of Free-dom
This recipe is: gluten-free, dairy/lactose/casein-free, peanut-free, tree-nut-free, fish-free, shellfish-free, soy-free, vegetarian.

Notes
If you're averse to using canola oil, substitute another vegetable oil.

Enjoy!
–Pete