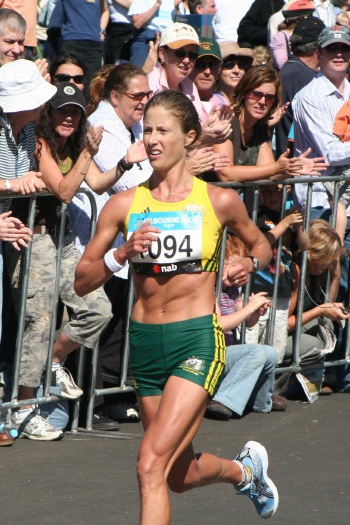 In The Gluten-Free Edge, Melissa (Gluten Free for Good) and I interview and profile dozens of amazing gluten-free athletes. One of the wonderful challenges of writing the book was that we discovered many more gluten-free athletes than we could ever hope to fit within the book's pages. And so, we're featuring more athletes here on No Gluten, No Problem in "Athlete Insight," a recurring series. Learn from them. Be inspired by them. And see that—whether you're gluten-free for medical reasons or voluntarily to gain a performance edge—gluten-free athletes are out there, living an active gluten-free life to the fullest.
Kate Smyth
Marathoner
Born: 1972
Lives: Australia
Gluten-free since: 2006
Former Australian Olympic marathoner Kate Smyth became a serious runner relatively late in her sporting life, circa age 30. Nevertheless, by 2006, she'd logged an impressive 7th place finish at the Chicago marathon, which gained her entry into the 2006 Melbourne Commonwealth Games. Two years later, she posted a 2:28:51 in the Nagano, Japan marathon. It placed Smyth 6th on the Australian all-time marathon list, and earned her a spot on Australia's Olympic squad in Beijing. She turns 40 later this month, but shows no signs of slowing down anytime soon. For example, earlier this year she won the Twilight Half Marathon in Brisbane in a time of 1:17:50, setting a new women's course record. Gluten-free due to celiac disease, she's also a past athlete ambassador for Australia's Coeliac Awareness Week.
Pete: You came to the marathon relatively late. What had been your athletic background prior to that, and what drew you to elite distance running?
Kate Smyth: I had enjoyed playing hockey and generally keeping fit at the gym and I was a recreational fun runner of sorts. After traveling I came back from overseas with an extra 20 kgs on my thighs and decided I needed to get into shape. That year I set two personal goals: one was to do a bungy jump over Victoria Falls in Zimbabwe; the other was to finish a marathon without walking. I managed to do both and have not looked back since. Over the years I just started to learn more and more about how I could better myself and I really loved the adventures running took me on to places
all around the world. I was inspired to be an Olympian after watching Tagahashi of Japan win the women's marathon at the Sydney Olympics and decided to see if I could also represent my country and compete at the highest level. Eight years later I realised that dream.
P: What do you consider to be the highlights and/or proudest moments of your athletic career?
KS: When I rebounded from severe liver damage months earlier to set a personal best time of 2.28 minutes for the Nagano marathon in Japan gave me a huge sense of satisfaction. Everything came together at the right time and I qualified for the Beijing Olympics ranked as the No. 1 Australian. The opportunity to meet and compete against some very inspiring people has also provided some highlights. Getting a huge hug from Taghashi at Nagano was certainly one of them along with meeting world champions like Paula Radcliff, Catherine Nedereba, and Tegla Laroup. Of course having Haile Gebrselassie bump into me in the food hall at the Olympics was also a bonus! I have been fortunate to also be mentored and coached by some of Australia's own best athletics talent. These legions of athletics taught me that you can be the best and still be humble and that it isn't the medals around your neck that count but the person you become in pursuit of them.
P: When were you diagnosed with celiac disease? What types of symptoms had you been experiencing prior to diagnosis? Do you have a family history of celiac disease or other autoimmune conditions?
KS: In 2006 I was finally diagnosed although I'd always been sensitive to gluten. Symptoms included stopping and racing to the bathroom after every repetition at training, severe reactions and bloating, cramping, fatigue, vitamin and mineral deficiencies, skin rashes. No one else in my family has celiac disease, although other members have now found they are intolerant to gluten. My mother suffers from several inflammatory conditions.
P: Prior to diagnosis, did you experience some of the problems common among female celiac athletes, such as bone density loss and/or iron-deficiency anemia?
KS: Constant anemia yes. Not bone loss though. Constant tiredness and interruptions to training due to diet and stomach issues. I'd sometimes skip breakfast before a run to avoid the issue but then would run out of fuel and get giddy.
P: How did your health change upon adopting a gluten-free diet? And how did a gluten-free diet impact your athletic performance?
KS: I noticed big improvements in my ability to recover and to sleep well at night as my stomach wasn't upset from dinner. I could train harder and had more general vitality. As I feel better, my moods are far more stable and I can think more clearly. My health was better although I still had issues with absorption of vitamins and minerals and this was ongoing due to the demands of training nearly 200 kms a week. I was able to handle more volume of training and my times started to improve. I certainly don't get general immune reactions as frequently as I used to.
P: What are some of your favorite gluten-free foods? (such as for day-to-day diet, for training, prior to a big race, for carbo loading, however you'd like to approach the question…)
KS: I really enjoy a nutritious, balanced diet with predominantly raw, vegan foods in summer and more cooked foods in winter. I have lots of protein green smoothies made from almond milk and fruits and rice protein and leafy greens like spinach straight after I run for recovery or for breakfast before I run. When in hard training I also include some seafood in my diet and make my own pumpkin or sweet potato breads or banana bread. Pre race I generally have something like thick rice noodles with vegetables and light white fish. For breakfast before a race I tend to have rice porridge with banana but on a more regular basis will have my homemade sprouted buckwheat muesli with organic dried fruits, nuts, flaxseeds, chia, sesame, pumpkin and sunflower seeds, coconut, hemp seed. I will also have some gluten-free toast if doing a long run. I make a lot of food at home to make it easier but I have shifted away from relying on processed foods for carbs. I now eat lots of sweet potato and biodynamic brown rice and other root vegetables and get carbs from fruits like dates and bananas and raw cocoa treats I make. I also make my own seed and nut bars, and raw muesli bars using a dehydrator. My favourite treat is flourless chocolate cake or raw chocolate balls made from dates, almonds, raw cocoa, and agave.
P: Have you experienced gluten cross-contamination? How badly does it affect you? Has it impacted training or a race? How long does it take for you to recover and get back to 100%?
KS: Yes, I have. In small quantities like sharing a toaster I am ok but if a sauce has gluten in it and I eat it I know within about 5 minutes and I start feeling very uncomfortable. It can be 2-3 days before I get my energy back as I feel totally flat in the days after having an attack. It hasn't happened pre race thankfully, but training has been impacted and I just have to take it easy when my stomach is upset and run slowly and stop as needed.
P: What advice might you offer other gluten-free athletes in terms of managing their diet while training, competing, and traveling?
KS: A few suggestions that I can share from learning the hard way include: taking safe foods with you when traveling where possible. I always take lots of gluten-free raw bars with me for emergency situations and as top ups on the plane. We make special requests in the race hotel in advance to have a rice cooker in our room and so we can make rice porridge the morning of the race. I removed all gluten from our home and that makes it easy for a cross-contaminant-free environment. I've found you can avoid embarrassing a host and yourself by taking a gluten-free dish to dinner parties so I know I will have something safe to eat. I would suggest practicing what you want to eat on race day in training in the exact timing and sequence and volume to ensure there are no upsets on race day. This includes your hydration routine as sports drinks and gels may gluten in them. Source options that won't upset your system when under stress. I found for long races my stomach was extra sensitive to sugars so I needed a weaker mixture. I also did better if I alternated protein powder and sports drinks rather than consuming only sports drinks.
–Pete
Photo courtesy Kate Smyth.