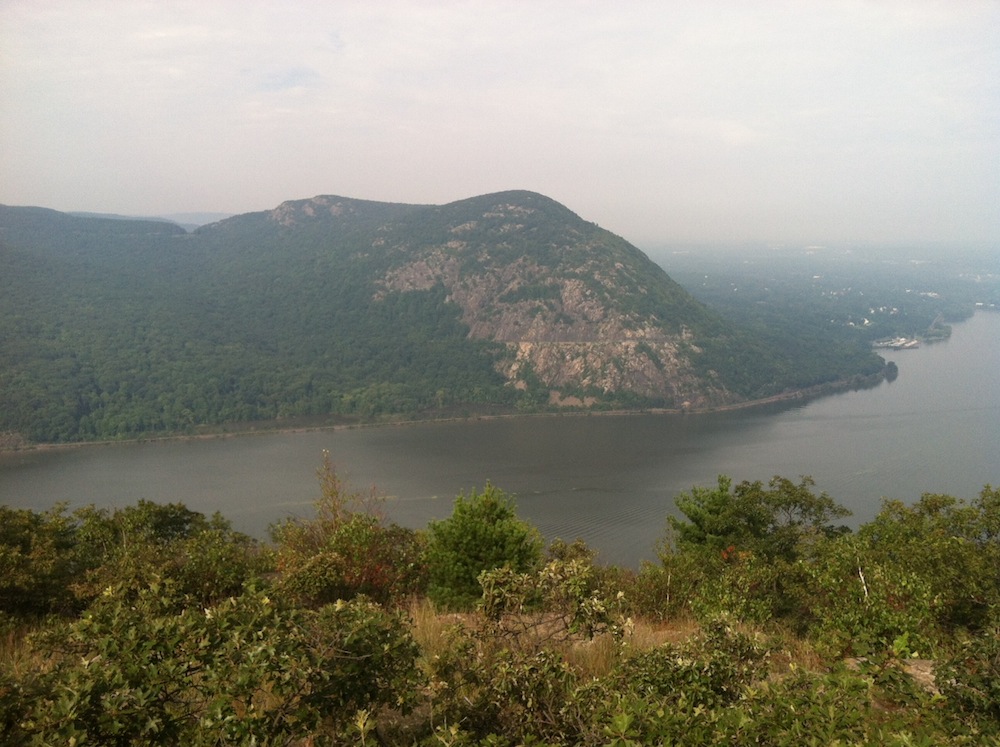 Storm King above the Hudson River
Has gluten ever sabotaged your plans? Has cross-contamination ever turned a pleasant evening into a night (or days) of distress? Have you ever been at someone else's house, or at a restaurant, and your "probable gluten cross-contamination" warning bells went off, but you ate the food anyway, only to later tell yourself, "Well, that was stupid!"?
At the moment, I feel like I've done the trail running equivalent, and I'm none too happy about it. Every athlete, no matter what your level of fitness or competition, from pro right down to the genuine novice, at some point faces injury. There's really no good time to get injured, but some times are definitely worse than others. Case in point: a decently serious foot and ankle injury less than three and a half weeks out from your most important ultra of the season.
It's been a good year. I've had a number of strong races, and my training in preparation for the upcoming Virgil Crest ultramarathon has been marching along according to plan. Last weekend I logged a superb 5-hour trail run, from Beacon, New York to Cold Spring and back to Beacon, through and over the Hudson Highlands (the photos in this blog post are from that run). It's a 21-mile roundtrip, with a very strenuous 12,400 vertical feet of elevation change. Scaled up to 50 miles, that equates to 30,000′ of elevation change, 50% more than the 10,000′ of ascent and 20,000′ of change I'll do for the 50-mile Virgil Crest.
Then came last night.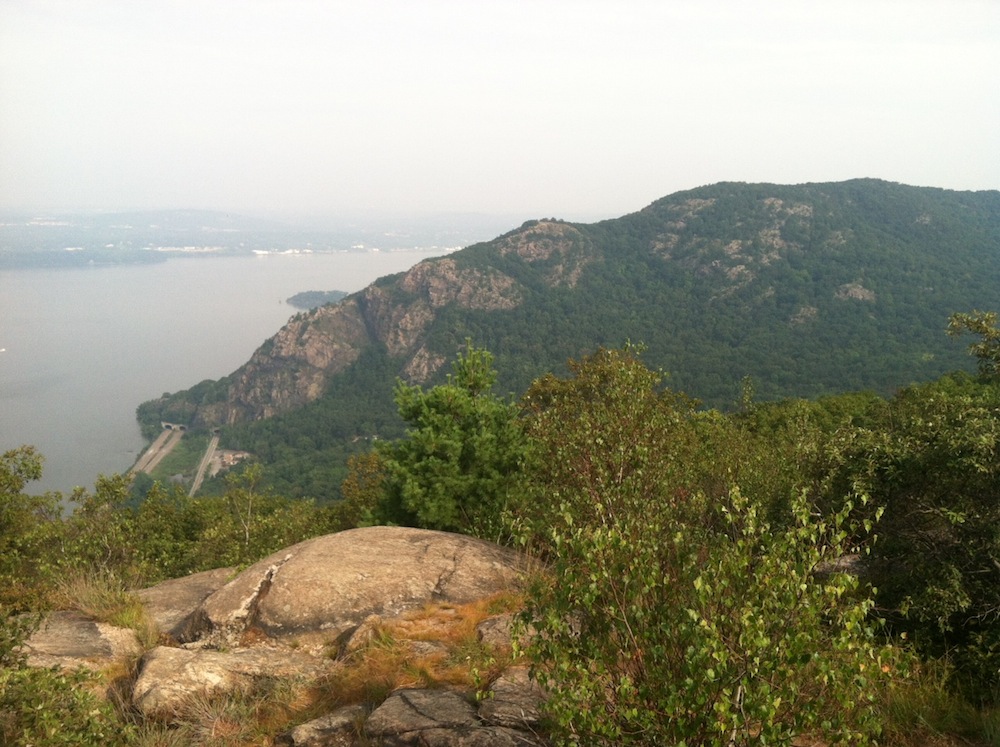 Rocky Breakneck Ridge in profile
Tuesday night I'd been up late catching up on emails that had been filling my inbox. When it came time to wake before dawn Wednesday morning for my planned run, I turned off my alarm and went back to sleep. I was just too tired to run. Instead, I planned to run Wednesday night, after we'd put the girls to bed. I decided to run some familiar nearby trails by headlamp. I've run those trails, without exaggeration, more than 100 times. I could probably run them with my eyes closed. I know every turn, every root and rock. I reasoned that running by headlamp would be good training for the upcoming Virgil Crest, the first hour of which takes place by power of headlamp in the pre-dawn darkness.
All was well until I turned a corner in the trail and was confronted with two very large downed trees. They'd clearly been felled by a recent storm, and they blocked the trail in a major way. The brush to either side was thick enough that trying to go around wasn't practical. Instead, I decided to climb over the trees. I was probably four feet off the ground, standing on the larger tree, when I leapt down to the trail ahead.
Immediately upon landing I felt sharp pain in my foot and ankle. I landed wrong. Very wrong. Had the girls not already been asleep in bed, I would have called Kelli for a pickup in the car. Instead, I immediately turned for home and hobbled two miles to get there—a combination of walking and a limping jog. The rest of the evening was spent with my leg elevated on the couch, with ice, and a hefty dose of ibuprofen.
This is probably my worst lower leg injury in the years since I've been running ultras. I'm arguably in the best shape of my life right now … and I'm injured, weeks out from the focus of my season. Talk about panic. Instead of logging a few more major trail runs and a few weeks of solid training, I've abandoned all training. I'm now focused on resting and rehabbing my foot and ankle, and I'm keeping my fingers crossed that it can heal in time to run strong at Virgil Crest.
Robert Burns wasn't kidding in his 18th century poem when he wrote, "the best-laid plans of mice and men often go awry." This time the culprit wasn't gluten, but I'm facing the consequences nonetheless.
–Pete