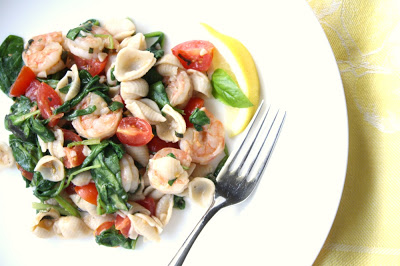 As summer has marched along, today's Friday Foto recipe – shrimp pasta salad (with basil, baby spinach, tomatoes, and a lemon vinaigrette – has vaulted into our weekly rotation of go-to meals. It's not particularly descriptive to say this, but it just tastes like summer. The fresh flavors of the basil, spinach and tomatoes. The brightness of the lemon. The fact that it's a warm or cool salad, as opposed to a hot meal. All of it combines to make a family favorite that's a perfect counterbalance to the hot days of summer.
It also happens to be a healthy, well-balanced meal. Especially so for athletes-in-training, like me. The carbs from the whole grain brown rice pasta. The protein from the shrimp. The iron from the spinach. The lycopene and antioxidants from the tomatoes. I'll probably eat a healthy dose of this recipe in the week leading up to the big race at the end of September.
Speaking of which, have you checked out my fundraiser in support of the National Foundation for Celiac Awareness? I'm calling it the 2nd Annual Gluten-Free Ultramarathon Challenge. We've broken the ice with the first donor. But I have a long way to go to reach my fundraising goal, all in support of a great organization that benefits the gluten-free community. Will you help me get there? I hope so. Please take a moment to visit the page, and make a tax-deductible donation, if you can. Thank you in advance for your support!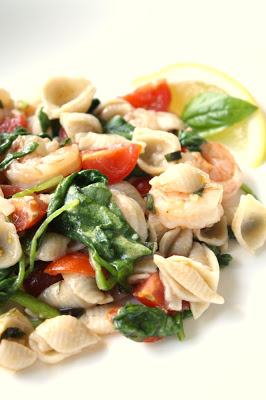 Shrimp Pasta Salad
Makes 4 entree servings
Ingredients
1/2 lb GF pasta (shells)
2 garlic cloves, minced
4 tbsp olive oil
1 lb shrimp, peeled and deveined
Salt and pepper
1/2 ounce fresh basil, chiffonade then lightly chopped
4 ounces baby spinach
9 ounces cherry tomatoes, quartered
Juice from 1/2 lemon (about 2 tbsp)
Steps
1. Cook the pasta in boiling salted water, strain, set aside.
2. Add the minced garlic to 2 tbsp olive oil in a skillet over medium-high heat, and saute until fragrant.
3. Add the shrimp, season with salt and pepper, and cook until done.
4. Put the spinach, basil, and tomatoes in a large bowl.
5. Add the cooked pasta and cooked shrimp, and toss. (The latent heat from the shrimp and pasta will lightly wilt the spinach.)
6. Add the lemon juice, remaining 2 tbsp olive oil, and a touch of salt and pepper. Toss again.
Enjoy!
This recipe is: gluten-free, dairy-free, egg-free, peanut-free, tree-nut-free, fish-free, refined-sugar-free, soy-free.
– Pete