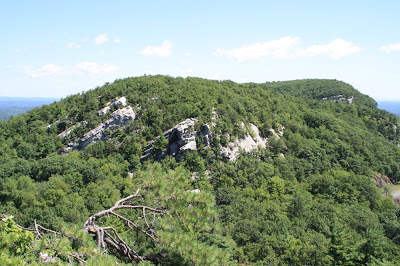 The Shawangunk Ridge, viewed from atop the Near Trapps at the Mohonk Preserve
I looked at the calendar today, and had an important revelation: the Virgil Crest 50-mile ultramarathon is exactly one month from today! Let the countdown begin.
As you hopefully read last week, for me it is the 2nd annual gluten-free ultramarathon challenge, which I'm competing in to raise money for the National Foundation for Celiac Awareness. Whether you're gluten-free, or know someone who is, their work benefits us all. They help get sick people diagnosed and charted on a course to a healthier future via a gluten-free diet. They educate members of the medical community. They train members of the restaurant industry. And the list goes on.
I'm very happy to report that we've broken the fundraising ice and already raised $650 in support of the NFCA. This number is 13% of my stated goal of raising $5,000 (exceeding last year's $3,600), which equates to $100 per mile. Whether it's $5, or $50, or whatever, every donation helps. Won't you join me? Pretty please?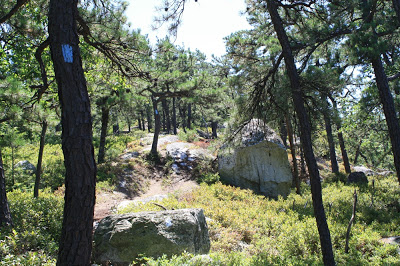 The Millbrook Ridge trail en route to Millbrook Mountain
In the 8 days since I announced the 2nd annual gluten-free ultramarathon challenge, I'm also happy to report that I've logged 42 solid miles of trail running training, including a great 13-mile run at the Mohonk Preserve and Minnewaska State Park last weekend.
With just 4 weeks to go until the race, these last weeks of training will be super important. I'm planning two more weeks of hard trail running, a third week of easier trail running, and a final week of rest in preparation for the big day.
If you caught my NFCA webinar, "Nutrition and Training for the Gluten-Free Athlete," I'm putting much of what I talked about into practice. Each week, my training incorporates a variety of techniques and principles:
Early morning training – I do the vast majority of my running first thing early in the morning, before I've even had breakfast. In this way, my muscles start out relatively glycogen depleted, and they run out of primary "fuel" faster. As a result, my body is forced to start recruiting fat for energy. Teaching your body to more readily and efficiently recruit fat for energy pays off big dividends in an endurance event.
Long, slow distance – I do typically two of these runs per week. For me right now, LSD means doing 10-15 miles on rolling trails at a 9-11 minute per mile pace. This slower but longer method of training improves cardiovascular endurance and fat-for-energy recruitment. (As a point of reference, my target race pace is going to be 12 minute miles, which should allow me to finish in my desired 10-11 hour window.)
Tempo – I do typically 1-2 of these runs per week. At this time, I'm typically doing 6-9 trail miles at a 7-8 minute per mile pace. With a tempo run, I'm attempting to run at my lactate threshold, the point at which lactic acid begins to build up in the bloodstream and muscles faster than it can be broken down. By staying close to, but just below that threshold, my body will slowly push the threshold higher, increasing the distance, speed, and relative exertion at which I switch from aerobic to anaerobic activity. For endurance events, staying aerobic is key to surviving the long haul.
Interval – I do 1-2 of these runs per week, usually 4-6 miles, with a one mile warm up and a one mile cool down. The intervening miles involve alternating periods of 1 minute sprints and 1 minute 30 second jogs. By intentionally pushing my body into the anaerobic region, and then returning to the aerobic region to partially recover, I'm reaping all sorts of benefits. But this type of training takes its toll. You've got to really want to do it. Doing a 60 second sprint after you've already logged 2.5 miles of alternating sprints and jogs is surprisingly taxing.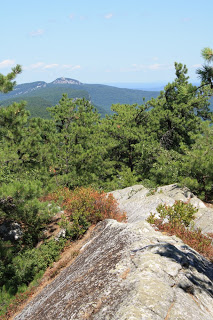 Looking northeast along the Shawangunk Ridge to Skytop in the distance
I'm hoping (and expecting) that all this targeted training will pay big dividends. For one, I want to do well in the race. At least as well as last year. And it looks like doing that is going to be tougher this time around. The 2011 edition of the VC 50-miler is shaping up to be more competitive than 2010. Already, race registration is more than 20% higher than it was last year, and we're still one month out from the event.
If I'm going to hang, I've got to be ready. Final weeks of training, here I come! (It doesn't hurt to have the positive motivation of fundraising for a great cause in the back of my mind, either!)
– Pete
P.S. In next week's training and fundraising update, I'll talk about how I'm planning for my race-day gluten-free nutrition plan to be similar to, and different from, last year's. Stay tuned.