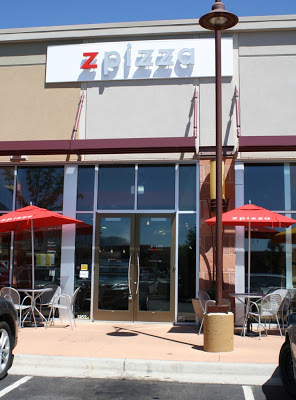 As I recently mentioned, earlier this month we spent 8 days back in our old haunt: Boulder, Colorado. What a gluten-free paradise that place is. I knew it when we lived there, but I appreciate it even more now that we're based out of New York's Hudson Valley. Returning to Boulder made being gluten-free so darned easy…and tasty.
Of course, it turned into a bit of a culinary vacation for us. We ate at our favorite Indian, our favorite sushi, our favorite farmer's market vendors, and the list goes on (and on and on).
To our somewhat surprise, in the 9-plus months since we journeyed east, the dining scene has changed a bit, including the opening of a new Z Pizza location directly adjacent to a Jamba Juice at the 29th Street Mall. Never one to miss an opportunity to down a slice of pizza – especially a "new" one we could review here on the blog – I rounded up some friends and we made our way to Z Pizza for lunch one day.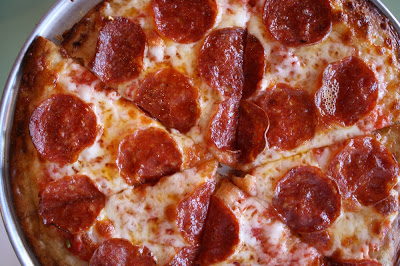 Every pizza – all thin crust – is made to order. You can of course get a standard tomato sauce and cheese pizza (with pepperoni, photographed above). But Z Pizza also offers an impressive (and delicious-sounding) range of other flavors. Consider the Napoli: roasted garlic sauce, mozzarella cheese, fresh rounds of tomato, a touch of Parmesan, and fresh basil. Or the Thai: peanut sauce, mozzarella, red onions, cilantro, carrots, bean sprouts, and serrano chiles. Or, for one more example, the ZPQ (pictured below): bbq sauce, mozzarella, bbq chicken, roasted peppers, red onions, fresh rounds of tomato, cilantro, and sweet corn.
Are you drooling yet? If not, you might need to have your salivary glands checked.
The ingredients themselves are something of a point of pride for Z Pizza. The use Wisconsin skim mozzarella, organic tomato sauce, and fresh veggies. Good stuff. (They also offer dairy-free / vegan cheese options… more good stuff!)
Almost any pizza can be ordered gluten-free. Prices vary by location, but in general, you can expect a $3 surcharge per pizza for the GF option. And one more thing: the GF option is only available for size small pizzas. No mediums or larges. A small is about 10-12″, and feeds 1-2 people.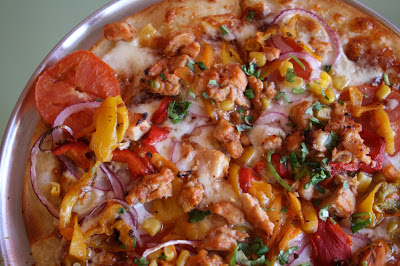 When the pizzas came out to our table, they looked and smelled great. The crust was light and chewy and…strangely familiar. It turns out Z Pizza sources its gluten-free pizza crusts from Venice Bakery in California. VB, in turn, supplies a number of major brands with their GF pizza crust, including BJ's Restaurant and Brewhouse, where I've had it before, hence the strange familiarity.
Overall, the pizzas were very good, though they stopped shy of reaching "great" status. The ZBQ pizza was creative, bright and colorful, full of flavor. The pepperoni pizza with mozz and red sauce was devour-able, a classic combo of flavors. The VB crust held up very well – it was easy to pick up a loaded slice of pizza and not at all worry that the slice would crumble or wilt in your hands, leaving the toppings in your lap. (I should also note that the staff in this location were very knowledgeable and helpful as we contemplated flavors and placed our orders.)
But the pizzas were tiny, which made their normal cost plus the $3 GF surcharge seem expensive. They were also surprisingly greasy. This caught us off guard, given the fresh ingredients, skim mozzarella, and MSG-free pepperoni.
Overall, though, Z Pizza earned high marks from us. It was nice to be able to basically order any pizza on the menu, and simply swap in a GF crust. The quality ingredients were great. A larger pizza size option would be even better. The printed literature in the store, combined with the in-the-know staff, gave us peace of mind and enabled us to feel comfortable and confident that we could eat a safe meal there.
I still remain partial to the from-scratch pizzas we make at home, but if meeting a friend for lunch, traveling on the road, or desiring the convenience of a pizza I can simply buy and eat fresh, I wouldn't hesitate to look for the nearest Z Pizza.
– Pete