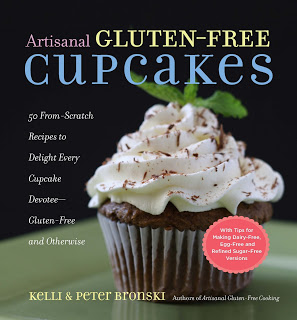 As you can tell, it's been a light blogging week for us. We're on the road traveling for vacation. That said, we couldn't resist doing our weekly Friday Foto. But instead of a recipe, we're doing a cookbook giveaway! Why?
Last week we wrote about Charlotte's first birthday (and some party planning tips to go along with it). But we were so focused on Charlotte's special day that we totally overlooked another birthday…that of this blog! Back on July 24, No Gluten, No Problem celebrated its 3rd birthday!
In honor of the occasion, we're giving away three copies of our new cookbook, Artisanal Gluten-Free Cupcakes, courtesy of our fabulous publisher, The Experiment. (You can also check 'em out on Facebook and Twitter.)
There are three ways you can enter to win a copy. (Best of all, you can "double" or "triple" up on your entries, in order to increase your chance of winning.) Here's how:
#1 – Subscribe to No Gluten, No Problem's Feedburner feed. (If you already subscribe, great!) Then leave a comment in this blog post and let us know about your favorite cupcake flavor, or the cupcake from the cookbook you're most excited to try.
#2 – "Like" us on Facebook. Then "like" or comment on today's status update. (Again, if you already "like" us, super!)
#3 – Follow us on Twitter. Then re-tweet today's entry. (Ditto for if you already follow us.)
You can enter using any one, two, or three of these methods. The giveaway will run through the end of next Friday, August 12. We'll announce the winners on Monday, August 15. Good luck!
– Pete