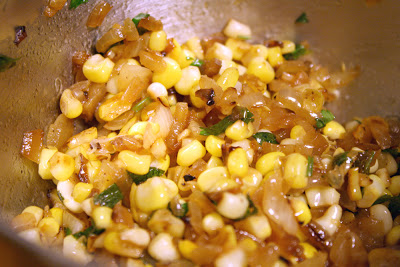 As you've probably noticed, more and more, our Friday Foto posts – and the recipes they usually contain – are being influenced by our garden, either with produce we've harvested, or with ingredients we expect to be harvesting soon. Today's caramelized onion and sweet corn salsa continues that theme.
We haven't harvested corn or onions from our garden. At least not yet. But we will be doing so. And soon. The corn is more than eight feet tall, with tassels on the tops, silks on the sides, and ears slowly growing. It should be about 20 days, give or take, until they're ready to harvest. The onions are coming along nicely, too.
(Check out the photo below of Kelli and Charlotte at the garden earlier this week, wedged between 8-foot stalks of corn and 4-plus-foot beefsteak and San Marzano tomato plants. There's also a bit of broccoli peeking in the bottom left corner. Out of photo to the right, are two rows of Walla Walla onions. And much more…)
The point is, that while we didn't make today's recipe with corn and onions from our own garden, it was very much inspired by our garden, and in a few short weeks, we'll make this recipe again, having grown the ingredients ourselves. How cool. (Plus, we did use cilantro harvested from our garden. Boy do we have lots of the stuff. In the last two weeks, we've harvested about 15 bunches worth.)
As a salsa recipe, it's fairly unique for us. When we use onions, they're usually fresh, not caramelized. When we use corn, it's usually grilled or steamed, not cooked in a skillet (cut from the cob first) with the caramelized onions. But you know what? It really works… The onions, which would usually have a crisp bite, instead lend a subtle sweetness from the caramelization. Paired with the sweet corn, some lime to brighten the flavor, and fresh cilantro, and you have yourself a home run. (Or at least we think so!) Try it for yourself and see!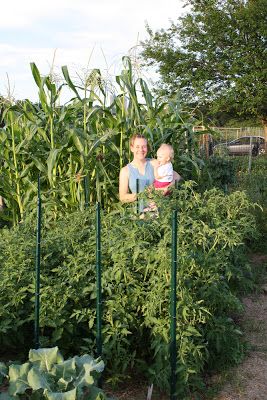 Caramelized Onion and Sweet Corn Salsa
Makes about 1.5 cups


Ingredients
2 ears sweet corn, cut from the cob
1 garlic clove, minced
1 medium onion, diced
Juice from 1/2 lime
2 tbsp cilantro, chopped
1/4 tsp ground cumin
Salt to taste
Olive oil
Steps
1. Saute the onion in a touch of olive oil in a pan or skillet over medium-high heat until soft and caramelized.
2. Add the garlic, and saute for 2 more minutes. Transfer to a bowl.
3. In the same skillet, add another touch of olive oil and saute the corn over medium-high heat until golden.
4. Add the lime juice, and saute for 2 more minutes. Add to the bowl containing the onions and garlic.
5. Add the cilantro and cumin, mix well, and season to taste with salt.
Enjoy!
This recipe is: gluten-free, dairy-free, egg-free, peanut-free, tree-nut-free, fish-free, shellfish-free, refined-sugar-free, soy-free, vegetarian, vegan.
– Pete
P.S. For an alternative corn salsa, check out our Black Bean and Corn Salsa recipe.