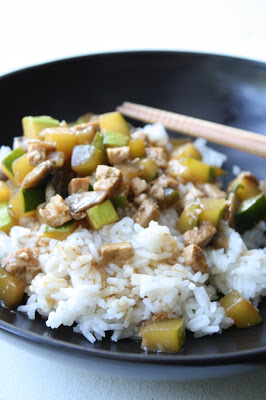 After a spectacular trip to Colorado, we're back in New York and back to blogging here on No Gluten, No Problem. Last month, we posted two zucchini recipes in Friday Fotos – one for zucchini pancakes, the other for zucchini cupcakes. As has been this summer's theme, such recipes are inspired by the bounty of our community garden plot.
Alas, today's recipe for Zucchini Stir Fry – rather than being yet another ode to our ongoing zucchini harvest – is instead a eulogy. For our cherished organic zucchini plants are no more, the victims of insects and disease.
Earlier in the season, several plants recovered well from a bout with powdery mildew. A little while later, however, it was clear that two of our five plants had something else going on. When it became apparent that they weren't going to make it, I pulled them out and removed them from the garden, for fear that their problem might spread to the remaining healthy plants. For a few more weeks, those three plants held on. But finally, they have yielded. The culprits are both striped and spotted cucumber beetles, and the bacterial wilt they carry and transmit to zucchini and other similar plants. Sigh.
And so our regular and abundant harvest of zucchini has come to an abrupt halt. (We have one left in the fridge, which we plan to turn into one final tasty recipe…)
There is joy amidst our zucchini melancholy, though. Last night with dinner we ate the first broccoli from our garden. We've been snacking on carrots. Kelli harvested some 40 stalks of Swiss chard. We'll pick some corn tonight. The garden is feeding us, and we're learning much. The journey continues, even if the zucchini chapter has come to a close for this year.
Zucchini Stir Fry
Makes 2-4 servings

Ingredients
6-8 oz tofu (about 1/2 a standard package), patted dry, diced small
2 tbsp olive oil
3 tbsp tamari wheat-free soy sauce
1 lb zucchini, diced small
8 oz mushrooms, sliced
2 tbsp dry sherry
1 tsp packed brown sugar
1 tsp cornstarch
1/4 c cold water
1 tsp sesame oil
Steps
1. Heat 1 tbsp olive oil over high heat in a wok or saute pan.
2. Add the tofu and 1 tbsp soy sauce, and saute until the tofu is golden brown and slightly crispy on the edges. Remove the tofu from the pan.
3. Add the second tbsp olive oil to the pan. Add the vegetables, and saute until they begin to soften.
4. In a separate bowl, mix the remaining soy sauce, dry sherry, brown sugar, cold water and cornstarch.
5. Pour the sauce over the vegetables, and add back in the tofu. Simmer until the sauce thickens and the vegetables are the desired texture. (We like to leave the zucchini a bit "al dente" for some extra "tooth.")
6. Add the sesame oil, remove from the heat, and serve over rice.
Enjoy!
This recipe is: gluten-free, egg-free, dairy-free, peanut-free, tree-nut-free, fish-free, shellfish-free, vegetarian, vegan.
– Pete
P.S. Don't forget that today (Friday, August 12) is the last day to enter the giveaway to win one of three copies of our new cookbook, Artisanal Gluten-Free Cupcakes!