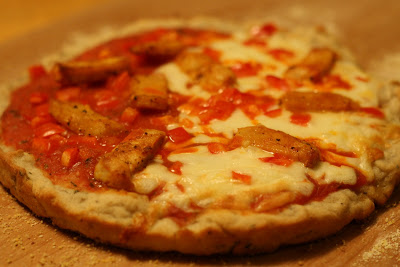 An 8-inch Sicilian version
Continuing our focus on National Pizza Week, today's Friday Foto is a spicy Buffalo chicken pizza done two ways – as an 8-inch Sicilian (deep dish) version, and as a 13-inch thin crust version. This would be the perfect pizza to celebrate the upcoming Superbowl. (For those of you who aren't football fans, Superbowl Sunday is February 6.) When I think of quintessential Superbowl food, at least two things immediately come to mind: pizza and spicy Buffalo chicken wings. In a sense, this recipe combines both into a single, awesome pizza.
(For those of you wondering – No, I didn't forget to add cheese to some of our pizza. Charlotte has proven pretty sensitive to dairy, so a portion of all of our pizzas are kept dairy-free for Kelli and her/Charlotte's breastmilk.)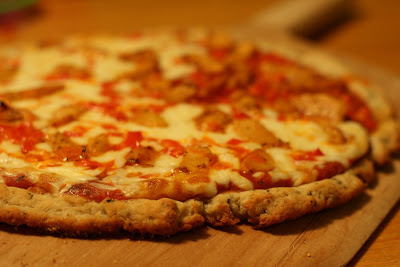 A 13-inch thin crust version
The recipe combines our basic pizza crust, a from-scratch tomato-based pizza sauce, shredded mozzarella cheese, diced red pepper, and Buffalo chicken. It's spicy but not too spicy, and if you're getting tired of the same old same old when it comes to pizza, this will be welcome change! Here's how we make it:
Spicy Buffalo Chicken Pizza


Ingredients
A double batch of our Thin Crust Pizza Crust, par-baked (page 118 of Artisanal Gluten-Free Cooking)
A single batch of Pizza Sauce (page 120 of Artisanal Gluten-Free Cooking)
Shredded mozzarella cheese (1/2 – 1 pound, depending on preference for cheesy pizza or not)
1 large chicken breast
Olive oil
Salt and pepper
2 tbsp butter
2 tbsp Frank's RedHot Sauce (plus extra)
1/2 red bell pepper, diced
Steps
1. You can par-bake your pizza crusts first, as well as make the pizza sauce, so they're ready to go. Or, you can prep the red pepper and the chicken first, so your toppings are ready to go. Either way, preheat your oven to 400 deg F.
2. Slice the chicken breast lengthwise into strips, then crosswise into thin slices.
3. Sautee the chicken in a bit of olive oil (in batches if necessary, depending on the size of your skillet). Season with salt and pepper, toss and set aside.
4. In the same skillet, melt the butter and combine with the Frank's hot sauce, stirring until well-mixed. Return the chicken to the skillet and toss to coat. Remove from heat.
5. Assemble the pizza: add the sauce, then the shredded cheese, sprinkle with diced peppers, add the chicken, and hit the top of the pizza with a dash of additional hot sauce here and there.
6. Bake for 11-13 minutes, until the cheese is melted and the toppings are done to your liking.
Enjoy!
A few notes:
1. Make sure you're using the updated version of our pizza crust (the link above takes you to the correct version). If you have the first printing of our cookbook (Oct 2009-Jan 2010), it will be outdated. Otherwise, you're good to go! Also, lately I've been adding an additional tbsp or two of flour to the pizza dough (the updated recipe calls for 1 1/3 cups…I've been using 1 1/3 cups + 1 tbsp).
2. Our pizza sauce recipe usually makes enough for one 13-inch pizza plus extra (unless you like your pizza super saucy). It should be the perfect amount for 1 13-inch and 1 8-inch pie. Also, our book's recipe calls for adding 2 tsp sugar to the sauce. Lately, I've been omitting the sugar, and like the sauce just as much. Simply season the tomato sauce with salt, pepper, garlic powder, dried oregano and dried basil.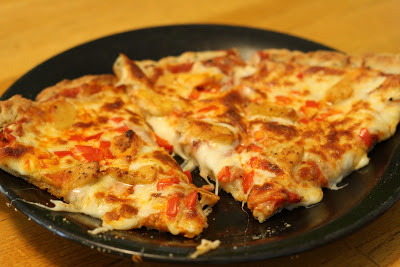 Day Two pizza… as good or better than Day One!
Leftover pizza works just as well the next day for lunch! Reheat in a toaster oven on the broil setting – this gives you a nicely heated pizza with browned cheese and toppings, while not overcooking the crust beneath.
You can be sure this will be on our Superbowl party menu, and just maybe, yours as well. Give it a try!
– Pete