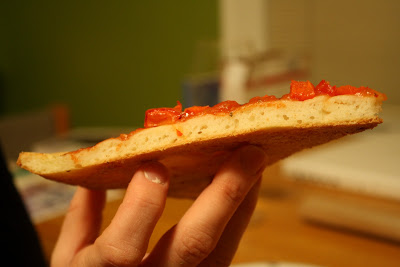 Cross-section of the thin crust version of 365 GF pizza crust

It's National Pizza Week (every second week of January, if you want to play way ahead for next year…). In honor of the occasion, we're doing a review today of the 365 Everyday Value gluten-free pizza crust mix, and upcoming on Friday, check back for a Friday Foto and recipe for dee-licious buffalo chicken pizza.

For those not in the know, 365 Everyday Value is one of Whole Foods' private label brands. It's meant to be a value-priced alternative to some of the more expensive products you've probably become accustomed to buying in Whole Foods', while still upholding the company's high quality standards. The gluten-free line of products, like this pizza crust mix, are made for Whole Foods in a dedicated gluten-free facility. (Good stuff.)

The surprising thing, though, is that – looking at the ingredients on the box – and then considering that this product is sold under the

Whole Foods brand known for quality, the pizza crust mix seems to miss the mark in terms of being considered a whole food. The flours that go into the pizza dough are white rice flour, potato starch, and cornstarch. In other words, the pizza crust is pretty worthless nutritionally. (By comparison, our Artisan Gluten-Free Flour Blend that we use for our from-scratch pizza doughs uses smaller amounts of potato starch and cornstarch (plus potato flour) for texture, but the bulk of the mix is made up of whole grain brown rice flour and sorghum flour for better nutrition and "whole grain" taste.)

Suffice it to say that, nutritionally, the 365 Gluten-Free Pizza Crust is a delivery mechanism for whatever toppings you put on your pizza.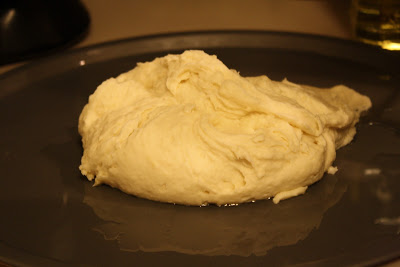 Spreading the dough onto an oiled pizza pan

In terms of preparation, the 365 GF Pizza Crust Mix is similar to other GF box pizza mixes we'd used years ago, in the sense that it is such a loose, wet dough that you must spread it with a spatula, as if it were cake batter. I can't tell you how strongly the Sicilian in me revolts against this. Pizza dough – even if it's gluten-free – is, in my opinion, something that's meant to be worked with your hands.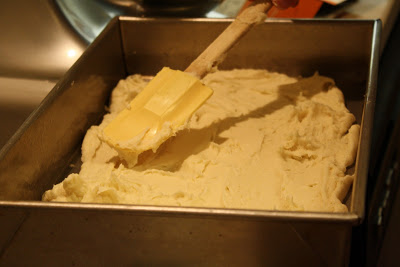 Using a spatula to spread the dough into a baking pan for the deep dish / Sicilian version

Normally when making gluten-free pizzas, we like to par-bake the crust first, before adding sauce, cheese and any toppings. However, in this case we adhered strictly to the instructions on the box and added the fixin's straight away before popping it in the oven.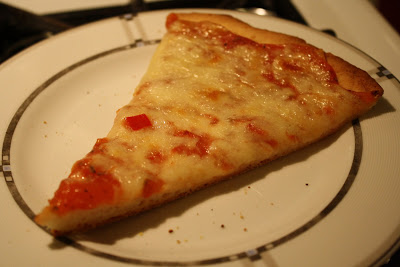 The finished product

The end result was a nicely chewy crust, but it did have a bit of an "off" texture that Kelli described as "spongy" and I described as "a little bit like soft, chewy styrofoam." In addition, because the crust mix is based on refined, white starches, the taste is pretty bland. Again, this makes it a delivery mechanism for toppings, so make 'em flavorful!

Across the spectrum of (many) gluten-free pizzas we've had over the years, we'd rate the 365 GF Pizza Crust Mix as average, par for the course. There's nothing special about it, but we've also had (much) worse. If you're the kind of person who likes to buy and use box mixes, you'll likely be very happy with this choice. On the other hand, the ingredients contain nothing more than the gluten-free flours, some guar gum, honey, salt and yeast. If you have an all-purpose gluten-free flour blend and some guar or xanthan gum at home (plus honey, salt and yeast, which are staple ingredients for most people's pantries and kitchen), you can make your own pizza crust with little extra effort. The only difference is that quantities won't be measured out ahead of time for you, as they would for a box mix.

We'll stick to making our own pizza crust from scratch at home, but if the 365 box mix has ever caught your eye, it's worth a look.

– Pete