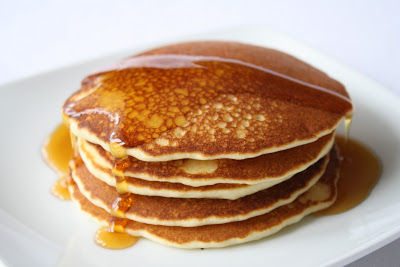 GF Bisquick pancakes with pure maple syrup
From time to time I've been known to enjoy a pancake or two. One moment that stands out in my mind was around age 11 or 12. We were camping in New York's Catskill Mountains for our family's annual week-long summer vacation. One morning, my grandmother whipped up a batch of Bisquick pancakes on a griddle over a two-burner green Coleman propane camp stove that seems to be standard issue for pretty much every car-camping family in America. The scene stands out in my mind, not only for the warm fuzzy feelings I get thinking about it, but also because I ate 22 pancakes. Granted, they were silver dollar pancakes. But still. It felt like an achievement.
Fast forward a full 20 years, and here I am, doing a review of Bisquick's new Gluten-Free Original Pancake and Baking Mix (which the company graciously sent gratis). Bisquick is part of Betty Crocker, which is part of General Mills, a company that's been increasingly expanding its gluten-free offerings across its core brands, including the Chex line of cereals. They're a supporter of the Celiac Disease Foundation, and the baking mix is made in a dedicated gluten-free facility, two things to love right off the bat.
The box contains not quite 4 cups of baking mix, which is enough to make not quite 4 batches of pancakes. (Each batch of 10 pancakes calls for 1 cup of baking mix, and the box contains 3 2/3 cups baking mix. Why Bisquick? Give us that last 1/3 cup of mix!)
The mix itself contains rice flour, sugar, leavening, modified potato starch, salt, and xanthan gum. They don't specify the type of rice flour – brown or white – but based upon the light color of the mix, I'd double down on white rice flour. This makes the mix somewhat empty nutritionally. (But I'll be honest…no pancake, no matter the flour blend used to make it, is a fortress of nutrition. Sure, you can get some carbs. But if you're looking for a well-rounded meal, you'd better add some eggs and bacon and fresh fruit to that plate of pancakes.)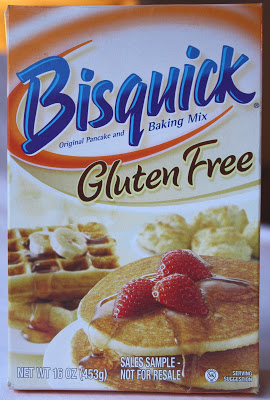 The Bisquick Gluten-Free Original Pancake and Baking Mix
We of course used the baking mix to make oodles of pancakes. The box, however, also includes recipes for waffles, biscuits, strawberry shortcake, pizza crust, chicken fingers, and oven-baked chicken. Making the pancakes was straightforward, requiring nothing but the baking mix, milk, vegetable oil, and egg.
The result was a pancake with a nice, light texture. They were moist and chewy, and not at all dense. The flavor was good as well, though it did lean ever so slightly toward the bland side. (As with the nutrition, I attribute this to the refined white starches that make up the baking mix, as opposed to more preferable whole grains.)
Overall, we were impressed with the pancakes we made with the baking mix. Taste and texture were both great, and in the context of pancakes, our nutritional criticism is a relatively minor quibble. And while Kelli and I disagreed as to how closely the gluten-free version resembles the original Bisquick mix (it's been many, many years since she or I have tasted it…), one thing was certain – in some small way, it did take me back to that breakfast in the Catskill Mountains 20 years ago.
And finally, a giveaway! When Bisquick sent us a box of baking mix to review, they also included a Tovolo pancake pen, which we're passing along to you – our No Gluten, No Problem readers. It's like a large water bottle for pancake batter, with a spout on top that you can use to "draw" pancakes of different shapes onto your griddle. It'd be great if you have kids. To enter the giveaway, email me with "Bisquick Giveaway" in the subject line. Entries close Sunday, January 23 at midnight, and we'll announce the winner early next week! Good luck!
– Pete