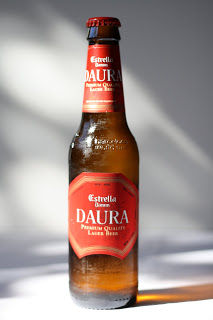 In the United States, we've come to understand that "gluten-free beer" means not just beer without gluten, but more specifically, beer brewed with gluten-free grains, such as sorghum, rice, corn, millet, quinoa and buckwheat. In Europe, on the other hand, the landscape of gluten-free beer is a bit more complicated. Yes, you have GF beers brewed from GF grains. But you also have GF beers brewed from barley – yes, barley – in which the gluten that would normally be present in the beer is removed through a specialized brewing process. Perhaps most confusing of all, you have brewers – such as Estrella Damm in Barcelona, Spain – who brew two "identical" versions of the same beer, one gluten-free, the other not.
Estrella Damm
and
Estrella Damm Daura
provide a case in point. Both are essentially the same beer…described as a Spanish or Mediterranean style Pilsener. However, the Daura version goes through a special brewing process, reliably removing the gluten to a level below 6ppm, less than one third the international standard for gluten-free certification. (I won't go into the specifics of how they get the gluten out here…that's for a different post.) The beer has earned quite the accolades, taking home the title of "world's best gluten-free beer" at the
World Beer Awards
in 2008 and 2009. (In an insult to us GF beer drinkers, for 2010 the WBA didn't include a GF beer category. Harumph!)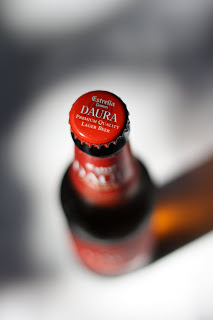 When I saw a four-pack of 11.2-ounce bottles of the Daura beer at my local liquor store, I couldn't resist picking some up (despite the $8.78 price tag). It's been years since I'd had a barley-based beer. After drinking alternative gluten-free grain beers for the last 3.5 years, and hearing – seemingly incessantly – how inferior they were to "real" beer brewed from barley, I expected my first sips of Estrella Damm Daura to be like the clouds parting and the heavens singing. Instead, I was disappointed.
Sure, the beer had a distinct barley flavor that simply doesn't come through in American gluten-free beers. And yes, the beer lacked any of the cider-y, sweet notes common to many GF beers, especially those brewed from sorghum. But its overall flavor was mediocre at best. It reminded me of all the cheap barley beer I've had in my life. In fact, the most immediate reaction I had to the beer was a flashback to my early college years, when we drank pretty much whatever we could get our hands on, or afford. (Ahh, what a trip down memory lane…)
Don't get me wrong. The beer is good, and quite drinkable. A few cold bottles easily slide down the hatch on a warm fall afternoon. But if you find yourself faced with an American GF beer brewed from GF grains, and a European GF beer brewed from barley, you'd be wrong to immediately assume that the barley-based beer would taste better. Estrella Damm Daura is a good addition to the spectrum of GF beers, and it's definitely worth a look – especially because it tastes so different from what else is out there. At the end of the day, though, I'm becoming increasingly convinced that the best GF brewers out there can do as much with gluten-free grains as other brewers can with barley.
– Pete