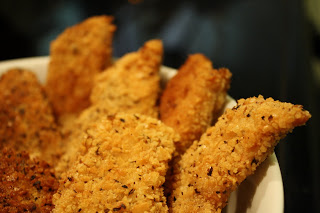 Sometimes, I get a serious craving for pub food. Especially now that it's football season. For me, two appetizers that come to mind more than any other are mozzarella sticks and chicken fingers. Page 56 of our cookbook, Artisanal Gluten-Free Cooking, includes a recipe for mozzarella sticks. In today's Friday Foto, we tackle the other half of the equation – chicken fingers. Sure, you can always go with a store-bought convenience chicken finger from the gluten-free section of your supermarket's freezer – such as Bell & Evans, which we recommended in our Chicken Fingers Versus post – but making them from scratch is pretty easy, you can probably do it for cheaper, and you have total control of the ingredients and process. (Plus, the finished product is mighty tasty…)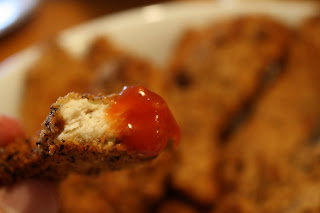 Chicken Fingers
Ingredients
1 pound chicken breasts, cut into strips
Artisan Gluten-Free Flour Blend
2 eggs
2 tbsp water
1 1/3 cups GF bread crumbs
Salt
Pepper
Garlic Powder
Dried Oregano
Dried Basil
Olive Oil
Steps
1. Add about half a cup of GF flour to a shallow bowl. Whisk together the eggs and water in a second shallow bowl. Add the GF bread crumbs to a third shallow bowl. Season each with salt and pepper. Add some garlic, basil, and oregano to the bread crumb bowl and stir to mix.
2. In a medium to large skillet, add enough olive oil to cover a chicken finger about halfway. Bring up to temperature over high heat, then monitor the temp to keep it sizzling hot, but below the oil's smoke point.
3. Meanwhile, start breading your chicken fingers. Dredge first in the flour on both sides. Then coat in the egg wash. Finally, give it a coating of bread crumbs.
4. Pan fry in batches, until golden brown on one side. Then flip the chicken and pan fry on the other side. Remove to a paper-towel lined plate and let cool. (You can always cut through your thickest chicken finger to make sure they're cooked all the way through.) Repeat until you've cooked all the chicken.
Enjoy!
Bread Crumb Tip: Lately, our go-to method for making quick and easy bread crumbs is to buy a box of standard
Almond Nut Thins
. Pulse them in a food processor to make crumbs as fine as you'd like. Then season as per the recipe above with salt, pepper, garlic powder, dried oregano, and dried basil. This method makes exactly 1 1/3 cups of GF bread crumbs. Easy!
– Pete