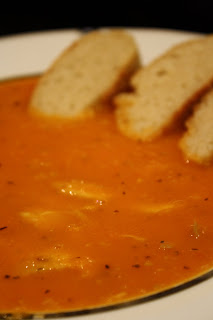 The nip of crisp, cool fall mornings is definitely in the air 'round our parts these days, which has us thinking about hearty, flavorful soups that warm us from the inside out. With the last of the season's tomatoes, we whipped up this chicken variation to our standard tomato soup recipe (on page 72 of our cookbook, Artisanal Gluten-Free Cooking). In our original recipe, you add chicken stock to tomatoes and sauteed onions and garlic. This time around, we create a chicken stock from scratch first (plus some tasty pulled chicken for the soup) by stewing chicken thighs. The result is a soup with a bit richer and "rounder" flavor, plus the chicken meat, which makes it more of a meal than an appetizer.
Chicken-Tomato Soup
Ingredients
4 chicken thighs
2 sprigs fresh thyme
water
2 tbsp olive oil
1 onion, chopped
1 garlic clove, minced
8 tomatoes, chopped
Salt and pepper, to taste
Steps
1. Add the chicken and thyme to a pot, cover with water, and boil until the chicken is done (about 1.5-2 hours, or until the chicken falls off the bone easily).
2. Remove the chicken and set aside to cool. Discard the sprigs of thyme (or better, compost them!). Reserve the chicken stock in the pot.
3. Meanwhile, in a second pot, saute the onion and garlic in olive oil until the onion is translucent.
4. Add the tomatoes and reserved chicken stock. Bring to a boil, reduce the heat, and simmer – stirring occasionally – for about 30 minutes.
5. While the soup is simmering, shred the chicken. After the 30 minutes, puree the soup with a handheld immersion blender, then add the shredded chicken.
6. Continue to simmer the soup until reduced by about a third, roughly 30 more minutes.
7. Season to taste with salt and pepper.
Note: Depending on your tomatoes and particular batch of soup, you can simmer for longer to reduce the soup more, thicken the soup, and intensify the tomato flavor. Conversely, if your soup is too thick, you can always thin it down by adding a little bit of water.
Enjoy!
– Pete