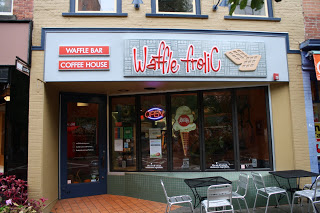 The Waffle Frolic storefront on the Ithaca Commons pedestrian mall
A No Gluten, No Problem reader familiar with scene in Ithaca, New York recently tipped me off that there was a new gluten-free joint in town:
Waffle Frolic
, on the Ithaca Commons (Ithaca's downtown pedestrian mall, similar to Church Street in Burlington or Pearl Street in Boulder). As you may know, Kelli and I both graduated from Cornell in Ithaca, and she's originally from Ithaca (with family still in town), so we get back there pretty regularly. Including last month, for my big race. Naturally, I couldn't resist paying a visit to WF.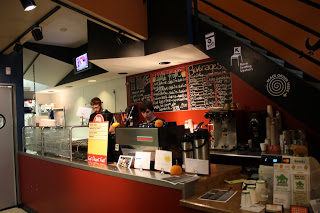 Where the waffle magic happens…
Ahead of time, I contacted the owners to get the scoop on their gluten-free goodness. They replied (and I paraphrase): "We use a separate waffle iron for our GF waffles, and ensure that all utensils used to make the waffles are all clean. We make all batches of this batter first of the day as well. We change gloves while handling the waffles once a GF ones comes up." Good stuff, and it didn't end there. They continued: "We also keep our fryer GF. Our fried chicken, waffle dogs, etc. are all made with Bob's Red Mill GF all-purpose flour." Sweet. They also stock a variety of other GF goodies, including potato chips and cookies from a local GF bakery.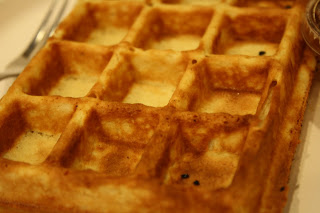 The standard waffle
Once we were in Ithaca and my big race was over, I did what any responsible GF foodie would do – I made haste to Waffle Frolic and promptly ordered a standard GF waffle with a side of pure maple syrup, plus an order of fried chicken. For breakfast.
The waffle was large, with deep squares perfect for accepting copious amounts of maple syrup. The bottoms of each square were fairly crunchy, while the rest of the waffle was firm but still chewy. The flavor of the waffle – apart from the maple syrup itself – was a bit sweet. My immediate reaction was that it tasted like a "carnival" waffle, the kind you might find at your local county or state fair. In short, it was good. Very good.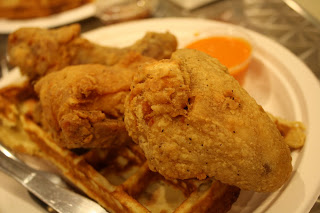 The fried chicken
The fried chicken was equally good. Perfectly cooked. Piping hot chicken, moist inside. Crisp gluten-free batter. Surprisingly non-greasy.
The bottom line: if I lived in Ithaca, I could easily see myself developing a Waffle Frolic addiction. Whether for breakfast or for a late-night snack, it truly hit the spot.
– Pete