It's Tuesday morning, and already, we're one day into the work week… thanks to the long Memorial Day holiday weekend. Throughout the weekend, the weather here in Boulder hasn't exactly been very summer-like – cool, overcast (we average more than 300 days of sunshine per year…did it have to be cloudy for a long weekend??), often rainy, and sometimes stormy (a house in our neighborhood was hit by lightning!). With the blah forecast, and Kelli less mobile than usual, we opted to stay close to home to enjoy the weekend. Our neighbours are out flying the American flag proudly on their lawns, I should have checked out some flag poles for sale to get one for our garden but I completely forgot!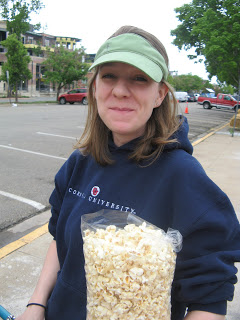 It all started with a trip to downtown Boulder, and the annual Boulder Creek Festival, which was bigger this year than any we can remember. Food vendors, musical acts, artists, local non-profits, lots of businesses, and mega-quantities of crowds. We strapped Marin into her stroller, Kelli saddled up on her knee walker, and we braved the melee. Of course, one of the great things about festivals – no matter where you are – is the festival food.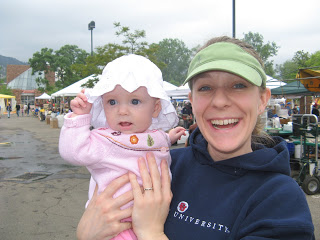 I couldn't help but notice how Boulderites (us included) happily shed our typical local, seasonal, organic, blah blah food ethic, and dive head first into tacos, philly cheesesteaks, dumplings, funnel cakes (fried dough), BBQ, giant turkey legs, you know the routine. Typical American festival food. The challenge for us, naturally, was find safely gluten-free festival food. We kicked off chow time with a giant bag of kettle corn (two photos above…popcorn, sugar and salt cooked in a massive kettle – yum!). Then we made our way to the main food court area (above) where I found some awesome french fries cooked in dedicated fryers (below). I was feeling a bit greased out after eaing the whole basket of fries, but it was worth it.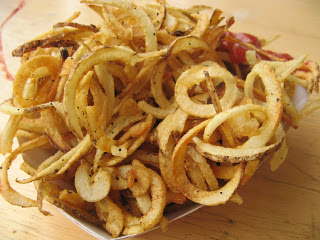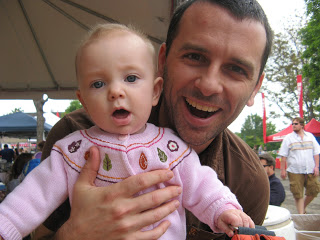 Memorial Day itself included the Bolder Boulder, a 10k road race and one of the largest road running races in the country. This year, the BB had nearly 52,000 registered runners. By comparison, last year's NYC Marathon – the largest marathon in the world, I believe – had just under 39,000 runners. The first wave starts at 7:00am, and a continuous sea of runners stretches out along the course for hours on end. There's an unbelievable energy to the event (I ran it last year and proudly placed in the top 6% of racers overall. This year we went as spectators to cheer on our friend, Emily.).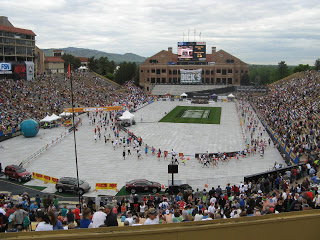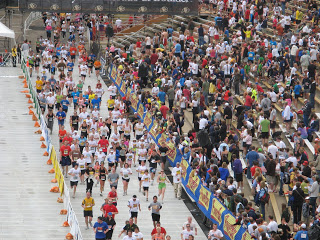 A continuous sea of runners streams into Folsom Field and the finish line
at the University of Colorado at Boulder.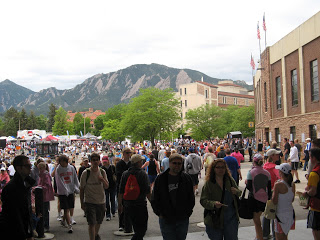 Outside Folsom Field with the Rocky Mountain foothills and
the Flatirons in the background.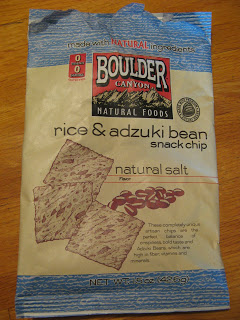 Last year's goodie bag for racers didn't include all that much that I could eat (there was a bottle of water, however). This year, the Bolder Boulder was more GF racer friendly, with a gluten-free snack chip from the Boulder Canyon Natural Foods company. The flavor was rice and adzuki bean. Admittedly, I had never had of an adzuki bean, so I had to look it up – domesticated/developed in China, popular in Japan, prized for its red color and slightly sweet taste, which makes it popular in East Asian confections.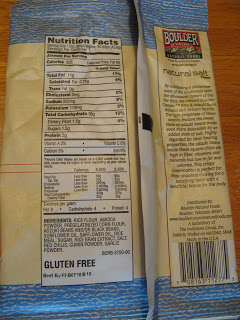 Curiously, the ingredients label listed "adzuki beans and/or black beans." Which means that the Rice & Adzuki Bean snack chips might have adzuki beans…or not. Regardless, it's great to see mainstream events serving more post-race foods that are GF. It's a positive trend I hope we'll see continue!
So how did you spend the long Memorial Day weekend, gluten-free style? Do tell!
– Pete