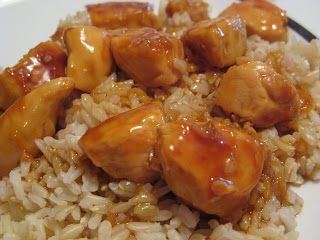 Lately we've been making a lot more Asian dishes. I can't say exactly why. Perhaps it's a family-wide craving. Regardless, one our recent dinners was orange chicken. In the photo above, we've paired it with brown rice, though we just as often pair it with Jasmine rice. Have a great Memorial Day Weekend, and enjoy!
⅔ cup orange juice
¼ cup tamari wheat-free soy sauce
1 tablespoon + 1 teaspoon brown sugar
2 tablespoons dry sherry
2 teaspoons cornstarch
Olive oil
3 garlic cloves, minced
3 teaspoons ginger, minced
Rind of half an orange, julienned
4 chicken breasts, boneless, skinless, cubed
1. Mix together the orange juice, tamari, brown sugar, dry sherry and cornstarch in a saucepan. Stir to dissolve the cornstarch. Heat over medium heat until the mixture comes to a boil and thickens, stirring occasionally. Remove from heat.
2. Heat the olive oil in a skillet over medium-high heat. Sauté the garlic and ginger until fragrant.
3. Add the chicken and sauté until brown and cooked through.
4. Add the orange sauce to the chicken and heat through.
As an alternative to using julienned orange rind, you can also zest an orange and add that to the sauce. It's an equally tasty modification.
– Pete