This is a post (and a review) that's been a long time coming. A few months ago I was prepping to do a write up about BeauJo's Pizza, a local restaurant with nine locations throughout Colorado. Kelli warned me that I'd been blogging about pizza a lot lately, and that "people are going to think you only review pizza places." Wary of making NGNP too pizza-centric, I put BeauJo's on the back burner…until now. (In my defense, I went back and looked at the NGNP archives – I reviewed pizza places exactly twice…once in February with the Flatbread Company, and once in March with Uno Chicago Grill. But I digress…)
BeauJo's is known for what it calls Colorado-style pizza. The signature pizza is a Mountain Pie, with a thick, chewy crust. (They serve bottles of honey on the table for you to enjoy your massive quantities of crust with!) They also serve Prairie Pies, which is BeauJo's-speak for thin-crust pizzas. And, I happily report, they serve gluten-free pizzas, made with a base crust from Deby's Gluten-Free in Denver. (BeauJo's also does a promotion called Wheat Free Wednesdays, where you can get their GF pizza and some RedBridge at a good price.)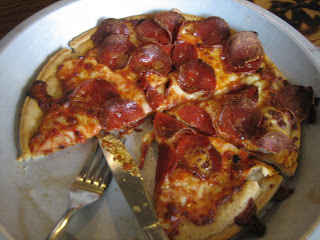 Because the GF pizza is a thin crust, it falls under the Prairie Pie category at BeauJo's. You can finish off the crust with a wide array of toppings, including your choice of cheese, sauce, and toppings. I almost always opt for the signature tomato sauce, whole milk mozzarella, turkey pepperoni, and fresh basil. Here's the bottom line: of the many GF pizzas I've tried, BeauJo's is my clear favorite, standing head and shoulders above the competition. It tastes more like "real" pizza than any other I've come across.
I know there are a lot of GF pizza places out there across the country, but if you're ever traveling through Colorado, you owe it to yourself to give BeauJo's a try. Plus, you'll be experiencing a long-time Colorado tradition, particularly if you stop in at the original location in Idaho Springs, which spills over with hungry skiers traveling I-70 to and from Denver and the ski resorts. Eating at the Idaho Springs BeauJo's is a right of passage for all of our out of town guests…so come on by and visit – we'd love to take you out for pizza! =)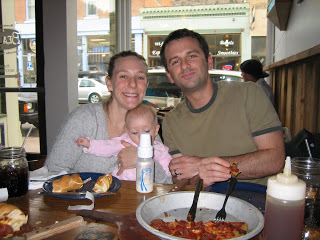 At the Idaho Springs BeauJo's recently – Kelli with her leg elevated out of frame, Marin hiding behind a bottle, and me with a mouth full of GF pizza.
– Pete