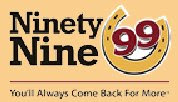 The last day of my eight day outdoor adventure tour of New England brought me to Pittsfield, Massachusetts, in the northern Berkshires. (I was backcountry skiing nearby on Mt. Greylock, Massachusetts' tallest peak.) I did a quick Internet search for restaurants in and around Pittsfield, and then scanned the list for restaurants that might have a gluten-free menu. I hit the jackpot with Ninety-Nine Restaurant, which has locations spanning from Maine to Pennsylvania.
As I walked through the front door and requested a seat for one, the hostess reached for the standard menus. "May I have your gluten-free menu, please?" I asked. "The what?" she responded. "I've never heard of it." I politely explained that their website had a gluten-free menu, and that I hoped this location did, too. The hostess disappeared and came back with a GF menu, having talked to the bartender, who was in the know on such matters. All's well that ends well, I suppose, but let's just say the dinner didn't start off on the right foot.
Ninety-Nine's GF menu resembles that of Outback Steakhouse, in the sense that it lists menu items that are naturally gluten-free, or includes instructions for how to order a menu item so that it will be prepared as such (i.e. order the hamburger without the bun, or the salad sans croutons). This approach to a GF menu puts the onus on the restaurant patron to order the meal appropriately, and hinges on that meal being prepared according to your specifications. This differs from the GF menu of a place such as P.F. Chang's, in which you can simply say, "I'll have the gluten-free Chang's spicy chicken," rather than having to say, "I'll have the Chang's spicy chicken, but make the sauce with tamari wheat-free soy sauce instead of regular soy sauce, and dredge the chicken in potato starch instead of wheat flour."
At Ninety-Nine, I opted for the burger and fries straight up. In hindsight, this was a poor choice. The phenomenal hamburger and fries I ate at Larkburger in Edwards, Colorado was still too recent in my memory, and any burger following that act was almost sure to disappoint. Indeed, my Ninety-Nine burger and fries left something to be desired. The burger – which Ninety-Nine's menu describes as being made from ground steak – proved to be overly greasy in practice. The fries tended toward the soggy side, as if they'd been sitting out too long under a heat lamp, or had been fried at too low a temperature, so that they absorbed some of the frying oil. When my meal was finished, its enduring legacy was not much more than a craving for a stick of wintergreen gum, so that I could cleanse my palette and freshen my mouth.
To be fair, this was the first and only time I've eaten at a Ninety-Nine Restaurant, and a sample size of one hardly constitutes a fully vetted restaurant review. And of course, Ninety-Nine does offer a GF menu, and I did eat dinner without getting sick. By that measure, dinner was a success.
– Pete