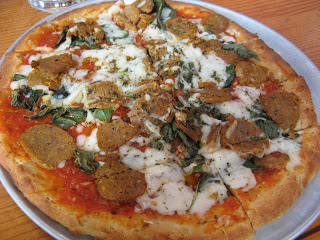 As I continued my travels throughout New England, I stopped in for dinner at the Flatbread Company in North Conway, New Hampshire. Founded in 1998 in Amesbury, Massachusetts, Flatbread now has seven locations, ranging from MA to NH to ME. Rumor had it that they now serve a gluten-free pizza, and I couldn't resist checking it out, all in the name of research, of course!
Happily, the rumors are true – all locations serve gluten-free pizza, thanks to the GF pizza crusts of Nancy Plante-Bushey, the NH-based woman behind the Mommy's Muffins vegan, gluten-free bakery. The base for her pizza crust includes brown rice flour, garbanzo bean flour, arrowroot flour, and tapioca flour, plus a few other ingredients (like yeast and vinegar).
Any of Flatbread's pizzas can be prepared gluten-free, topped with your choice of delicious edibles, including organic vegetables and housemade, nitrate-free pepperoni. I opted for a GF wood-fired pizza topped with pepperoni, fresh basil, whole milk mozarella, and the house tomato sauce. My first bites of the pizza revealed a soft, spongy crust. It had nice flavor. Some bites tended to be a little mealy, and had a mild aftertaste. But overall, I rated the crust "very good" (though, admittedly, the more I ate the pizza, the more the crust shifted toward "average" in my personal hierarchy).
As for the toppings, the only thing worthy of special note here is that the housemade, nitrate-free pepperoni has a mild flavor, and tastes more like a sausage than a traditional pepperoni. Even so, it's very good.
In the end, it was wonderful to plunk my tired body down into a seat at Flatbread and unabashedly devour a full GF pizza all for myself (it was the end of the my 6th consecutive day of major activity, after all!). If you're traveling through New England, and have a craving for pizza, don't hesitate to stop in at Flatbread.
– Pete