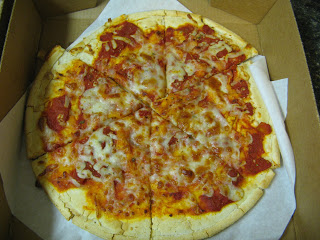 Back in early December, we posted about how Uno Chicago Grill was adding gluten-free pizzas to its menu. Initially, those GF pizzas were available only in the New England region, where Uno was field testing the pizzas before rolling them out more broadly. Well, those reviews must have gone well, because the pizzas are more widely available. We have them here in Colorado, and spot checking the Uno website, I also found them on menus in Florida and Wisconsin (but not in southern California, best as I can tell).
Of course, we felt obligated to do our due diligence and get our hands on the pies in order to review them. Last night we pulled the trigger, ordering both the plain cheese and tomato and the pepperoni gluten-free pizzas. Here's our verdict:
Like many GF bloggers/reviewers, overall we were very impressed with the pizzas. In the hierarchy of restaurant gluten-free pizzas, we'd put the Uno pizzas near the top of the list. The crust was soft and chewy (unless overcooked – which we did when we left a slice in our toaster oven for too long – at which point it becomes very hard, like a cracker). While very good, the crust did prove to be very fragile, and the taste was a little bland – some salt, garlic, oregano and basil would do wonders for it. The straight cheese and tomato sauce pizza was very tasty. The pepperoni pizza is just the cheese and tomato with a few pepperoni added. For my preference, the pepperoni were too few and far between. Gimme more!
In the end, though, Uno Chicago Grill has created a winning GF pizza. If you have a chance, give it a try.
– Pete