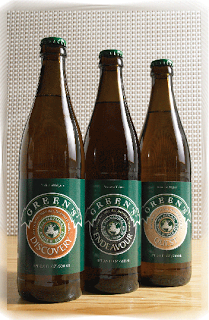 Redbridge – Anheuser-Busch's gluten-free, 100% sorghum beer – gets a lot of press these days, and for good reason. But I'd been hearing rumors about a beer over in Europe that people were hailing as the best GF beer in the world. That beer is
Green's
, and I recently had an opportunity to sample the three versions that are available in North America. (It was all in the line of work, of course! I have an article about GF beers coming out in an upcoming issue of
BeerNW Magazine
, and Merchant du Vin, Green's importer, sent me some samples to try.)
Green's was founded by Derek Green, a gentleman with Celiac's in the UK. His brewery is based in Belgium, and three of its offerings – Discovery, Endeavor, and Quest – are imported to the U.S. by
Merchant du Vin
out of Washington State. MDV sent me one bottle of each. At more than a pint each, they're almost 50% larger than a standard beer bottle. Not wanting to down that much beer in one sitting, and wanting to share the bounty, I decided to hold a beer tasting. Kelli, who is now five months pregnant with our first child, sat out on the tasting but did serve as official tasting coordinator. I'd weigh in on behalf of the gluten-free beer drinkers. Our friends, Laurel and Chris, weighed in on behalf of the non-GF, regular-beer drinking public. Here are our tasting notes:
Discovery
Laurel – frothy, pretty head, yummy, slightly sweet, perfect for a summer night, would drink this regularly (it's much more than "just okay for a gluten-free beer")
Chris – dark amber/copper color, slightly sweet, smooth, medium to strong aftertaste, pleasant
Pete – brown/dark amber color, yeast and hops in the nose, strong carbonation, slightly sweet, very good, tastes the most like traditional beer of the GF beers I've tried
Endeavor
Laurel – good, but hard to describe…not quite a brown or porter, smooth and sweet, would be easy to drink several glasses
Chris – darker brown verging on light porter, more complex taste, a sipping beer? sweet, reminds me vaguely of an oatmeal stout, but not as dark
Pete – dark brown, almost porter-colored, strong head, caramel in the nose? reminiscent of oatmeal stout, hints of coffee and dark chocolate, smooth but more bitter, a little sweet
Quest
Laurel – bubbly head, thicker, yeasty, fruity
Chris – looks like a wheat beer, not my favorite
Pete – light amber color (yellow with a hint of orange), slightly cloudy, clean nose, looks like a hefeweizen, sharp flavor, would be good with a lemon or orange wedge, acidid, sweet but a little tart, yeasty, my least favorite
Discovery was our unanimous favorite. We also all agreed that Green's Beer is indeed some of the best GF beer in the world, and that it can hold its own against "real" beers anytime. In fact, my next experiment will be to hold a blind taste test – I'm going to put Green's Discovery up against three other regular craft brews, and see if regular beer drinkers can successfully identify the GF beer from a blind lineup. I'm guessing some will get it wrong, but the results will speak for themselves. Stay tuned!
In the meantime, if you're interested in trying Green's yourself, Merchant du Vin widely distributes the beers. Check their website for specific locations. Here in Boulder, Colorado, I can buy Green's at
Liquor Mart
for about $6.50 per bottle. It's pricey, but it's worth it!
(UPDATE 9/28/09: Liquor Mart in Boulder no longer lists Green's Beer. To find Green's near you, visit the Merchant du Vin website to find a distributor in your area, and then contact the distributor to find a local retailer. Also, a word of warning re: Liquor Mart… if you visit the website and shop for beer, and do a search for "gluten" to find gluten-free beers, Rogue's Morimoto Soba Ale comes up in the list, and the Liquor Mart description notes that "its use of buckwheat rather than traditional grains allows this brew [to be] gluten-free." NOT TRUE. Morimoto Soba Ale is made with buckwheat AND barley, and IS NOT gluten-free.)
– Pete