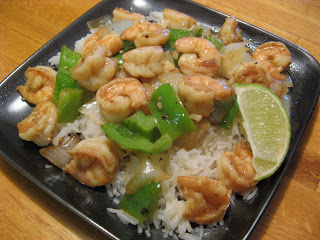 Last night was grocery shopping night, which meant two things. For one, the refrigerator and the pantry were sparsely stocked. Second, we didn't want to go to the supermarket hungry…that's never a good thing! Dinner, as a result, was what we could pull together with the odds and ends of what was left in the house. Our inventory: leftover Basmati rice from an earlier Indian dinner, a lonely green pepper and yellow onion, and a bag of raw, frozen, de-veined shrimp. Kelli, as usual, worked wonders to make a delicious dinner. Here's her general plan of attack:
Ingredients:
1 green pepper, large diced
1 yellow onion, large diced
olive oil
1lb raw, frozen, de-veined shrimp
2 cloves chopped garlic
butter
salt
pepper
1/2 lime
rice
Steps:
Thaw and shell the shrimp, set aside

Sautee the pepper and onion in olive oil, set aside

In a pan, melt butter and add chopped garlic, salt, pepper (ratios to taste)

Sautee the shrimp in the butter-garlic sauce, add the peppers and onions at the end

Squeeze fresh lime juice over the shrimp, peppers and onions

Reheat rice (in the case of leftovers) or make fresh rice

Serve the shrimp, peppers and onions over a bed of rice
As you'll notice, the recipe leaves room for interpretation. Since Kelli was cooking on the fly, she wasn't working off an existing recipe or measuring quantities. Such is the fun of experimenting and creating in the kitchen!
– Pete