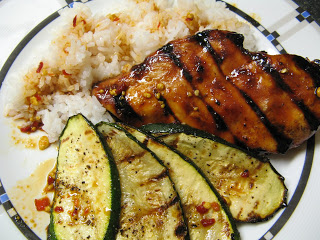 This is a quick and easy recipe that packs a lot of flavor punch into a simple package.
Ingredients
1/3 cup honey
3 tbsp Tamari wheat-free soy sauce
2 tbsp olive oil
2 cloves garlic, minced
2 boneless, skinless chicken breasts
1 zucchini
salt
pepper
garlic powder
Jasmine rice
hot chinese mustard
chili garlic sauce
Steps
Combine honey, soy sauce, olive oil, and garlic in a medium bowl. Add chicken breasts and let marinate for 30 minutes.
Slice zucchini on a bias. Brush slices with olive oil and season with salt, pepper, and garlic powder.
Preheat grill (so you get good grill marks!) and grill chicken and zucchini. Brush chicken with remaining marinade every so often until done.
In a small soy sauce bowl, combine 2-3 tbsp soy sauce with one dollop each of hot Chinese mustard and chili garlic sauce. Stir until well mixed.
Plate one chicken breast, and a serving each of rice and zucchini. With a spoon, drizzle the sauce from the previous step over the rice and chicken.
Enjoy!
– Pete