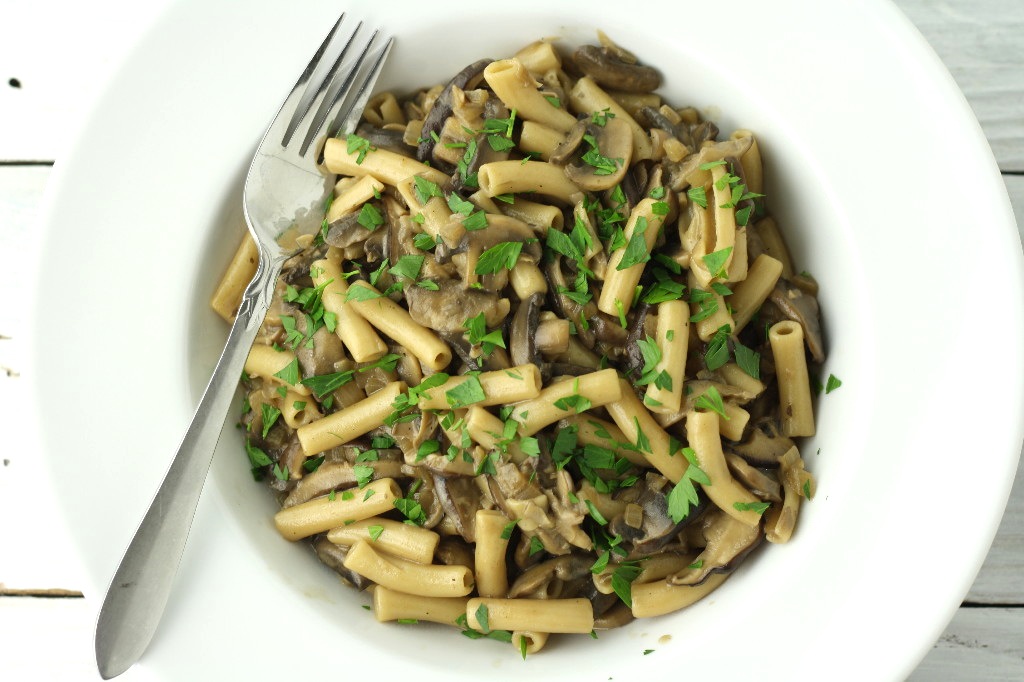 Whether for texture or taste or some other less-definable characteristic, my love of certain foods has been slower to come around. In some cases, it's still coming and I'm not sure it'll ever truly arrive. (I'm talking about you, strong cheeses.) In other cases, it has taken decades. It's only somewhat recently in my adult life, for example, that I've truly embraced mushrooms in all their umami glory.
There's no better proof of this momentous milestone—which no doubt makes Kelli very happy—than my passion for this Mushroom Medley Pasta recipe. Here mushrooms aren't a token topping on a pizza, or a secondary ingredient in a sauce on steak or chicken marsala, or tossed with vegetables that hide their mushroom-iness. No. In this dish, the mushrooms are (to quote Barry White) the first, the last, the everything.
A medley of mushrooms make the dark, rich stock, and a further medley of mushrooms are the only non-pasta food on the plate. If you knew me decades ago, when the mere thought of mushrooms was enough to invoke my gag reflex, you'll know what a radical proposition this recipe is for me. Yet I love it through and through. It has a deeply satisfying, somewhat indescribable savoriness that makes your eyes roll back in your head the way a truly good steak does.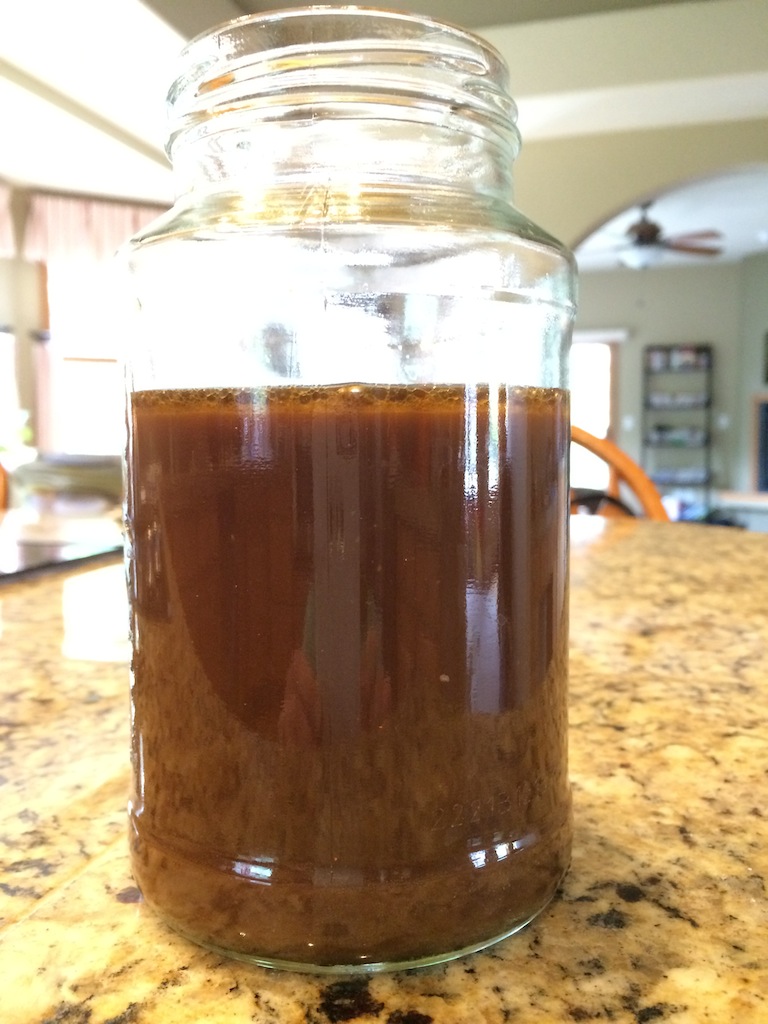 One of the real secrets of the dish is the from-scratch mushroom stock Kelli developed one day earlier this year while I was at the office at work. A text came through on my phone. Attached was the image above, with a short note to the effect of, "Check this out!"
I remember being in a certain state of disbelief. If you hadn't told me, I'd have guessed that the photo was of a quality beef stock. But then I learn that it's mushroom stock, with flavors developed in a pot on the stovetop over a course of several hours.
There's a certain simplistic elegance—very much in the Italian tradition—to this dish. At the end of the day, there's a peasant quality to the meal. After all, in the most basic terms we're talking about a bowl of pasta and mushrooms. That's it. Yet when made with quality ingredients, and flavors developed over time, it coaxes out a rich and intensely satisfying meal that's well suited to the colder nights that are fast approaching this time of year. The end result is a dish so good that despite its plain appearances we've served it for dinner guests. Now you can, too.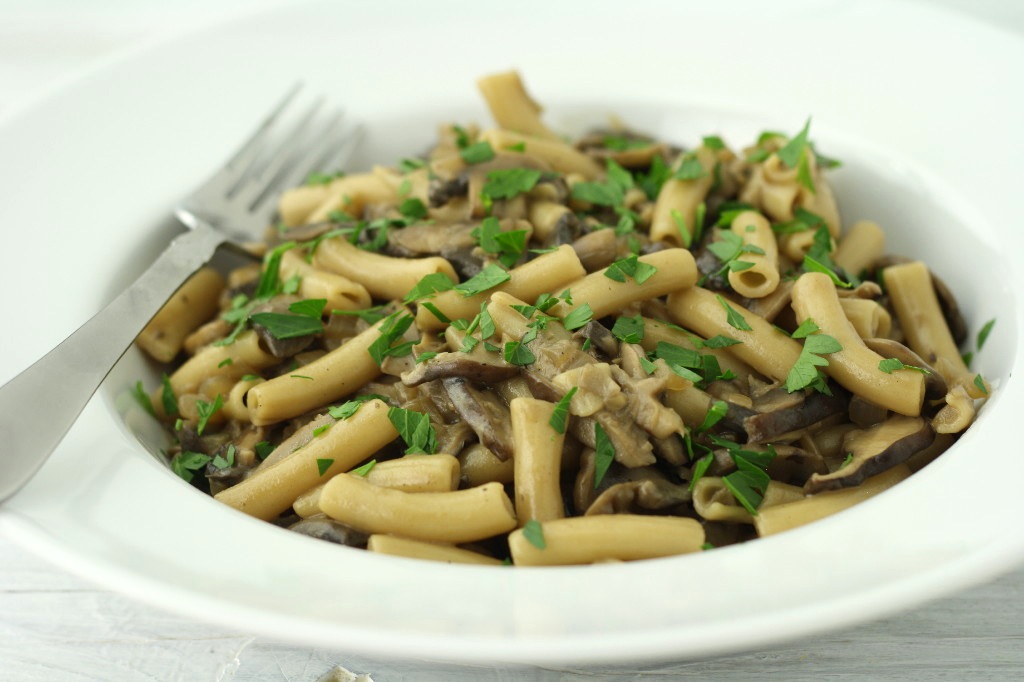 Mushroom Medley Pasta
Serves 4
Ingredients
For the mushroom stock
4 tbsp (1/4 cup) olive oil
1 pound button mushrooms, chopped or sliced
3/4 ounce dried porcini mushrooms
1 medium sweet onion, diced
2 carrots, chopped
2 celery stalks, chopped
4 garlic cloves, smashed
1/2 cup sherry
2 tsp dried thyme
2 tsp dried rosemary
2 tsp rubbed sage
1 bay leaf
8 cups water
For the sauce
2 tbsp butter
2 tbsp olive oil
1 medium sweet onion, diced
2 garlic cloves, minced
1 pound button mushrooms, sliced
1/2 pound (8 ounces) shiitake mushrooms, stemmed and sliced
1/4 tsp salt
1/4 tsp ground pepper
1/2 cup dry white wine
1 cup mushroom stock
1/2 cup heavy cream (optional)
For the dish
10 ounces pasta
3 tbsp Italian flat-leaf parsley, chopped
Instructions
To make the mushroom stock
Over medium-high heat in a large saucepot, add the olive oil and saute the mushrooms, onion, carrots, celery, and garlic until soft and brown, stirring occasionally, about 20 minutes.
Deglaze the saucepot with the sherry and cook until the liquid is evaporated, about 2 minutes.
Add the herbs and water, bring to a boil, reduce to a simmer, and cook uncovered for 2 hours.
Strain the stock through a fine mesh strainer. It should yield about 2 cups of mushroom stock.
To make the sauce and assemble the dish
Bring a large pot of salted water to a boil. Add the pasta and cook until al dente. Strain your pasta as per the package directions.
Meanwhile, heat the butter and olive oil in a saute pan over medium-high heat. Saute the garlic and onion until soft but not browned, about 4 minutes.
Add the mushrooms, salt, and pepper and saute until the mushrooms give off their liquid.
Turn the heat up to high and cook until the water evaporates.
Add the white wine and cook for 2 minutes.
Add the mushroom stock, reduce the heat to medium-low, and cook for about 5 minutes until the sauce thickens.
Optionally, stir in the heavy cream.
Toss with the hot pasta. Let sit 5 minutes before serving for the pasta to soak up some of the sauce.
Garnish with fresh chopped parsley.
Notes
Note: Make sure to allow enough lead time to make the mushroom stock, which can be prepared ahead of time. With the mushroom stock ready, preparing the actual dish is relatively quick and easy