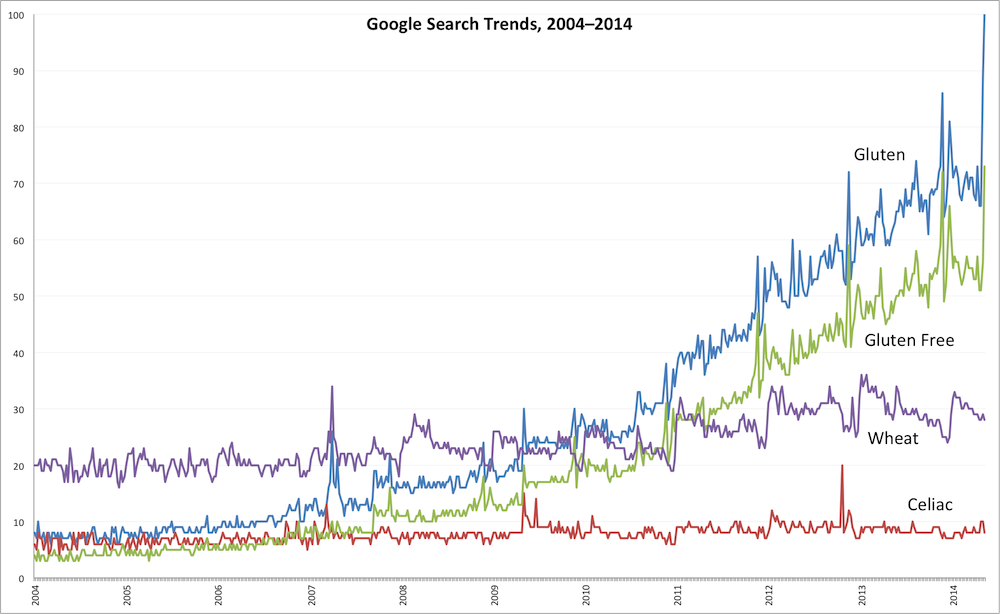 May is National Celiac Awareness Month. This same time last year, I took a look at Google search trends for "gluten" and "celiac" to make a point about why this month matters. The emphasis is on awareness, and by that measure, you'd hope to see positive trends in the celiac category. One year later, I'm today revisiting those search trends, digging a bit deeper into what lessons they might offer.
Go ahead and click on the graph above to open a large version, then come back and read this commentary. I've graphed the weekly data for four Google search terms in the United States: "gluten," "wheat", and "celiac," plus "gluten free," the most popular individual search term with the larger "gluten" category. The way Google exports its trends data, the highest traffic any of the search terms hits over the course of the reporting period is assigned a full value of 100, which sets the y axis, then every other data point is scaled against that.
Over the past decade, searches including the word "wheat" have grown by 50%, though all in all it's a pretty flat trend line, especially compared to some of the others on the graph. "Celiac" has disappointingly remained basically dead flat over that same period of time. And then you have the can't-miss-it rapid growth for the terms "gluten" and "gluten free."
What I find most interesting, though, is that for 3 or 4 years—2004 through about 2007—"celiac," "gluten," and "gluten free" were all equally popular search terms, and they more or less tracked in lock step. But then part way through 2007, "gluten" and "gluten free" decoupled from "celiac." The latter stayed flat while the former began their meteoric rise in popularity. Since then, I consider 2010 and 2011 to be real watershed years—that's when "gluten" and "gluten free" definitively surpassed "wheat" in search term popularity.
And what has changed in the past year? The short answer is: not much. "Gluten" and "gluten free" have continued their rise while "celiac" has remained flat. Also check out the huge spike for "gluten" and "gluten free" on the far right of the graph. That's the data (so far) for May 2014. I wish I could attribute that spike to National Celiac Awareness Month, but the "celiac" curve doesn't similarly jump. It'd be nice to point to Gluten Freedom, the long-awaited book from famed celiac researcher Alessio Fasano, which released just weeks ago. But more likely than not, it's the result of the viral video making the rounds from Jimmy Kimmel Live, which has garnered more than 2 million views in the past 8 days.
In the midst of National Celiac Awareness Month, this could be depressing news. But in amongst the data are some encouraging signs of hope. The second graph, below, helps explain why. Click on it to check out the large version, then continue reading on.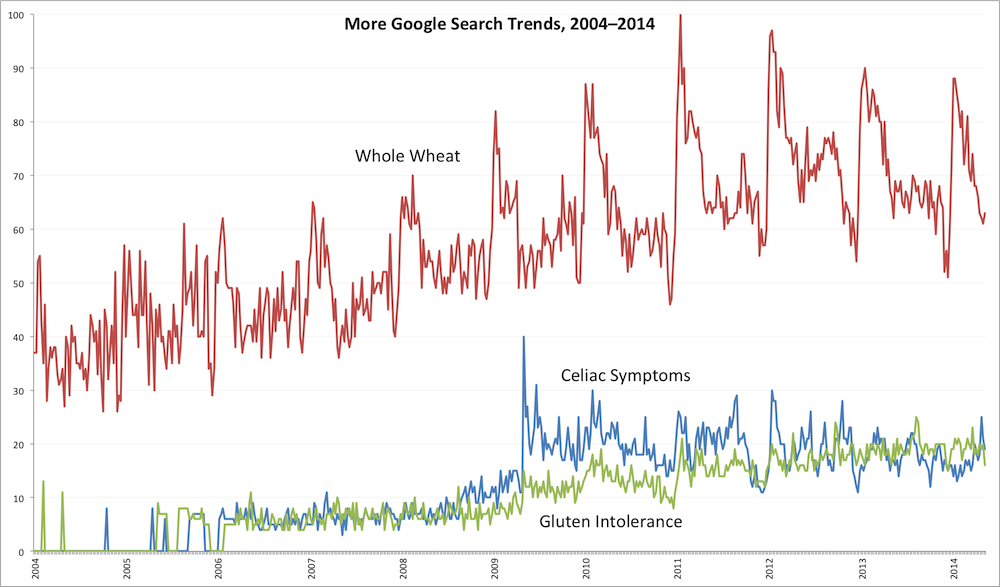 With the "celiac" category, searches containing the words "celiac" and "symptoms" have been one of the fastest-growing set of search terms. In fact, they're more than twice as popular now as they were just 6 or 7 years ago. That's some good news. If more people are searching for information about celiac disease symptoms, they're getting better educated about the disease and hopefully, if applicable, identifying those symptoms in themselves and seeking diagnosis (and then, searching for "gluten free" to start to learn more about their new diet everyone's talking so much about these days…).
What's curious, though, is that the popularity of "celiac symptoms" remained pretty flat for a number of years, then around 2009 jumped up to a new level around which it has hovered since. Most of its growth in popularity happened in a short period of time.
Meanwhile, searches for "gluten intolerance" were tracking exactly with "celiac symptoms" for popularity, and after lagging for a few years, have caught up to and once again match it. As non-celiac forms of gluten sensitivity have been identified and widely accepted, this too is good news.
And then there's "whole wheat," the single most popular specific search term with the family of searches that include the word "wheat." You can see that it has an overall positive trend, growing—as in the first graph above for "wheat"—by about 50% over the past 10 years. You can also see that it has very regular annual spikes, like a heartbeat. (As an aside, those spikes come every January, lagging about half a month behind and matching in amplitude almost exactly annual Google search spikes for "new year resolutions." Coincidence? There's also a smaller and less noticeable bump each September, which is Whole Grains Month.)
As we look ahead to the second half of National Celiac Awareness Month—and the weeks, months, and years ahead—my wish (and charge) is this: Let's all help "celiac symptoms" act a whole lot more like "whole wheat." Imagine if "celiac symptoms" exhibited an annual heartbeat each May during National Celiac Awareness Month, and that as the years continue to go by "celiac symptoms" steadily rises in the search ranks, just like "whole wheat." Now that would be a Google search trend that would really get me excited. Don't you think? Let's make it happen.
–Pete