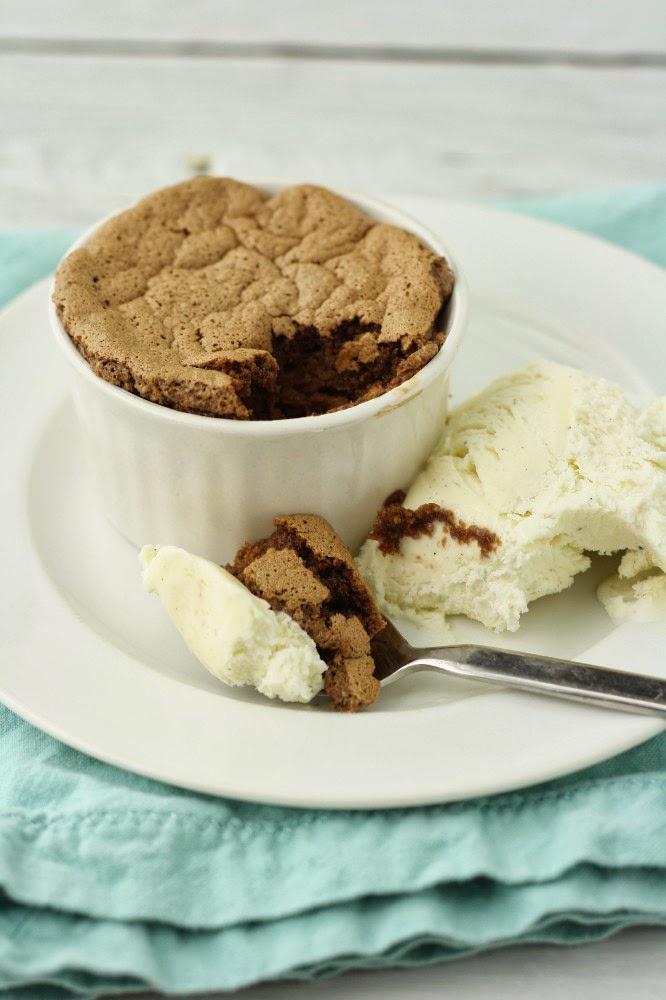 One of the (many) great things about being married to the graduate of a collegiate hospitality program is Kelli's collection of textbooks. Forget statistics and macroeconomics and organic chemistry. Her books instead are filled with oodles of professional recipes for all manner of desserts, and it's often a great source of inspiration to take one of those recipes and modify it to both make it gluten-free and make it our own.
This moelleux is just that. It's basically a fancy French word for lava cake. Need we say more? This one blends chocolate with almond (one of Kelli's favorite flavors). Pair the hot-out-of-oven individual cakes with a dollop of vanilla ice cream, and your Friday night will be set.

Chocolate-Almond Moelleux
Makes 8 ramekins
Ingredients
1/2 cup GF almond paste
3/4 cup confectioner's sugar
7 egg yolks
4 egg whites
1/4 cup sugar
2/3 cup Artisan GF Flour Blend
1/4 cup cocoa powder
1/4 cup melted butter
Steps
1. Preheat the oven to 350 deg F. Grease eight 6-oz ramekins with butter or non-stick cooking spray.
2. In a mixing bowl, using a paddle attachment with the mixer at medium speed, combine the almond paste and confectioner's sugar until the mixture looks sandy.
3. Add the egg yolks one at a time and mix at high speed until the mixture is pale yellow, about 3 minutes.
4. In a separate bowl whip the egg whites and sugar until a stiff meringue forms.
5. Fold the meringue into the yolk mixture.
6. In another separate bowl, whisk together the flour and cocoa powder. Fold into the egg mixture.
7. Fold in the melted butter.
8. Divide the batter among the prepared ramekins.
9. Bake for 15 minutes if you prefer a runny center and 20 minutes if you want the cake just set all the way through.
Enjoy!
–Pete and Kelli