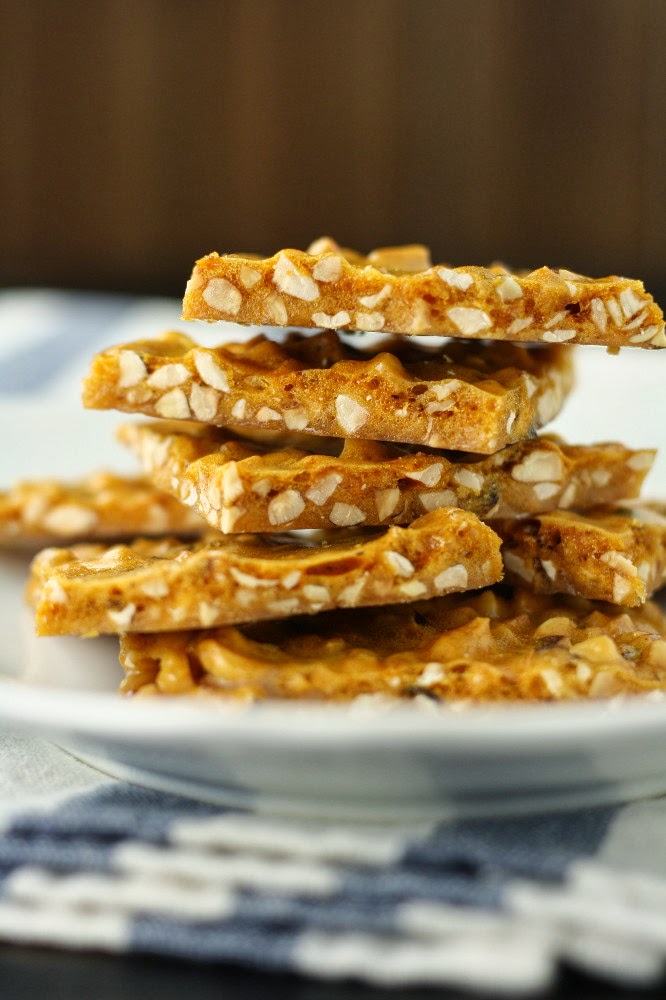 I can think of no other season when people do as much baking as right now. This window of time between Thanksgiving and New Year's is just chock full of opportunity, whether for family traditions and holidays, a cookie exchange, or gift giving. That last category makes me immediately think of one thing: peppermint brittle. You know what I'm talking about—a candy brittle with the trademark red flecks of crushed candy canes. (Not to mention its white chocolate cousin, peppermint bark…)
But this season, neither Kelli nor I were feeling the peppermint love when we decided we wanted to make a seasonally inspired brittle. Perhaps it was the hazelnut chocolate truffles we had during our trip to Italy back in September, or a renewed love for Nutella (more hazelnuts and chocolate!), but we've been looking for opportunities to use hazelnuts … and this brittle was born.
Kelli has declared it the best brittle she's had, better than any peanut or almond brittle we've made in the past. I'm declaring it my new love-cum-arch-nemesis. At the beginning of this month, a significant piece of one of my molars broke off (while out to dinner at a restaurant for Kelli's birthday, no less!). And so now I have my first major piece of dental hardware—a crown—and I'm not supposed to eat things like brittle, which could chip the porcelain.
This tasty hazelnut brittle might just be worth the risk…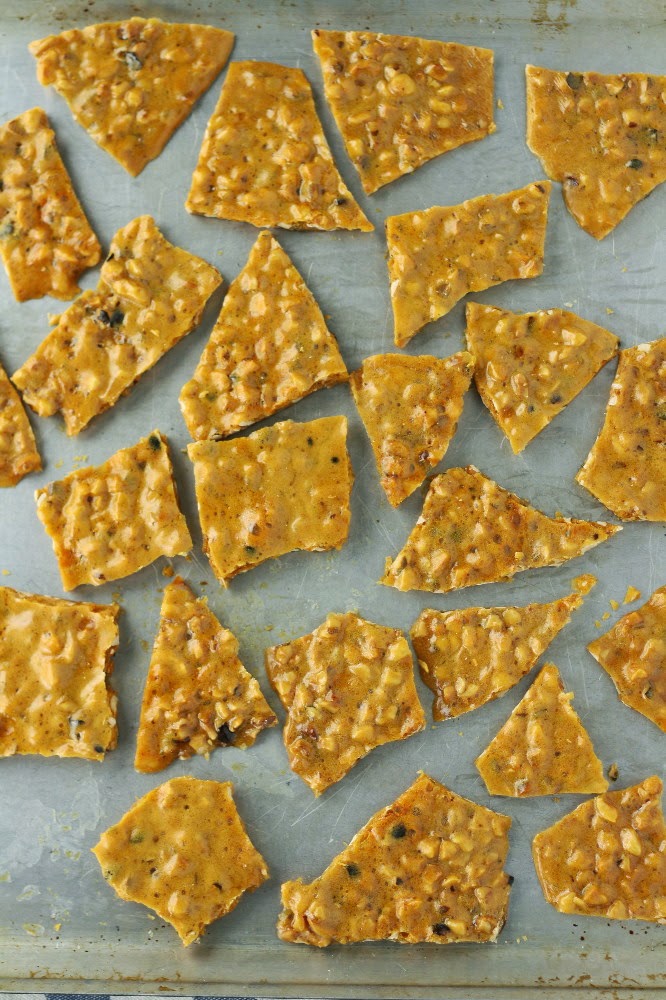 Hazelnut Brittle
Makes one cookie sheet
Ingredients
1 1/4 cups sugar
1/4 cup agave nectar
1/2 tsp salt
1/4 cup water
1 1/2 cups chopped hazelnuts
2 tbsp butter
1 tsp GF pure vanilla extract
1 tsp baking soda
Steps
1. Combine the sugar, agave nectar, salt, and water in a saucepan and heat to 275 deg F.
2. Add the chopped hazelnuts and heat further to 300 deg F.
3. Remove from the heat, add the butter, vanilla, and baking soda, and stir just to combine.
4. Pour onto a warm cookie sheet and spread into a uniform layer by tipping the pan from side to side, until the brittle is about 12 x 14 inches.
5. Allow to cool, then break into pieces.
Degrees of Free-dom
This recipe is: gluten/wheat-free, peanut-free, soy-free, corn-free, fish-free, shellfish-free, egg-free, grain-free, vegetarian.
Enjoy!
–Pete (and Kelli)